2017 National Karting Championship: Aaroh Ravindra, Yash Aradhya, Arjun Rajiv take home titles
Mumbai youngster Aaroh Ravindra took home his maiden National Karting Championship title in the Senior category as the Meco Motorsports FMSCI National Rotax Karting Championship 2017 came to a close after Round 5. Aaroh finished second in the final round to take home the title. Meanwhile, in the Junior category, Yash Aradhya became champion, while Arjun Rajiv became the Micro Max category champion. Aaroh and Yash, along with Ruhaan Alva who finished second in the Micro Max category, have been selected to represent India at the World Rotax Karting Finals in Portimao, Portugal.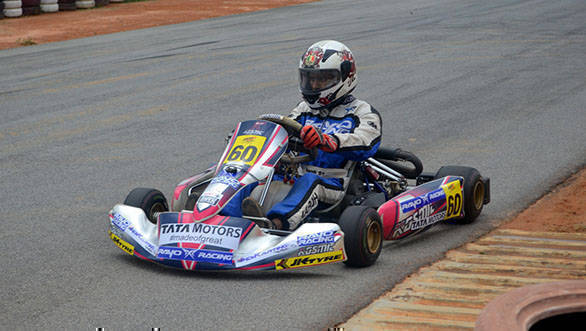 Aaroh Ravindra in the lead during Round 5 of the Meco Motorsports National Rotax Karting Championship 2017
In the final round of the championship, Aaroh had qualified second, and he finished the final race in the same position while his Rayo Racing team-mate Aanjan Patodia clinched first place. Aaroh had dominated the category this season with his worst finish being second place. He claimed the championship with a 33-point lead over Nirmal Umashankar and Aanjan.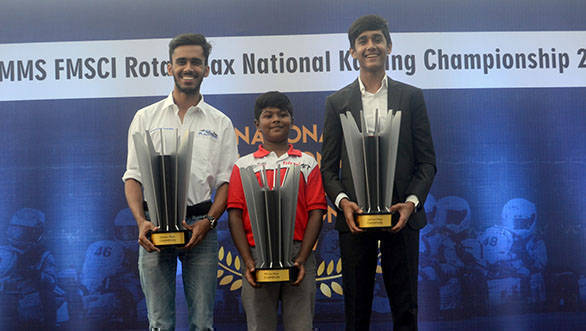 (From let) Aaroh Ravindra of Rayo Racing (Senior), Arjun Rajiv of Peregrine Racing (Micro Max) and Yash Aradhya of M Sport (Junior) took home the respective titles
Yash of M Sport, with 2 victories in the season, won the junior title by 9 points from Chirag Ghorpade and Shahan Ali Mohsin. Arjun won the Micro title by 8 points, ahead of Ruhaan Alva and Rishon MR. However, Ruhaan who was runner-up in the championship has been picked to represent India in the Micro Max category owing to his overall performance this season and his pole position record. The trio will be among the 300 participants from 50 countries racing in the World Finals to be held from November 5 to 11, in Portimao.
Final standings – Meco Motorsports FMSCI National Rotax Karting Championship 2017:
Senior Championship
Aaroh Ravindra - Rayo Racing - Mumbai - 436 points
Nirmal Umashankar - M Sport - Chennai - 403 points
Aanjan Patodia - Rayo Racing - Pune - 388
Junior Championship
Yash Aradhya - M Sport - Bengaluru - 432 points
Chirag Ghorpade - BPC Racing - Bengaluru - 423 points
Shahan Mohsin - M Sport - Agra - 405 points
Micro Max Championship
Arjun Rajiv - Peregrine Racing - Bengaluru - 416 points
Ruhaan Alva - Birel Art India - Bengaluru - 408 points
Rishon MR - Birel Art India - Bengaluru - 408 points