2017 MRF INMRC: Jagan Kumar within a point of championship leader Rajiv Sethu after double win
Defending champion Jagan Kumar of TVS Racing cut down the lead of Super Sport Indian (up to 165cc) championship leader Rajiv Sethu (Honda Ten10 Racing) to a single point with a double-win at Round 4 of the MRF MMSC FMSCI Indian National Motorcycle Racing Championship 2017 at the MMRT in Chennai. Rajiv, meanwhile, high-sided and was unable to finish the race, resulting in no points to show. He ended the weekend with 123 points, just one more than Jagan's 122. This means Jagan has now moved from fourth to second in the leaderboard.
Jagan Kumar scored a double in the Super Sport Indian (up to 165cc) class
Jagan also overtook second-placed Honda Ten10's Mathana Kumar (109) in points table. The latter also crashed but finished Sunday's race in sixth place. Jagan was helped by team-mates KY Ahamed and Kannan Subramaniam, reviving the championship hopes for TVS Racing with just one round left in the INMRC. "For the first time this season, I got the bike set-up right. Yesterday, it was a close fight with Rajiv Sethu initially, but today, it was very comfortable," said Jagan.
Jagan Kumar (centre), winner of the Super Sport Indian (up to 165cc) class race, flanked by second-placed KY Ahamed (left) and third-placed Kannan Subramaniam
In the Pro-Stock (up to 165cc) category, Hubballi's Anish Shetty (Honda Ten10 Racing) scored his maiden win of the season, ahead of championship leader and team-mate Aravind Balakrishnan and Moto-Rev's Aravind Ganesh. The result saw Balakrishnan move to 126 points while Ganesh has 105.
Deepak Ravikumar (No.25), scored a double in the Super Sport Indian (300-400cc) class

The Novice class (Stock, up to 165cc) is also poised for a keen finish as Sparks Racing also enjoyed a 1-2-3 finish today with Peddu Sriharsha, Sri Rahil Pillarishetty and Satyanarayana Raju taking the chequered flag in that order.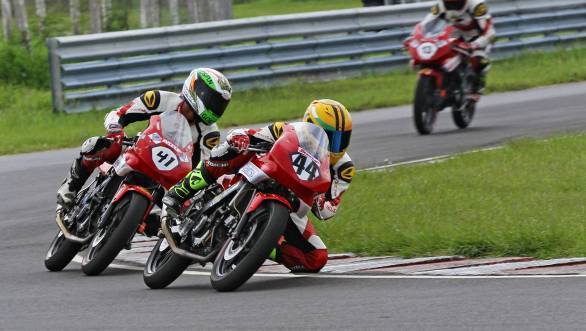 Anish Shetty (No.44), winner of the Pro-Stock (up to 165cc) race


Pillarishetty heads the leaderboard in this category with 61 points, followed by Sriharsha and RACR's Anup Kumar, both tied on 50, six ahead of Raju. The fifth and final round of MRF MMSC FMSCI INMRC 2017 will be held at same track at the end of the month.
MRF MMSC FMSCI INMRC Round 4 Results - Sunday
Super Sport Indian (Up to 165cc) – Race 2 (14 laps):
1. Jagan Kumar (TVS Racing) (16mins, 07.755secs)
2. KY Ahamed (TVS Racing) (16:10.683)
3. Kannan Subramaniam (TVS Racing) (16:14.220)

Pro-Stock (Up to 165cc) – Race 2 (14 laps):
1. Anish Shetty (Honda Ten10 Racing) (16:57.557)
2. Aravind Balakrishnan (Honda Ten10 Racing) (16:58.142)
3. Aravind Ganesh (Chennai) (17:19.539)

Super Sport Indian (300-400cc) – Race 2 (9 laps):
1. Deepak Ravikumar (Moto-Rev) (10:20.439)
2. Antony Peter (Coimbatore) (10:26.416)
3. Amarnath Menon (Gusto Racing) (10:34.707)

Stock up to 165cc (Novice, 9 laps):
1. Peddu Sriharsha (Sparks Racing) (11:21.635)
2. Sri Rahil Pillarishetty (Sparks Racing) (11:21.711)
3. Satyanarayana Raju (Sparks Racing) (11:22.109)

One-Make Championship – Honda CBR 250 (Open):
Race 1 (9 laps): 1. Hari Krishnan Rajagopal (Chennai) (10:40.123)
2. Rajiv Sethu (Chennai) (10:40.160)
3. Aravind Balakrishnan (Chennai) (10:40.831)
Race 2 (14 laps):
1. Hari Krishnan (16:31.069)
2. Sethu (16:31.136)
3. Amit Richard Topno (16:34.147)
CBR 150 (Novice) – Race 2 (9 laps):
1. Amala Jerald A (Chennai) (11:26..244)
2. Senthil Kumar (Coimbatore) (11:26.274)
3. Aswin Kumar R (Chennai) (11:26.768)

TVS Apache RTR 200 (Open) – Race 2 (9 laps):
1. Sivanesan S (Chennai) (11:20.637)
2. Arun Muthukrishnan (Chennai) (11:23.938)
3. Anand Kumar S (Chennai) (11:24.060)
Novice (Race 2, 9 laps):
1. Anup Kumar M (Chennai) (11:26.901)
2. Peddu Sriharsha (Chennai) (11:26.977)
3. Shankar Guru A (Chennai) (11:31.310)
Price (Ex-Delhi)
Starts Rs 1,10,388