2017 Maruti Suzuki Desert Storm: Suresh Rana moves back into lead after Leg 3
The third leg of the 2017 Maruti Suzuki Desert Storm saw participants travel 350km. Of these 350km, 200km comprised one single long stage, that went through sand dunes, rocks and tarmac.
In the Xtreme category, Suresh Rana and navigator Ashwin Naik, in their Maruti Suzuki Grand Vitara, managed to move back into the lead. Sandeep Sharma and Karan Arya in their Gypsy slotted into second place. Third place at the end of Leg 3 is occupied by Niju Padia and navigator Nirav Mehta, competing in a Mitsubishi Pajero.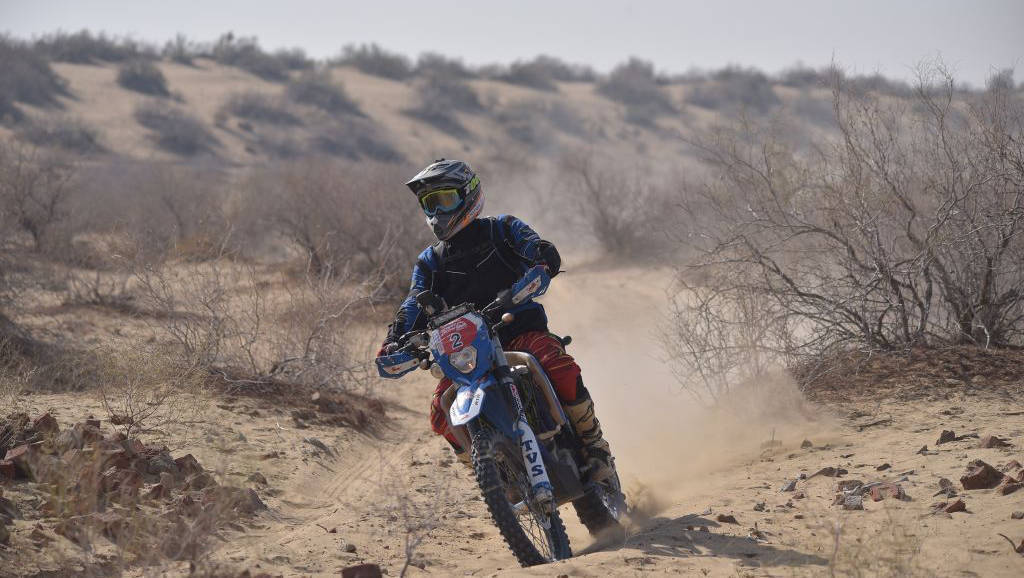 In the Moto category, Hero MotoSports Team Rally's CS Santosh still retains first place, followed by R Nataraj and Tanveer Abdul Wahid who are in second and third place.
In the Ndure category of the event, competitors are set the task of calculating time, speed, distance, and avoiding penalties. This category saw Arpit Gupta, with T Nagarajan as navigator, in the lead. Second place after Leg 3 went to Debajyoti Nath, with navigator Arindam Ghosh. Third place was occupied by Nikunj Toshniwala, with Suvrajit Dutta as navigator.
The results of the Xplore A category were declared too. Ali Ajgar and Mohammed Musthafa won the title, followed by Karthick Maruthi and Sankar Anand in second place. Anupam Chandra and Adheesh Agrawal finished third in the category. The top three winners were all part of Team Maruti Suzuki.
Xtreme category (Provisional):
Suresh Rana and Ashwin Naik  – 06:37:29
Sandeep Sharma and Karan Arya – 06:42:47
Niju Padia and Nirav Mehta – 06:44:34
Moto category (Provisional):
CS Santosh – 05:26:00
R Nataraj – 05:26:42
Tanveer Abdul Wahid – 05:46:36
NDure category (Provisional):
Arpit Gupta and T Nagarajan- 00:06:25
Debajyoti Nath and Arindam Ghosh- 00:24:21
Nikunj Toshniwal and Suvrajit Dutta-01:08:08
Xplore category (Final):
Ali Ajgar and Mohammed Musthafa  – 00:15:13
Karthick Maruthi and Sankar Anand  – 00:37:16
Anupam Chandra and Adheesh Agrawal – 01:23:11