2017 INMRC: Jagan Kumar of TVS Racing moves into championship lead
The fifth and final round of the 2017 MRF MMSC FMSCI Indian National Motorcycle Racing Championship got off to a thrilling start this weekend at the MMRT near Chennai.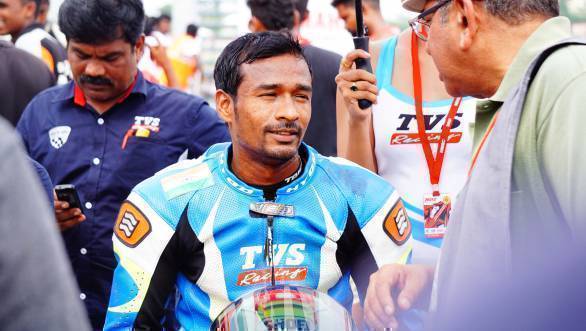 Jagan Kumar is one race away from possible victory in the Super Sport Indian (165cc) class
Going into the final round of the championship, Honda Ten10 rider Rajiv S was leading the championship in the premier class of the championship - the Super Sport Indian (165cc) class by one point, closely followed by TVS Racing's Jagan Kumar.
The qualifying rounds on Friday were pretty intense with the Rajiv and Jagan matching each others pace, lap after lap. In the end it was Jagan who managed to set a faster lap time and grab pole position for Race 1 on Saturday.
The tension in the air was palpable as the riders assembled on the grid today for Race 1. It was a make or break race for Jagan and he, understandably, was under immense pressure.
Jagan Kumar (No.3), who took pole position in the Super Sport Indian (165cc) class
As the lights went out, Jagan got an amazing start and pulled away into the lead, with Rajiv in hot pursuit. It was quite a sight to see the duo pull away from the rest of the pack, and engage in a race of their own.
Rajiv seemed to have an edge on Jagan on the main straight and even managed to overtake the experienced rider before C1. Jagan, however, was stronger on the brakes, going into the C2.
Jagan Kumar (No.8) battling Rajiv Sethu (No.8) on way to winning the Super Sport Indian (165cc) class race
A few laps later, Rajiv made a mistake, braking a little too late going into a corner. Jagan, who was in the lead managed to pull away from Rajiv and by the last lap he had a sizeable lead. In the end TVS Racing's Jagan K won the race, four seconds ahead of Rajiv. KY Ahmed, from TVS Racing finished third.
The Championship is down to the wire and Jagan and Rajiv stand a chance to win. The final race is on Sunday. Stay tuned.