2017 Frankfurt Motor Show: Audi R8 V10 RWS with rear-wheel drive unveiled
German carmaker Audi has just taken the wraps off its Audi R8 V10 RWS Le Mans-inspired rear-wheel drive performance car just before the 2017 Frankfurt Motor Show gets under way. It debuted at the the International Motor Show in Germany alongside the futuristic Aicon concept. The Audi R8 V10 RWS is not just the only Audi R8 V10, but also currently the only Audi performance car to not sport the German carmaker's famous Audi Quattro all-wheel drive system. The Audi R8 V10 RWS is a 50-kg lighter rear-wheel drive special edition which will be built on a limited production run of just 999 units and will be available in the Coupe and Spyder variants. Audi Sport points out that their GT-spec R8 race cars are also rear-wheel drive only, and Audi's aim with the special edition Audi R8 V10 RWS is to bring the same race car feel to the streets. Mechanically, the Audi R8 V10 RWS retains the same 5.2-litre V10 engine from the Audi R8 V10, producing 547OS / 472Nm. The Audi R8 V10 RWS will be priced at $ 1,68,000 (Rs 1.07 crore) and the Audi R8 V10 RWS Spyder at $ 1,83,000 (Rs 1.17 crore) at launch.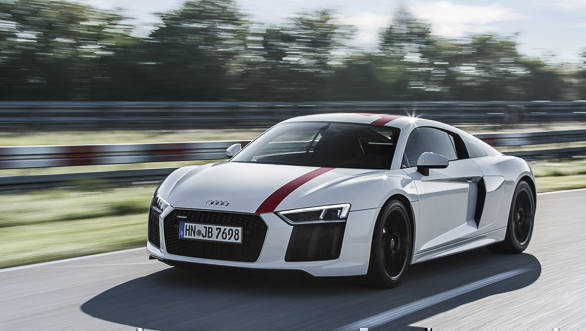 Audi R8 V10 RWS is currently only Audi performance car to sport rear-wheel drive
Aesthetically, the Audi R8 V10 RWS gets some matte-black elements including the grille, air intake, and 19-inch 5-spoke V design wheels to distinguish its exterior from other R8 V10 models, and also an off-centre red stripe which is similar to the one found on the Audi R8 LMS GT 4 Le Mans race car. The RWS also retains the Audi R8 V10's seven-speed dual-clutch transmission. It has a weight distribution of 40.6-59.4, and could be just the car that you would want if sliding the rear out every chance you get and pretending it was a mistake is your deal!
Price (Ex-Delhi)
Starts Rs 2.55 Crore