2017 FIA Formula 3 European Championship: Maiden podium for Jehan Daruvala
Jehan Daruvala took his first podium in the FIA Formula 3 European Championship, with a second place finish at Race 1 of Round 2 at Monza. The Indian driver who was on pole for the race, had a mixed weekend, with the podium finish being the highlight.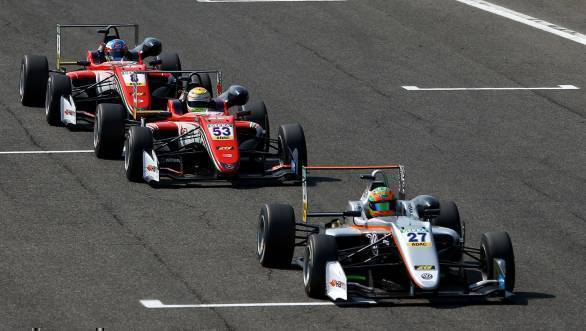 Jehan Daruvala on pole for Race 1 of the FIA F3 European Championship at Monza
In Race 1, Jehan got off to a good start, and soon opened up the gap to the chasing pack. Behind him, the fight for second place raged on, with Jake Dennis, Lando Norris, Joel Eriksson, and Ferdinand Habsburg battling it out with each other. After several positions were swapped, Norris managed to break away from the pack and began to chase Jehan down. On the 15th lap, he managed to get right on Jehan's tail coming out of the last corner, and then took advantage of the long start-finish straight to slipstream Jehan's car and overtake him. Jehan tried to get his place back, but wasn't able to. He had to eventually settle for second place and finished 0.65 seconds behind Norris. Habsburg, 4.7sec behind Jehan took third place.
The fact that the 2017 Euro F3 grid is incredibly closely matched was in evidence during Qualifying for Races 2 and 3. Jehan's time was 0.38 seconds slower than the driver on pole, but he ended up tenth on the grid.
(L to R) Jehan Daruvala (IND), Carlin , Lando Norris (GBR), Carlin and Ferdinand Habsburg (AUT), Carlin
Starting Race 2 from 10th, Jehan made his way up the order and was soon in eighth position. But after a battle for seventh with Callum Illot, Jehan had to accept defeat. He ended the race eighth, while Joel Eriksson won.
The third race saw Jehan start from eighth, a place he managed to hang onto for the first few laps. But when another racer tried to get past him, Jehan was pushed out into the gravel, and was down in 16th. While he soon rejoined the race, he needed to work hard to make his way up the order. Things got tricky when he tried to take 12th place from the racer ahead. There was contact, which forced the other car out of the race. Jehan, however, was able to recover, but lost time to the cars ahead. Eventually he managed to finish the race ninth. Callum Illot won.
"A much better weekend for me in terms of pace. I have been right up there in almost all sessions. Pole position was fantastic and I am also happy with my 2nd place. A mistake on my flying lap in Q2 proved to be very costly. Starting mid grid and overtaking is not easy with all drivers being really quick. However I enjoyed the racing and have also learned a lot. I'm now focusing on the next weekend" said Jehan reflecting on the weekend.
The Sahara Force India Academy racer once again finished all races in the points and earned himself three rookie trophies, besides his 2nd place trophy. He moves up from 8th to 7th in the championship but continues to remain 3rd in the Rookie Championship. Jehan's next event will be held at the street circuit in Pau, France on 20th and 21st May.