2017 ARRC Round 5: Md Zaqhwan Zaidi wins first SuperSport 600 race
The fifth round of 2017 Asia Road Racing Championship began today at the MMRT in Chennai, hosting the qualifying rounds and the first races of the Super Sport 600, Asia Production 250 and Underbone 150 championships. Three Indians are competing in the championship, two as a part of the Japan-based, RAMA Honda team in the SS 600 and AP 250 classes, and one as a wild card entry in the UB 150 category. Held alongside them as support races were the TVS and Honda one-make championships.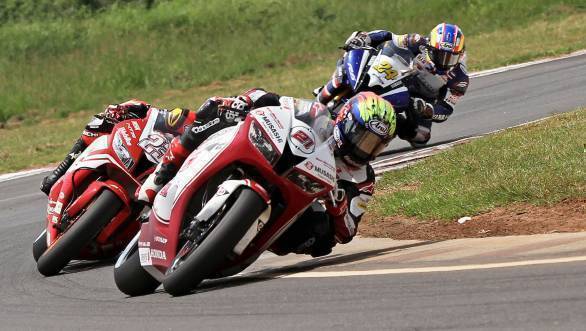 Md Zaqhwan Zaidi (Malaysia), winner of the SuperSports 600cc race
In the SS 600 class, Yamaha Racing's Keminth Kubo qualified on pole while Md Zaqhwan Zaidi of Musashi Boon Siew Honda Racing (Malaysia's factory team) took P2 and Taiga Hada of RAMA Honda took P3. Sarath Kumar, who's the only Indian in this class, qualified 14th out of 15. In the race, there was a very close battle for first between Hada, Zaidi, and Yamaha Thailand Racing's Decha Kraisart. But Yamaha Racing's Yuki Ito managed to get past Kraisart to get into third. In the final corner of the last lap, as Zaidi, Hada and Ito crossed the line in first, second and third. Kraisart crashed and was taken off the track in an ambulance. Sarath Kumar meanwhile, finished 13th.
Rajiv Sethu ended his AP 250 race in 19th place
Yamaha Racing Indonesia's Galang Hendra Pratama qualified on pole while Tomoyoshi Koyama of RAMA Honda and Reynaldo Chrisantho Ratukore, also of Yamaha Racing Indonesia took P2 and P3. Rajiv Sethu, the Indian competing in this class, qualified 18th on a grid of 24. Once the race started, Ratukore fell behind while Yamaha Thailand Racing's Anupab Sarmoon squeezed his way up to third. By the end of it, Koyama took the win ahead of Pratama and Sarmoon. Sethu had finished the race in 19th place.
Tomoyoshi Koyama (Japan), winner of the Asia Production 250cc race
SCK Rapido High Rev Honda's Fakhrusy Syakirin Rostam managed to win the UB 150 class race ahead of UMA Racing Yamaha's Md Haziq Md Fairues and Yuzi Honda Vietnam's Azroy Hakeem Anuar. Prabhu Arunagiri, the wild card entry privateer, finished 13th. In the Honda one-make support race, Deepak Ravi Kumar took first place while Anish D Shetty and Hari Krishnan R took second and third. Arun Muthukrishnan won the TVS one-make support race ahead of Anand Kumar S and Sivanesan S.