2016 National Karting Championship: Ricky Donison dominates Senior Max class at Round 1
The opening round of the 2016 JK Tyre-FMSCI National Rotax Karting Championship was held at the Meco Kartopia track in Bengaluru. And it was an action-packed season opener.
The Senior Max Class in action at Meco Kartopia
In the Senior Max category, that features racers above the age of 15, Ricky Donison proved to be far too formidable an opponent for his rivals. He topped the unofficial practice sessions, won both the heats and took the win in the pre-finals as well.
Ricky Donison accepts the trophy for first place in the Senior Max class, as Ameya Bafna and Nayan Chatterjee who finished second and third look on
In the final race, once Donison got to the head of the order, there was little anyone could do to catch him. Ameya Bafna of Rayo Racing made an impression, as he came into the first round of the season with no testing, but still managed to finish second. Nayan Chatterjee of Meco Racing also impressed. After having fallen down to sixth place on the first lap, he managed to work his way through the grid and finish third. This was also the finishing order for the pre-final race.
The Junior Max category saw BPC Racing's Manav Sharma deliver a strong performance in both the pre-final and final race. Starting the pre-final race in fourth place, he managed to move into the lead of the race after Yash Aradhya and Chirag Ghorpade tangled on the first corner. Paul T Francis of Meco Racing finished second and Nirmal Umashankar finished third.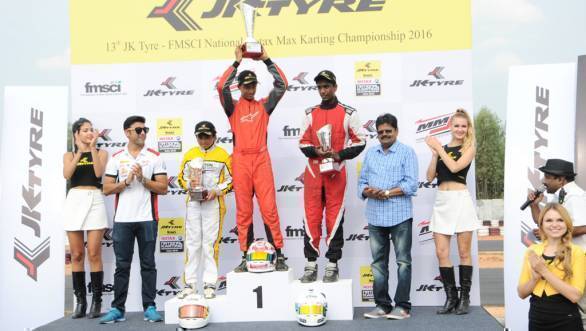 Manav Sharma, Nirmal Umashankar and Paul T Francis on the podium in the Junior Max class
The final race saw Sharma keep out of trouble and get into the lead at the first corner. He then ran away at the head of the pack for the next 18 laps and took the chequered flag first. Second place went to Nirmal, who had a race-long battle with Meco Racing team-mate Paul T Francis, who ultimately finished third.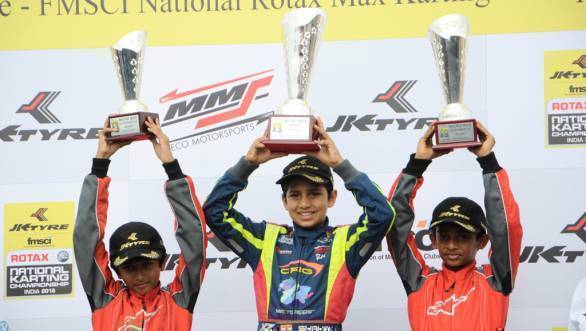 Shahan Ali Mohsin, with Ruhaan Alva and Yeasash More on the Micro Max podium
The final race of the Micro Max class saw Shahan Ali Mohsin, currently leading the cadet class in the Asia Max Championship in Malaysia, keep Ruhaan Alva at bay. The pair swapped race lead several times. It was a tough race for Shahan, who had won the pre-final race on track, but was later handed a penalty for a jump start that pushed him down to third position. He fought hard to win the finals, though, and Alva settled for second place. Yeasash More finished third.
Results 1st Round of JK Tyre-FMSCI National Rotax Karting Championship

Senior Max (18 Laps)
Finals:
1. Ricky Donison (BPC Racing) 18:21.520
2. Ameya Bafna (Rayo Racing) 18:24.855
3. Nayan Chatterjee (Meco Racing) 18: 28.792
Pre-Finals
1. Ricky Donison (BPC Racing) 16:34.508
2. Ameya Bafna (Rayo Racing) 16:37.277
3. Nayan Chatterjee (Meco Racing) 16:40.686
Junior Max (15 laps)
Finals
1. Manav Sharma (BPC Racing) 16:35.848
2. Nirmal Umashankar (Meco Racing) 16:38.739
3. Paul T Francis (Meco Racing) 16:42.312
Pre-Finals
1. Manav Sharma (BPC Racing) 13:50.120
2. Paul T Francis (Meco Racing) 13:52.036
3. Nirmal Umashankar (Meco Racing) 13:52. 036
Micro Max (15 laps)
Finals
1. Shahan Ali Mohsin (Meco Racing) 15:47.512
2. Ruhaan Alva (Peregrine Racing) 15:47.888
3. Yeasash More (BPC Racing) 15:55.111
Pre-Finals
1. Yeasash More (BPC Racing) 12:24.558
2. Arjun S Nair (Meco Racing) 12:27.878
3. Shahan Ali Mohsin (Meco Racing) 12:28.993
Championship Standings
Senior Max
1. Ricky Donison -- BPC Racing – 89 points
2. Ameya Bafna – Rayo Racing – 85 points
3. Nayan Chatterjee – Meco Racing – 82 points
Junior Max
1. Manav Sharma – BPC Racing – 89 points
2. Nirmal Umashankar – Meco Racing – 84 points
3. Paul T Francis – Meco Racing – 83 points
Micro Max
1. Shahan Ali Mohsin – Meco Racing – 87 points
2. Yeasash More – BPC Racing – 84 points
3. Ruhaan Alva – Peregrine Racing – 82 points