2016 MRF Challenge: Harrison Newey wins Race One in opening Round
Round One of the MRF Challenge 2016 got underway on Friday, at the Bahrain International Circuit in Bahrain. British driver Harrison Newey was in a class of his own as he managed to win the opening Race of the Championship. The youngster was in top form right from qualifying, where he set a blistering pace and secured Pole for Race 1.
At the start of the Race, Newey made the most of his starting position and shot-off into the lead, making it past the crucial C1 without any trouble. Joey Mawson, starting from P2, made a strong start too and managed to keep Michael Schumacher and Ralf Aron at bay. By the end of Lap One, Ralf Aron began pushing harder to catch Schumacher.
On Lap Two, Aron managed to get past Schumacher and began chasing Joey Mawson. Meanwhile, Newey began running away, managing to increase the gap, Lap after Lap. As the Race progressed, Aron began closing in on Mawson. At one point, the duo were racing side-by-side through C4,C5,C6 and C 7. Aron managed to get past by C8 and snatch P2 from Mawson. Juri Vips, meanwhile, managed to overtake Schumacher, demoting the German to P5.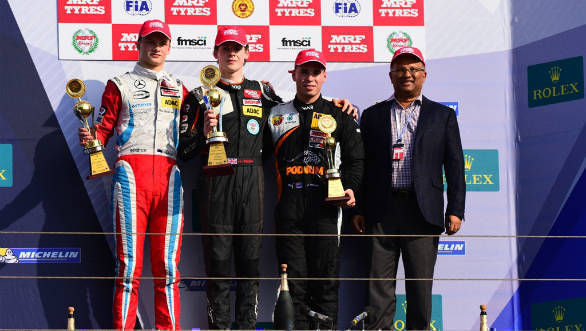 Happy on winning the opening Race Harrison Newey, son of Red Bull F1 Team design chief, Adrian Newey, was quite pleased and said, "I could not have hoped for a better start to the season. In qualifying the car was just great and I was able to extract maximum from it. I had the perfect getaway and after that it was all about controlling the pace. I hope I can carry this same form for the rest of the weekend."