2016 Morocco Rally: Rodrigues finishes Stage 2 fourteenth
Hero MotoSports Team Rally's Joaquim Rodrigues on his way to 14th in SS2 of the 2016 Morocco Rally
The second proper day of rallying during the 2016 Oilibya Rally Morocco saw riders make their way across a section of the Atlas Mountains, before going deep into the Moroccan desert. The stage, called "From Ocean to Dunes", was one where the level of challenges faced by the riders increased.
It was a good stage for Hero MotoSports Team Rally's Joaquim Rodrigues who finished 14th, while his team-mate CS Santosh ended the Stage 24th.
"Overall it was very tough," said Santosh. "It was hot and I once got lost coming out of the dunes. Looks like I missed one waypoint. That was pretty much a typical Dakar stage with plenty of challenges."
CS Santosh is ranked 26th overall in the 450cc class after Stage 2
"I was attacking hard at the beginning," Rodrigues said. "But due to a military control that we couldn´t pass the first part got cancelled. Unfortunately I had spent a lot of energy until then, my speed was really good. I overtook some riders in the dunes. At the exit I lost some of that time. Overall everything is in order, the bike is working great."
Meanwhile, the provisional standings after Stage 2 indicate that Rodrigues is 14th overall while CS Santosh is 26th overall in the motorcycle category. The overall leader is Paolo Goncalves.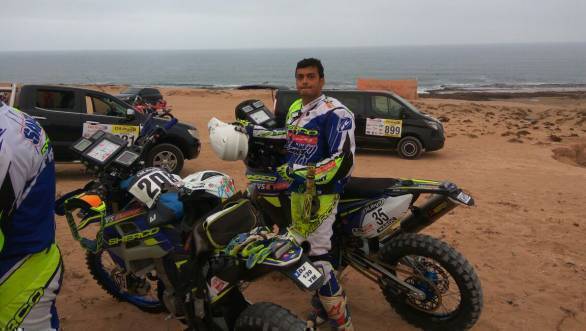 KP Aravind of Sherco TVS is ranked 27th in the 450cc class after two days of rallying
Meanwhile, the other Indian contingent at the Morocco Rally, KP Aravind, did very well, ending up 27th overall in the motorcycle category after two days of rallying. Aravind's team-mate Juan Pedrero currently stands at 11th in the 450 cc class, while Adrien Metge is 17th in the same class.