2016 MMSC FMSCI Indian National Racing Championship: Round 3 to commence at Kari Motor Speedway on June 18
The Indian National Championship organized by MMSC FMSCI is all set to resume on the weekend after a summer break of three months. The third installment of the in house championship will be held at the Kari Motor Speedway unlike its previous two races which were held at the MMRT.
A total of 10 races are planned over two days with the forecast of rain, which might add more flavor to the race. The categories involved are Indian Touring Cars, Indian Junior Touring Cars, Super Stock and the Rookie Championship (Formula 1300) along with the Volkswagen Vento Series Challenge.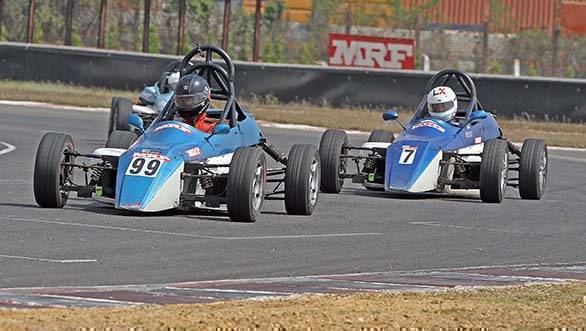 Volkswagen will have the first of the scheduled four rounds of racing at the Kari track and a total of 18 of the earlier selected 20 will be participating in the one make series. Our sources at Volkswagen reveal that of the initial 20, 9 backed out due to lack of funds or some other similar reasons. Following this a total of 7 new drivers were selected (4 from the waiting list and 3 from earlier seasons). This will be Volkswagen's first race after their departure from the JK Tyre Racing Championship since their inaugural season in 2010. The VW's for the will also sport MRF rubber (instead of JK Tyres) for the first time at the 2.1km long Kari Motor Speedway.
To refresh your memory, in the Indian Touring Cars class  Arjun Narendran (Red Rooster Performance) from Coimbatore leads at 43 points closely followed by Bengaluru's Deepak Paul Chinnappa (Race Concepts) at 40 and finally former National rally champion Narayanaswamy Leelakrishnan (Red Rooster Performance), also from Coimbatore, in third at 33.
In the Junior Touring Cars category first position is enjoyed by Mumbai's Anant Pithawalla (Team N1) trailed by a gap of 12 points by Keith DeSouza from Goa (Unimek Racing).
As far as the Super Stock category is concerned Veeresh Prasad from Bengaluru (Race Concepts) tops the leaderboard with just a one point lead over Chennai's Alisha Abdullah (RAD Racing).
Chennai lad Raghul Rangasamy dominated the Rookie Championship with top podium in all the three races with WSRF team-mate CJ Tejasram trailing by 24 points.
Price (Ex-Delhi)
Starts Rs 8.78 Lakhs