2016 Lamborghini Super Trofeo Asia: Double podium for Armaan Ebrahim in Shanghai
The 2016 season of the Lamborghini Super Trofeo Asia Series kicked off on May 22 with the first round taking place at the Shanghai International Circuit. Driving for Dilango Racing, Indian driver Armaan Ebrahim, along with team-mate Dilantha Malagamuwa, got a double podium finish at the season opener, claiming second position in the Pro Am class in both races.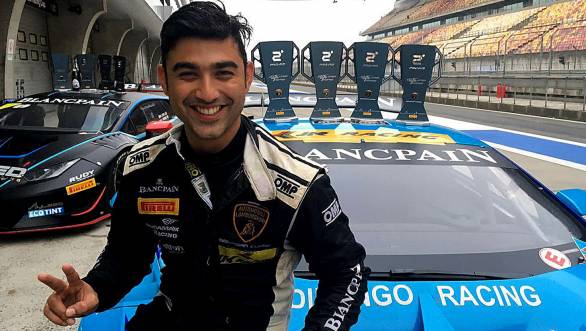 A good start to the 2016 season of racing for Armaan Ebrahim with a double podium finish in class at Shanghai
Armaan had qualified second for Race 1, and during the race itself quickly took the lead initially. However, he was unable to hold onto this position due to issues with the brakes on his Huracan GT3 and ended up finishing third overall. Toshiyuki Ochiai and Afiq Yazid took the win, followed by Chinese duo Li Chao and Zhang Da Sheng in second. Their third-place overall was enough, however, for Ebrahim and Malagamuwa to take second in the Pro Am class.
Race 2 saw preceding race winners Ochiai and Yazid leading the grid, while Dilantha, who had qualified sixth for the race, maintain a strong pace and reached P3 in the initial stages. However, the Sri Lankan racer got shunted from behind and lost a few positions in the subsequent laps. Dilantha then pitted early and handed the reins to Ebrahim, who managed to make up the lost positions and claim another second place in the Pro Am Class.
After the race, Ebrahim said, "We could have probably won both the races, but not a bad way to start the championship. I am happy to have points in the bag. We had a few issues with the car, but overall, it was a good weekend. The qualifying sessions on Saturday were in the wet. However, it was cloudy but dry today." Ebrahim also added, "I am coming out of a long off-season, nearly six months, but was happy I could settle down. It is a long season as we finish only in December. So, we will take it race by race."
The next round of the Lamborghini Super Trofeo Asia Series takes place on June 11 and 12, 2016 in Japan at the Suzuka Circuit.