2016 Lamborghini Super Trofeo Asia: Double podium for Armaan Ebrahim at Sepang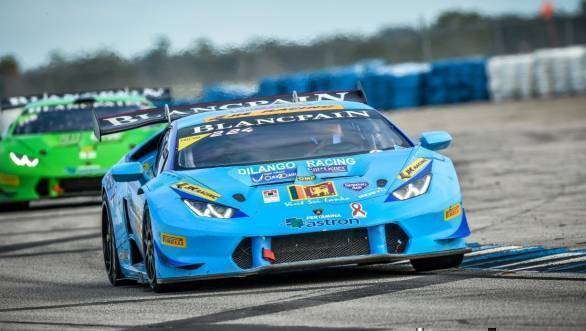 Armaan Ebrahim and team-mate Dilantha Malagamuwa had a strong showing at the Sepang round of the 2016 Lamborghini Blancpain Super Trofeo Asia series
Armaan Ebrahim and team-mate Dilantha Malagamuwa continued their strong performance in the 2016 Lamborghini Blancpain Super Trofeo Asia series at the Sepang International Circuit. The pair finished second in the first race and third in the second race.
Their performance was strong from the very outset, with Armaan taking pole for Race 1, and Dilantha taking second spot on the grid for the second race.
In the first race, Armaan built a strong lead all through the race. However, when he handed the car to Dilantha, after the mandatory pitstop, the Sri Lankan driver was caught and passed. Hence the duo had to settle second.
For the second race, Dilantha went out first. He slipped down to third place, then fought back to get second once again, which is where they were when he handed the car to Armaan. And while Armaan was in a position to catch and pass the race leader, he was called back into the pits for a stop-go penalty for an early release from the pits, and hence they had to settle for third overall.
Armaan said of the weekend "We could have had a better weekend but for the stop-go penalty in the second race when we had a chance to win."
However he continued, "Obviously, I was disappointed as we still had a chance for a win. Pace-wise it was a much-better weekend for us."