2016 Lamborghini Blancpain Super Trofeo Asia: Podium for Armaan at Suzuka
Armaan Ebrahim on his way to third place in Race 1 at the Suzuka round of the 2016 Lamborghini Super Trofeo Asia Series
After a double podium finish at the first round of the 2016 Lamborghini Blancpain Super Trofeo Asia series in Shanghai, Armaan Ebrahim and Dilango Racing team-mate Dilantha Malagamuwa continued their strong form at Round 2 in Suzuka.
The duo qualified second for Race 1 at Suzuka, and managed to hold on to that position during the first stint of the race. Then, after pitting during the mandatory stop for a driver change, where Armaan handed the car over to Malagamuwa, they lost one position. This meant that they managed to finish third in their class in Race 1.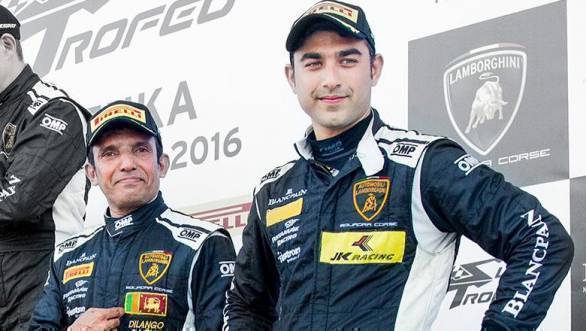 Dilantha Malagamuwa and Armaan Ebrahim on the podium in Race 1 of the Suzuka round of the 2016 Lamborghini Super Trofeo Asia series
Disaster struck during the second race though. While the duo qualified ninth, with Malagamuwa taking the first stint, they managed to move up the order into fifth place. Then, with only 20 minutes in the race completed, the engine of their Lamborghini Huracan GT3 blew, which meant they needed to retire from the race.
Armaan said of the weekend "Obviously, we are very disappointed with what happened in the second race, but at least we managed to pick up some points from our podium finish in the first. On Saturday, I qualified second for the first race and Dilantha ninth for the second race. I was running second in the first race at the change-over and we finished third eventually."
The duo will now head to Buriram, Thailand for the third round of the championship that will be held between July 23 and 24, 2016.
Price (Ex-Delhi)
Starts Rs 3.21 Crore