2016 Geneva Motor Show: Bentley Grand Limousine and Mulsanne image gallery
At the 2016 Geneva Auto Show, Bentley unveiled the 2017 Mulsanne and the Mulsanne Grand Limousine. The updated luxury limousine is now offered in three variants- Mulsanne, Mulsanne Speed and Mulsanne Extended Wheelbase version. The Bentley Mulsanne Extended Wheelbase gets a 250mm extension over the standard Mulsanne's 3,266mm wheelbase.
The Bentley Mulsanne is powered by a 6¾-litre V8 engine which makes 512 PS and 1,020 Nm of torque. It can accelerate from 0-100kmph in around 5.1 seconds and attain a top speed of 296kmph. As the name suggests, the Mulsanne Speed is powered by the same engine which has been tuned to deliver 537PS and 1,100Nm of torque. To distinguish it from the standard version, the Mulsanne Speed gets exterior and interior tweaks.
The Mulsanne Grand Limousine has been designed, engineered and handcrafted by Mulliner, Bentley's coach building division. It is one metre longer and 79mm taller than the new Mulsanne and can seat six. The aviation inspired rear cabin can accommodate four passengers in a face-to-face sitting configuration.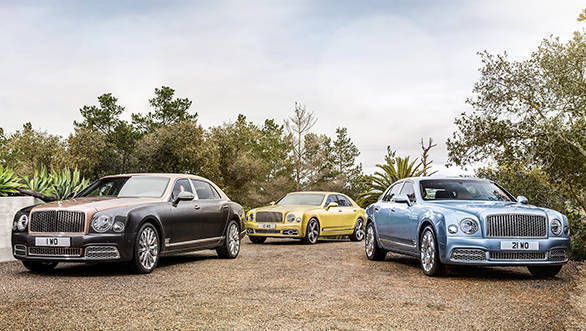 The 2017 Bentley Mulsanne will be offered in three variants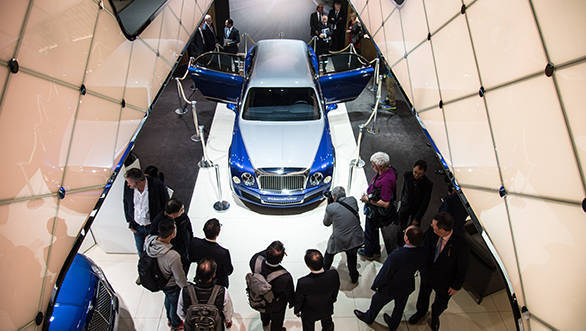 The Mulsanne, Mulsanne Speed and Mulsanne Extended Wheelbase version are being showcased
The Mulsanne Grand Limousine is one metre longer and 79mm taller than the new Mulsanne
Mulsanne Grand Limousine has been designed, engineered and handcrafted by Mulliner
The aviation inspired rear cabin accommodates four passengers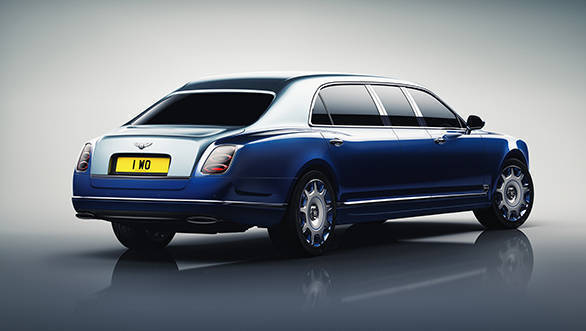 The Mulsanne Extended Wheelbase gets a 250mm longer wheelbase
The rear seats are separated by a console which offers a stowage area
Price (Ex-Delhi)
Starts Rs 2.69 Crore
Related Stories