2016 Auto Expo: Tata Motors to spin off a new sports division
Tata Motors for years now has harbored plans of stepping into the performance space. They have constantly been working on various one-off models to showcase their capabilities in this regard. At the Auto Expo 2016, Tata Motors showcased the Tata Sports, a 110PS version of the Bolt hatchback which has several performance upgrades.
The basic idea is to in some years build a brand similar to the M or AMG division that solely look at enhancing stock cars into performance monsters. However the plan is sound and Tata Motors wants to execute it in a phased manner growing slowly as the product range also increases to provide a canvas on which to paint their aspirations. The Bolt Sports has suspension upgrades and aerodynamic bits to enhance stability. In the future however the division is looking at further upgrades which will involve upping power to 140PS, upgrading the transmission and providing stiffer underpinnings. Post the Bolt, a similar version will be introduced based on the Tata Zest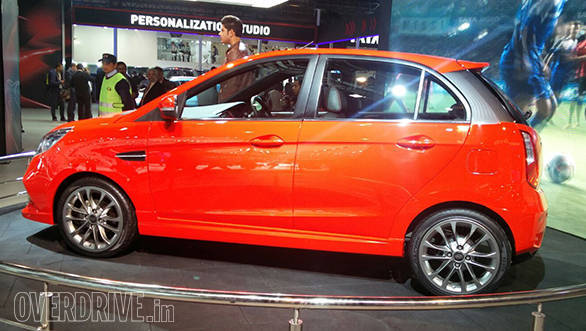 The Bolt Sports looks to be a well made job and is the culmination of a long quest. Tata Group chairman Cyrus Misrty has also shown a keen interest in the project pushing through the detailing needed to see the sports division come to life. Expect an announcement sometime later this year.
For more information from OVERDRIVE on the 2016 Auto Expo, click here
To stay at the cutting edge of automotive news in India, follow us on Twitter (@odmag) or on Facebook (facebook.com/odmag). Or download our app from the iOS or Android app stores today