2016 Auto Expo: Former Man United player Louis Saha at the Chevrolet pavilion
Amid the highlights at the Chevrolet pavilion (that included the Corvette Stingray and the Camaro), there was a little treat for football fans. Louis Saha, known best for his tenure with Manchester United, was present for a 'meet and greet' session with winners of Chevrolet's 'selfie with legend' Facebook contest. Apart from getting to meet the French footballer, contest winners received autographed tee-shirts from Chevrolet.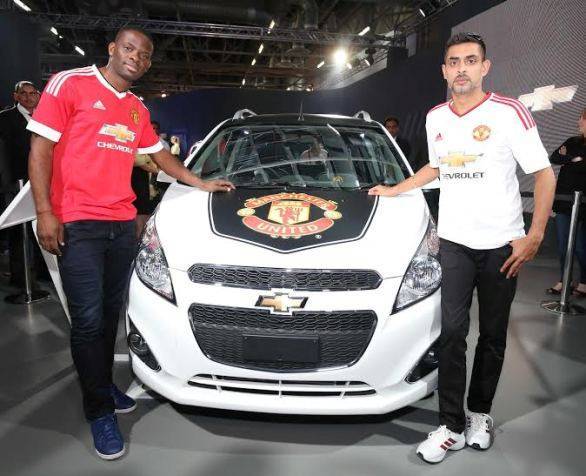 Louis Saha with Jack Uppal, VP, marketing and customer experience, GM India
Chevrolet also launched an Oculus Rift Virtual Experience called Colorado Co-driver. The 7-D game allows users to navigate a simulated road trip in a Chevy Colorado pick-up, with the New Zealand landscape as a backdrop.
The other virtual game launched was a football experience called Passabilities. Aimed at Man United fans, the game allows users to don the jersey of the hugely popular football club, and play in a simulated match that will be captured using a custom-designed app. The app also has a provision for capturing a short film of users "passing the ball to and from members of the team."
Each pass, Chevrolet says, will be a contribution to the One World Play Project through which the American manufacturer plans to donate 2 million footballs that would reach out to 60 million children across 90 countries across the globe.
Manchester United Legend Louis Saha visits Chevrolet Pavilion at Auto Expo 2016
Chevrolet India organizes 'Meet and Greet' with Indian football fans • Manchester United Legend Louis Saha engages with fans and visitors with an exciting virtual football game • 30 lucky winners who participated in Chevrolet India's Facebook contest received autographed Chevrolet-branded T-Shirts from Saha New Delhi: Manchester United Legend Louis Saha today enthralled fans at the Chevrolet Pavilion by engaging in a virtual football game and signing Chevrolet-branded Shirts. His appearance at the Chevrolet Pavilion at the 13th India Auto Expo was highlighted by huge support for the club with fans getting a once-in-a-lifetime opportunity to meet and greet the star footballer. Earlier this year, Chevrolet India launched a unique digital contest, "Selfie with Legend" on its Facebook page. The winners of the contest were invited to the Chevrolet Pavilion at the Auto Expo in Greater Noida and given the opportunity to meet Manchester United Legend Louis Saha. "Saha's presence at the Chevrolet Pavilion was a highly anticipated moment for the club's followers in India, and for Chevrolet India," said Jack Uppal, Vice President, Marketing & Customer Experience, General Motors India. "From the beginning of our partnership with Manchester United more than two years ago, we pledged to bring fans closer to the game. This unique meet and greet opportunity with Saha further demonstrates our commitment to football in India," he added. Manchester United Legend Louis Saha, said, "I would like to thank Chevrolet India for giving me this unique opportunity to meet Indian fans. It's great to see that Chevrolet is honouring the club's past and involving our supporters in such an innovative way. I am delighted to see so many enthusiastic fans in India." Two exciting games at the Chevrolet Pavilion Passabilities and Colorado Co-driver kept the visiting guests engaged through-out. Passabilities is an exciting game for football lovers that will allow them to don a Manchester United jersey and "play" in a match that will be captured using a custom-designed app. They will be provided a short film of themselves passing the ball to and from members of the team to share with their friends. Each pass goes towards a worthy goal where Chevrolet and One World Play Project will donate 2 million footballs, impacting 60 million kids in over 90 countries across the globe. To learn more, visit: http://chevroletfc-passabilities.com/. Chevrolet is an official sponsor of One World Play Project, creator of the One World Futbol - the world's first and only ultra-durable soccer ball that never needs a pump and never goes flat, even when punctured. Colorado Co-driver is an Oculus Rift Virtual Experience – a 7D technology that will give visitors the opportunity to take a mysterious road trip that places them in the role of co-driver. Their mission will be to navigate the Chevrolet Colorado pickup over rugged terrain through the picturesque mountains of New Zealand. The unique customer activations continue to enrich Chevrolet's brand value, brand commitment and unique opportunities for all auto and football enthusiasts.