2015 Yamaha R1 to be launched in India in March next year
India Yamaha has confirmed that bookings for the 2015 R1 will start from March next year with deliveries expected by May. In the UK market, Yamaha has disclosed the prices of the 2015 R1. The new 2015 Yamaha R1 costs around Rs 15 lakh while the track focused R1M is priced at Rs 18.5 lakh. Expect the prices of the R1 to jump significantly in India and the R1M, which is effectively a homologation special in many ways, might cost just under twice as much. The R1 is perhaps the biggest jump forward we've witnessed in the litre-class space and we're hoping that the bike delivers all that it promises.
Yamaha say the bike only retains the name and the crank is still a crossplane job, but everything else is brand new. The new 998cc inline-four uses four-valves per cylinder and is said to be making 200PS before you account for the additional pressurisation (and hence power) from the high-speed ram-air effect. Inside the all-new engine is a new crankshaft, titanium con rods, forged pistons and more. Also added are a larger airbox, a titanium exhaust, slipper clutch and a completely new assymetric aluminim frame including a new swingarm. The weight is down to 199kg wet and the wheels are cast magnesium, saving nearly a kilo between the two of them. Effectively Yamaha have rolled out a motorcycle that, fully fueled and ready to rock, has more than 1PS per kilogram of weight. Stunning.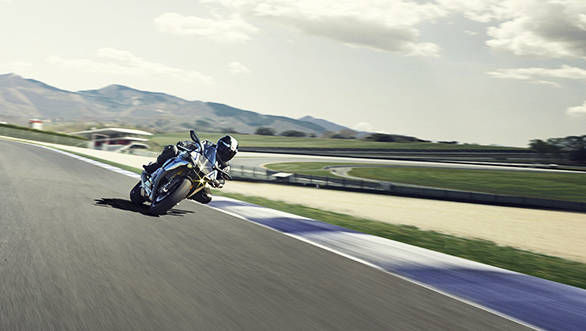 We wish the bike was stunning to look at as well. But the front looks a lot like the M1, the faired in small headlamps and the simple body-side graphics that look like they're waiting for sponsor stickers make this one of the least pretty R1s we've seen. That said, the 'gills' on the tank and the blank number plate on the front fairing are just two of the host of M1-inspired details.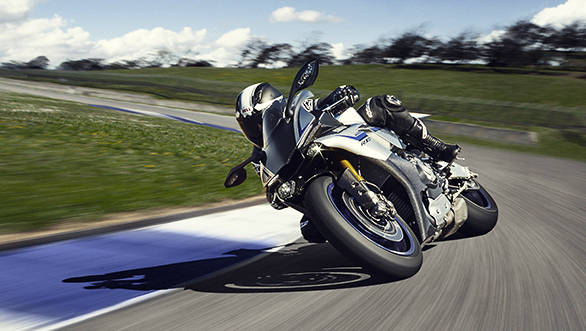 Yamaha's electronics suite actually generated the big buzz. Yamaha not only have ABS with brake force distribution but also an Inertial Measurement Unit (IMU) which uses three gyroscopes to track pitch, roll and yaw movements. The 125Hz IMU helps the ABS distribute brake force as well as talks to the ECU and traction control. Yamaha also say they have an Intuitive Slide Control System (evidently straight off the M1) that limits sideways slip. The R1 also gets wheelie control, launch control, and four power modes.
Price (Ex-Delhi)
Starts Rs 20,39,233