2015 Tata T1 Prima Truck Racing Season 2: Image gallery
The second season of the T1 Prima Truck Racing Championship was a thrilling affair, with some edge of the seat racing from the drivers. There were six teams in all, fielding two trucks each. The Buddh International Circuit seemed to be a favourite with Team Castrol Vecton Driver, Stuart Oliver who won his second consecutive championship this year. It was no a walk in the park though as he battled hard with his adversaries - Steve Thomas of Team Allied Partners in particular. The trucks bore many a bruise and scrape at the end of the race but all the contact driving was well within the realms of safety. Looking at the enthusiasm of the crowd, truck racing in India is sure to stay.
Scroll down for images from the exciting race. And don't forget to pick up the April 2015 issue of OVERDRIVE for a detailed report.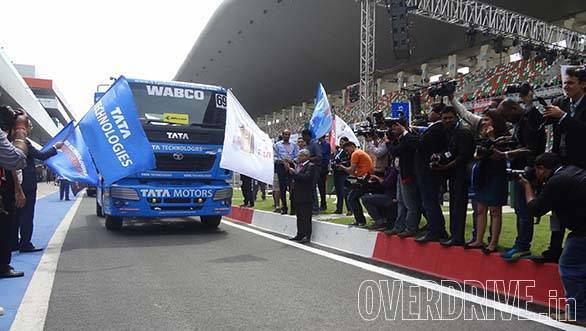 The trucks are flagged off before the qualifying round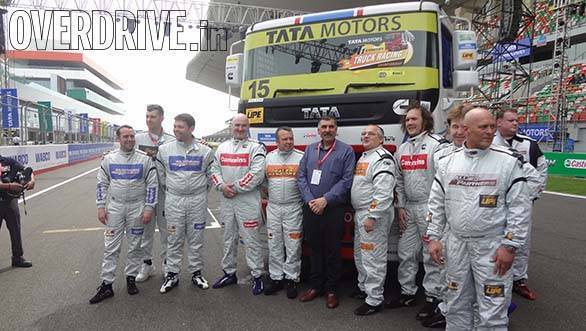 Steve Powell (centre) has been instrumental in bringing truck racing to India. He is flanked by British Truck Racing Association (BTRA) drivers
The winner's trophy
The pit garages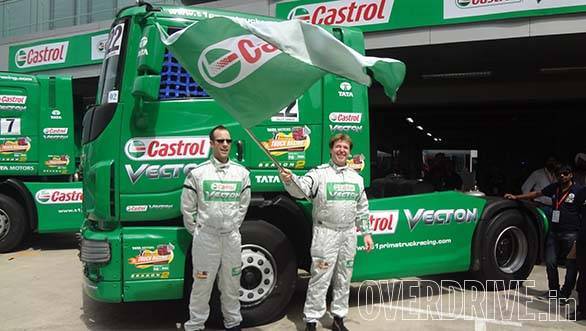 Olly James and Stuart Oliver from Team Castrol Vecton at the driver introduction session
Large water tanks, essential to keep the brakes cool
Steve Thomas of Team Allied Partners awaits the green light to head out for the qualifying round
One of the trucks from Team Dealer Warriors slipstreams before overtaking its team-mate
Extra large cricket bats to lift the tyre into position while mounting
Mounting a fresh set of tyres during qualifying
Service details of every truck in the pits
The cockpit of the T1 Prima racetruck
Drivers go as wide as the outside edge of the kerb before entering C1 at the BIC
Trucks are checked thoroughly before they set out
The trucks race past at over 125kmph on the BIC's start-finish straight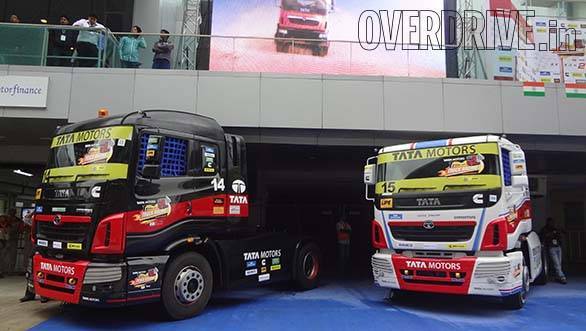 The T1 Prima Pace Truck in black
Harley-Davidson riders parade before the start of the race. . .
. . . followed by the real stars of the event
People taking selfies with the drivers were a common sight
A Tata Aria was the designated Safety Car
The drivers acknowledge the cheers of the crowd
The grand stand at the Buddh International Circuit was packed to capacity
Braking at over 120kmph, 50 metres before the first corner at the BIC. The steaming brakes tell the story
The pit crew works hard to fix the truck within the 45 minute window in between the super qualifier and the main race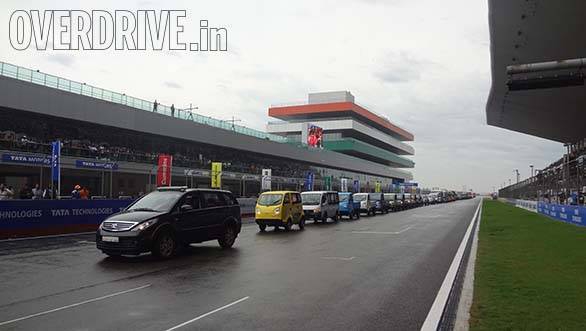 Tata Motors showcased its entire commercial vehicle range
The racers line up at the start of the race
The racers barrel down the main straight into C1
The racing was thrilling and mostly side-by-side
Team Tata Technology's David jenkins' stricken truck after he crashed into the barriers
A triumphant Stuart Oliver returns to the Team Castrol Vecton pit garage
Stuart Oliver returns to a rousing welcome from his crew members
Yes. Truck racing is a contact sport
Steve Thomas (Team Allied Partners), Stuart Olivar (Team Castrol Vecton) and Steven Powell (Team Tata Technologies) emerged triumphant. Here they are all smiles at the winners podium
Related Stories