2015 Skoda Fabia achieves 5-star rating in the Euro NCAP crash tests
The 2015 Skoda Fabia has achieved the best possible rating of five-stars in the recently conducted Euro NCAP crash tests. The company stated that its car was the only small car, amongst fourteen others to have achieved this rating. The Euro NCAP awards ratings to cars after determining the amount of protection that a car can provide to adults,children and pedestrians in the event of a crash. The agency also awards points for the safety assistance systems that a car comes kitted with. The Fabia in fact, managed to garner five stars in each of the aforementioned  categories.
The evaluaters at the crash facility were impressed with the structural integrity of the vehicle and noted the presence of six airbags, three point seat belts for five passengers and a host of other safety features. The car also features assists like hill hold function, driver fatigue recognition, speed limiter and tyre pressure monitoring system.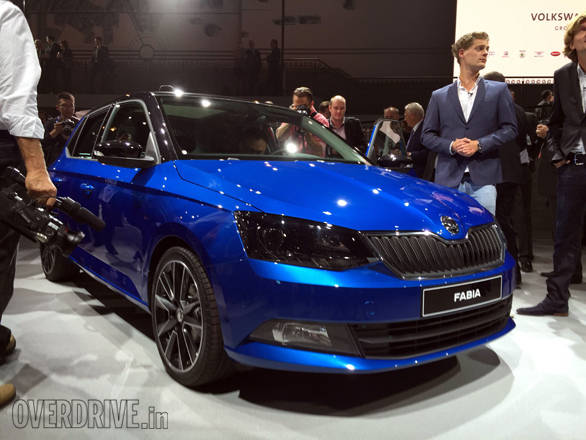 Recently, many Indian made cars failed to score any points at the Global NCAP crash tests. Cars such as the popular Maruti Swift and Alto,  Tata Nano, Hyundai's i10 and the Datsun Go failed miserably. Ford's Figo hatchback also failed due lack of airbags.
The Indian government has recently proposed to make life saving features like ABS and airbags compulsory on Indian cars. There are also plans to set up  crash test facilities in both Manesar and Pune. In light of these test results, we hope to see the attitude change for the better in our country.
Euro NCAP 205 Skoda Fabia
The ŠKODA Fabia achieved the highest score in its class in the 2014 Euro NCAP crash tests, and was the only one of 14 small cars tested to get five stars Outstanding passenger protection for adults and children Innovative safety systems, six airbags fitted as standard ŠKODA model range safer than ever Mladá Boleslav, 15 January 2015 – The new ŠKODA Fabia is the safest small car according to the latest Euro NCAP crash tests. Back in November 2014, the new ŠKODA model achieved the highest score in its segment, becoming the only one of 14 small cars to get five stars in the Euro NCAP crash tests. The Euro NCAP evaluation is based on the results in the categories of passenger protection for adults and children, pedestrian protection, and supporting safety systems. 'With innovative safety systems and a comprehensive safety package, our new model is setting standards in its segment. Receiving the award for being the safest small car in the Euro NCAP crash tests confirms this once again,' said Dr. Frank Welsch, ŠKODA Board Member for Technical Development. The new ŠKODA Fabia was awarded the best rating of five stars by Euro NCAP in all four evaluation categories (passenger protection for adults, child safety, safety assistance systems and pedestrian protection). The evaluators appreciated the stability of the passenger compartment in particular. The maximum possible score was given for the protection of infants up to 18 months. The safety of children up to three years of also received a high rating. The new ŠKODA Fabia has been available in some European markets since mid-November 2014, and is now on sale in the UK. The third-generation model is winning over customers with its expressive design, eco-friendliness, technology and increased safety and comfort. The new ŠKODA Fabia features safety innovations previously reserved for vehicles from higher classes. In the UK, it comes with Front Assistant with integrated City Emergency Brake function as standard from SE specification. The system uses radar to constantly measure the distance to the vehicle in front, and intervenes if the car is too close. The new ŠKODA Fabia also feature a multi-collision brake, reducing the risk of a subsequent crash following a collision in the road. Furthermore, it now comes with optional Driver Activity Assistant (fatigue recognition), and safety systems including a speed limiter, Hill Hold Control and an electronic tyre pressure monitoring system. The safety package in the new ŠKODA Fabia provides the best possible protection in the event of an accident. Six airbags – front, side and head – protect passengers in combination with five three-point seat belts. A high-strength body and optimised crumple zones form the basis of increased passive safety. Each of ŠKODA's vehicles now has the highest safety rating: all seven current models have received five stars in Euro NCAP tests at their launch – from the Citigo to the Superb. The top ratings have been the result of the company's extensive efforts to achieve maximum active and passive vehicle safety. Euro NCAP (European New Car Assessment Programme) is an independent consortium of European transport ministries, automobile associations, insurers and consumer advocates. The organisation performs crash tests on new types of vehicle, assessing their safety. Further information: Bernd Abel Head of Product Communications T +420 326 811 731 bernd.abel@skoda-auto.cz David Haidinger Product Communications T +420 326 811 737 david.haidinger@skoda-auto.cz For more information in the UK: Cathie Sleigh, Head of Press and PR M +44 7710 331 389 T +44 1908 548 042 catherine.sleigh@skoda.co.uk Rory Lumsdon, Product Affairs Manager M +44 7940 720187 T +44 1908 548 062 rory.lumsdon@skoda.co.uk Krystyna Kozlowska, Media Relations Manager T +44 7760 551 214 M +44 1908 548 060 krystyna.kozlowska@skoda.co.uk ŠKODA AUTO is one of the longest-established vehicle production companies in the world. Since 1895, the Czech headquarters in Mladá Boleslav has seen the production firstly of bicycles and then motorbikes and cars. currently has seven passenger car models: Citigo, Fabia, Roomster, Rapid, Octavia, Yeti and Superb. delivered over one million vehicles to customers worldwide in 2014. has belonged to Volkswagen since 1991. The VW Group is one of the most successful automotive groups in the world. ŠKODA, in association with the Group, independently manufactures and develops vehicles, as well as components, engines and gear transmissions. operates at three locations in the Czech Republic, produces in China, Russia, Slovakia and India mainly through Group partnerships, as well as in Ukraine and Kazakhstan through local partners. employs over 25,800 people globally and is active in more than 100 markets. www.skodamedia.com
Price (Ex-Delhi)
Starts Rs 7.75 Lakhs