2015 MotoGP: Lorenzo reigns supreme at Mugello
There is plenty of reason for Yamaha rider Jorge Lorenzo to celebrate. Not only did Lorenzo take a particularly fine win at Mugello, it was also his third straight win in the 2015 season of MotoGP. But more than that, he's managed to steadily hack away at Valentino Rossi's lead in the championship, with now merely six points that separate the two Yamaha riders.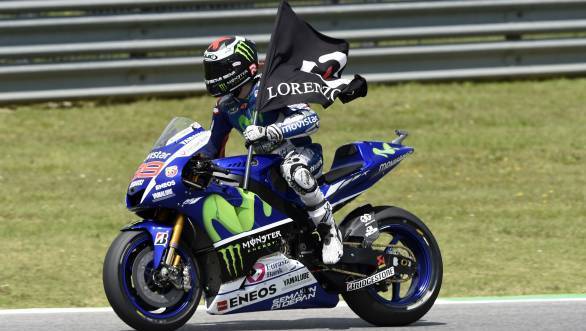 Victory at Mugello means Lorenzo is now just six points adrift of team-mate Valentino Rossi
Lorenzo's good form emerged as soon as the lights went out at the Italian track, with the Spaniard moving to the head of the pack by the end of the opening lap. Then he was uncatchable, winning by well over five seconds from the chasing pack.
But even though it was a Spaniard at the top step of the podium, there was reason aplenty for the Italian fans to cheer as well, with the Ducati GP15 taking Andrea Iannone to second place. Valentino Rossi made it to third place, having started eighth on the grid and dropping to eleventh at the race start.
Reigning world champion Marc Marquez appeared to have a tough weekend. While the Spaniard qualified 13th on the grid, he got off to a terrific start, moving up to third place by the end of the first lap. But in the closing stages of the race, Marquez lost control of his Repsol Honda RC213V and slid out of the race. The rider would later state that he had been riding beyond the limit until things all came undone for him. What this means is that Marquez's chances at the 2015 title aren't looking all too strong right now, especially if the Yamahas and Ducatis keep going at the pace they've settled into rather nicely.
Marquez wasn't the only one to crash out though - Cal Crutchlow fell while battling Bradley Smith. Nicky Hayden and Stefan Bradl crashed out too. As did Aleix Espargaro, after his Suzuki was clipped by Danilo Petrucci.
And on the other Ducati GP15, it was a rather unhappy Andrea Dovizioso who rode into the pitlane and into retirement, after issues surfaced on his race machine.
Valentino Rossi currently heads the championship standings with 118 points, with Yamaha team-mate Jorge Lorenzo second with 112 points. Then come the two Ducati riders - Andrea Dovizioso on 83 points and Andrea Iannone on 81 points. Marquez is currently fifth in the stands with 69 points in all.