2015 IRC: Gaurav Gill continues to lead Rally of Maharashtra on Day 2
The second day of Round 1 of the Indian Rally Championship, the Rally Of Maharashtra, witnessed drama aplenty. Samir Thapar of JCT Rallying retired after his Mitsubishi Evo X suffered irreparable damage yesterday, something that the competition must have been happy about. This left the field clear for the SuperXUVs to attack the timing sheets once again.
Gill leads the 2015 Rally of Maharashtra after the end of the second day of rallying
Gaurav Gill and co-driver Musa Sherif maintained their lead in the rally during the last three Special Stages of the event. After SS9 Gill had an overall time of 1hr 26min 25sec. His strength in the rally was especially evident in the windmill stage at Nashik, easily the most characteristic stage of the only tarmac rally on the IRC calendar.
Running second at the end of nine stages were Amitrajit Ghosh and co-driver Ashwin Naik who were second with an overall time of 1hr 30min 26sec. This meant that the two Mahindras locked out the top two positions on the timing sheets.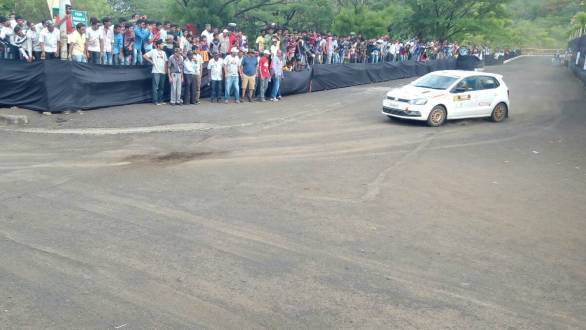 Arjun Rao Aroor is currently third overall in the rally, winning the first SSS at Nashik
Third place at the end of the nine Special Stages went to Arjun Rao Aroor, the only driver to pilot a Volkswagen Polo R2 of the 2015 IRC field. Aroor finished 16 seconds behind Ghosh, allowing him to keep the podium well within sight.
Now we get to the interesting bit. For the first time ever, the Rally of Maharashtra will feature three special stages instead of just one. The first Spectator Special Stage was held at the Dadasaheb Phalke Smarak in Nashik, with the 2km long loop being the perfect venue for spectators to witness the sights and sounds of a rally. If they wanted to get up close to rally cars, well, this SSS certainly allowed them to!
Sunny Sidhu nearly toppled the car in the SSS but was able to save it at the last minute
SSS1 had some amount of hairy moments too. Dean Mascarenhas ended up sliding into the barriers after a spectacular start that could have earned him valuable time. Sunny Sidhu ended up almost toppling his Mahindra SuperXUV, but regained control at the very last minute, much to the delight of rally fans.
Lohitt Urs was the last of the Evos in the rally after Thapar's retirement
Ultimately it was the VW Polo R2 of Arjun Rao Aroor that was fastest around the tight course, setting a time of 1 minute and 33 seconds.
The last two Spectator Special Stages will be held on Sunday and it will be interesting to see how reigning champion Gaurav Gill manages to stay ahead of Aroor, or if the Polo R2 can pull out a trick or two and shake things up.
Price (Ex-Delhi)
Starts Rs 6.17 Lakhs