2015 IOMTT: Ian Hutchinson notches up third win
Ian Hutchinson continued his winning streak at the 2015 Isle Of Man TT as he won Race Two in the Supersport TT class. The gritty ride highlighted his hunger to win as the Bingley rider thwarted any attack from his adversaries.
Ian Hutchinson notched his third win at the 2015 Isle of Man TT when he won the second Supersport race
The second Supersport race saw some intense battles as the riders went all guns blazing. On Lap One of the TT course, team Quattro Plant Muc-off Kawasaki rider James Hillier led Ian Hutchinson by a second followed by Superbike TT winner Bruce Anstey. Hutchinson moved into the lead on lap two, averaging 204.536kmph aboard his Yamaha. As the race progressed, Bruce Anstey was the only one who could have spoiled Hutchinson's party. Moving into second after passing Ramsey, the Kiwi rider tried hard to reduce the gap to Hutchinson. However, by the end of lap two, Hutchinson managed to open an eight second gap to Anstey.
After pitting for fuel, the duo were fighting tooth and nail as Hutchinson stretched his lead over Anstey to over 10 seconds. Anstey, meanwhile, did not give up and reduced the gap to 8.6 seconds as the final lap began. On the road to his third victory this season, Ian Hutchinson set the fastest lap time with a stunning average speed of 205.595kmph. Bruce Anstey finished second. Guy Martin secured his first podium of the 2015 TT after finishing third. TT favourite John McGuinness was locked in a three-way battle for seventh position with Connor Cumins and Dan Keen. Ian Hutchinson has been hailed for his incredible performance so far at TT 2015. He leads the TT championship table with 95 points. Bruce Anstey is second with a defecit of 23 points. The third spot is held by James Hiller with 52 points.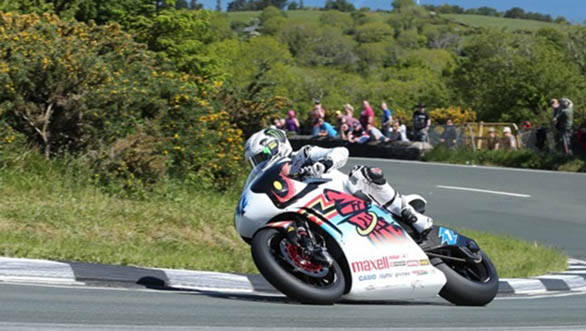 John McGuinness took his 22nd IOMTT victory with the win in the TT Zero class
In the TT Zero race, TT legend John McGuinness took top honours as he secured his 22nd TT win. The TT legend was astride the Mugen electric motorcycle and managed to finish four seconds ahead of team-mate Bruce Anstey. Victory Parker Racing's Lee Johnson and Guy Martin finished third and fourth respectively.
Winners of the second Sidecar TT, the brothers Birchall
In the Sure Sidecar Race Two, the Birchall siblings, Tom and Ben notched up an epic win number two. Leading from the beginning, the duo didn't not put a wheel wrong and kept the pair of David Molyneux and Ben Binns honest. The Birchalls opened a 3.4 second gap over Molyneux and Binns on Lap One. The brothers, momentarily, set a new sidecar record by averaging 187.944kmph. The record was snached away by Molyneux and Binns as they managed to average 187.947kmph. Yes, that was how close it was!
Stay tuned to OVERDRIVE for more on the 2015 Isle Of Man TT