Tata Tiago first drive review
The Zica (now known as the Tata Tiago) may sound like a strange name to be calling a car and even a week after the announcement, I still can't get my tongue to roll around that name. Perhaps the name will come easier to me in time but the Zica has a lot more tangles it needs to sort out for its parent Tata Motors. The Tata Zest hasn't done well and the Tata Bolt, the less said the better. The Tata Zica then has a lot riding on it and to ease the brunt of the baggage it carries, Tata Motors have even roped in Lionel Messi, four-time FIFA Ballon d'Or recipient and one of the most valuable soccer players in the world. After a fairly intense day with the Tata Tiago here then are the ten things we now know about it.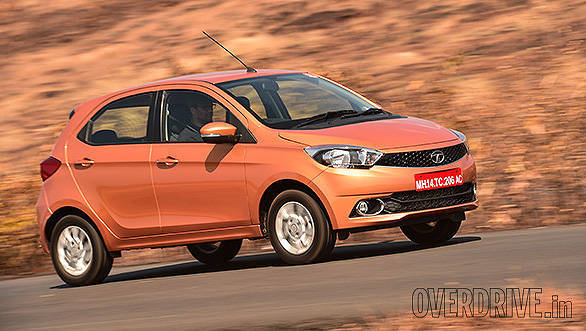 1. The Tata Tiago design is aimed at a younger audience. That explains why the lines are flashy and the ornamentation funky and rad. It's an attractive design that will ensure it will not be ignored. I'm particularly impressed with the front end and the way it protrudes outwards in this slight elliptical shape to provide this visual impression that the hood is longer than it actually is.
The front grille has a piano black mirror finish which gives it a very premium feel. It's a bold application of what is usually an interior finish on the exteriors of a car, especially on the front grille and it works wonderfully.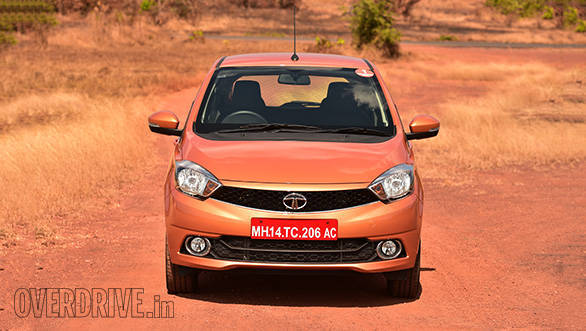 The one issue I have is with that 'humanity' line, which is Tata Motors' designer Pratap Bose's signature. The curve of that line which forms the base of the front grille reminds me too much of the Bolt and it's not baggage I would have liked attached to this car. With the fresh start, I do believe the Tata Tiago deserved a fresh identity, not something that is already associated with the Zest/Bolt. Take note, we haven't seen what the lower variants will look like, neither have see sampled details of what the lower variants will have as ornamentation on that front end. So details such as whether lower-end variants will get body coloured bumpers and driving lamps on that hexagonal air dam will remain undisclosed till the time of launch.
The side is also a very strong profile and immediately reminds you of Asian influences. But more than the overall profile, it's certain details that carry the profile forward, such as the belt and shoulder line. The belt line emerging from the headlamp and the shoulder line stretching into the tail lamp give it a sense of length. The creases around the door handle shaped as a windswept arrowhead is another strong detail in that design – subtle but eye catching.
I also like the effect the tail lamps provide. These are the wrap-around type but at either edge they also protrude slightly outside the edge of the car, like a small ledge, lending a sense that the Tiago is also a wide car. There is some very clever design work at hand here and full marks to Bose and his team who have done some extra ordinary work.
2. Space is the buzz word where any Tata Motors vehicle is concerned and the Tata Tiago does not disappoint in this respect. With a 2,400mm wheelbase, the wheels are pushed to the most extreme ends of the Zica. This means a large cabin space can be created. The leg space isn't the only benefit, there is enough head room as well. However, width at 1,647mm means you can seat three on the rear passenger bench but it will be a bit of a squeeze. Ideally, this is a car for four and should be enjoyed thus.

You also get a 242-litre boot which may not be huge by any standard but a quick look at our spec comparison will show you that's it's more than what Maruti offers in the Celerio but lesser than the Hyundai Grand i10.
3. The interior design is attractive and I never thought Tata Motors would ever pull this off but they have, and impressively at that. I like the shapes on the dashboard, especially the centre console, which once again bring out the hexagonal effect. But at the same time while the design is definitely better than what they have ever wrought from any of their works before, the quality of the mix of materials used in constructing that dashboard leads me to believe that certain corners had to be cut.

Most elements in this interior make this cabin feel premium and a very cozy place to be in. You have that fantastic music system from Harman that critically lifts the mood within this cabin. It's built of quality plastic with smooth buttons and dials that work flawlessly.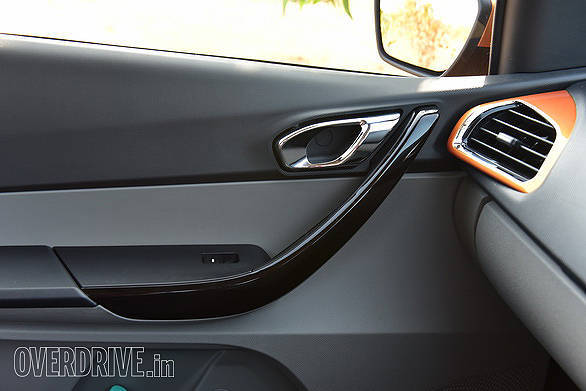 The piano black mirror finish on the gear knob, steering wheel arms and the door handles are another classy touch. Even the upper layer of the two-tone dashboard feels premium thanks to the shade and texture the grain provides. However, a layer below, the dashboard instantly feels completely out of sync. The plastic feels cheap and down market. The instrument console also has these flimsy looking bezels made entirely out of plastic that appear pedestrian. A simple chrome surround would have improved the look and feel significantly. Even the door pads, the dark layers feel premium but the light gray feels and looks like a compromise had to be reached to keep costs in check.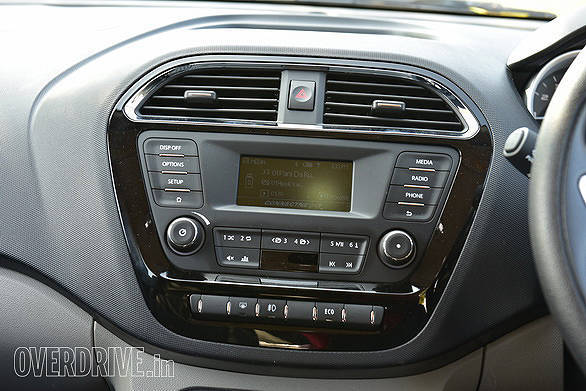 4. There is a host of features available in this car but only one of them is capable of making you go wow. You get an infotainment system but rather than develop something new for the Tata Tiago, why not use the same unit that's available with the Zest or Bolt? It occupies more or less the same amount of space and given the scale of orders, its pricing could also have been controlled. What's in use is a good system – I won't take that away from the unit, audio quality is crisp and aural feedback is clean and better than anything this segment has seen so far.
However, there are more interesting things this system does – for instance, it can create a network using a cellphone hotspot to let every other passengers in the car play their playlists at the same time. It also displays turn-by-turn navigation commands on its screen once connected via Bluetooth though simply using Google maps on your cellphone should be enough.
The Tata Tiago also has a cooled glovebox which works quite well though I'd have settled for rear air-con vents over trying to cool my bottle of water.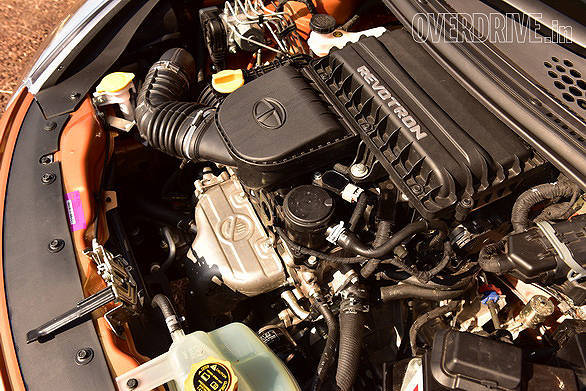 5. Tata Motors' bigger mission, larger than the Tata Tiago itself, comprised of the new engines powering this car. Both diesel and petrol are three-cylinder engines that use a DOHC four-valve per cylinder valvetrain and variable valve intake cam timing. The petrol makes 85PS of max power with 114Nm of max torque. The diesel makes 70PS of max power with a 140Nm of max torque. Both engines run high compression ratios and oversquare bore stroke configurations which clearly indicate the focus is on enhancing driveability and improving efficiency.
The Revotron petrol engine displaces 1,199cc and is naturally aspirated, unlike the previous generation mill that was turbocharged. What also differentiates it from the previous engine is its all aluminum construction. Like in the Tata Zest and Bolt, the Tiago also offers customers the multi-drive mode. However, instead of three modes, there are now just two – a City and an Eco mode.
Tata Zica has been renamed to Tata Tiago
The diesel is a 1,047cc turbocharged for superior operating efficiencies. Generally three-cylinder diesels are rough and noisy but Tata Motors have used a balancer shaft to eke out the vibrations and an oil sump made of sound-deadening steel is intended to reduce NVH. Max torque is also delivered from 1,800 rpm all the way to 3,000rpm with the engine speed limited at around 5,500rpm.

6. The petrol engine is the one I found more likeable. Its highlight is its driveability and linearity. Driven in some narrow crowded country lanes around South Goa, the engine never felt exhausted or lacking for power. Power delivery is quite linear and despite the 1,012kg kerb weight which is rather high for this category, the Tata Tiago revs freely and strongly. Even in higher gears at low speeds, the Tata Tiago petrol easily accelerates away if you mash the throttle pedal feeling almost like a diesel with its strong responsiveness. It's not zippy, mind you and while we have yet to test the car to acquire its performance ratings, it's quite possible that the Tiago might outrank the competition where outright acceleration performance is concerned.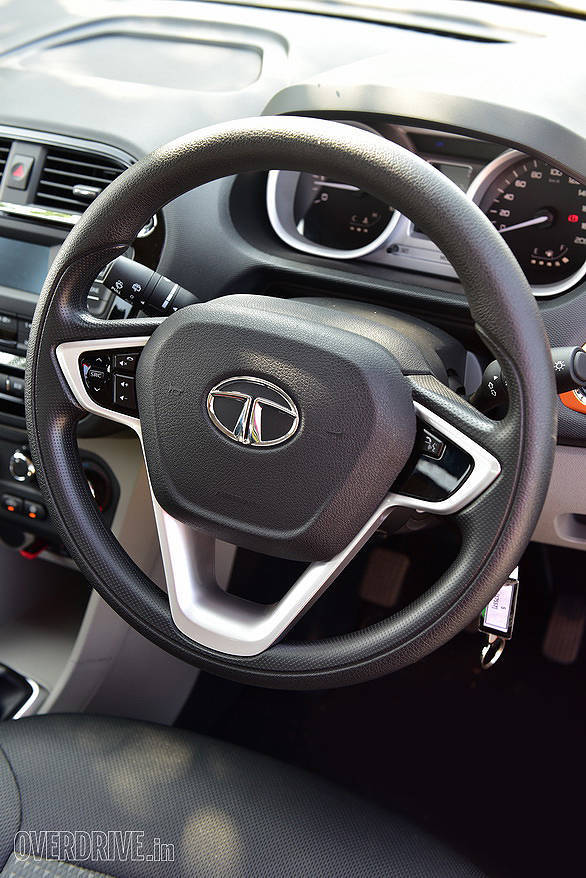 I did have one issue with this engine nonetheless and that is the fact that its clutch felt too light. Trying out a couple of standing starts, dumping the clutch and full throttle resulted in some amount of clutch shudder with a slight burning smell hanging in the air. That's down to either improper clutch setting or a cheaper grade – only Tata Motors know what they have used.
The diesel version is also quite linear and torquey but for once, I would settle for the petrol Tiago rather than the diesel. Either way, a diesel would make lesser sense in this segment and given the driving dynamics of the Tata Tiago petrol, I see more buyers flocking to that fuel. The 5-speed transmission could do with a bit more precision but shift quality is quite impressive and enjoyable.
We've also learnt that (and this isn't an official statement) that the fuel efficiency of the diesel powered Tata Tiago is around 25kmpl while the petrol is in the vicinity of 18-20kmpl.
7. The Tata Tiago employs a monocoque chassis. At the front end, an independent suspension with MacPherson setup is used. At the rear, there is a semi independent twist beam. The ground clearance is an appreciable 170mm, more than what its competitors offer. Tyres used are 175/65 R14 Bridgestones or Goodyears. The top end variant uses alloy wheels and a combination of disc and drum brakes, forward and rear, respectively.

The suspension is tuned more towards comfort damping rather than corner carving dynamics. Ride quality is impressive and it sufficiently damps out any surface roughness. However, on certain surfaces I did detect a bit of shudder in the front suspension in both diesel and petrol cars. At speeds over a 100kmph but below its roughly 150kmph top speed, the Tata Tiago feels planted and secure. Corner stability control and ABS with EBD bring a larger safety net to the Tata Tiago.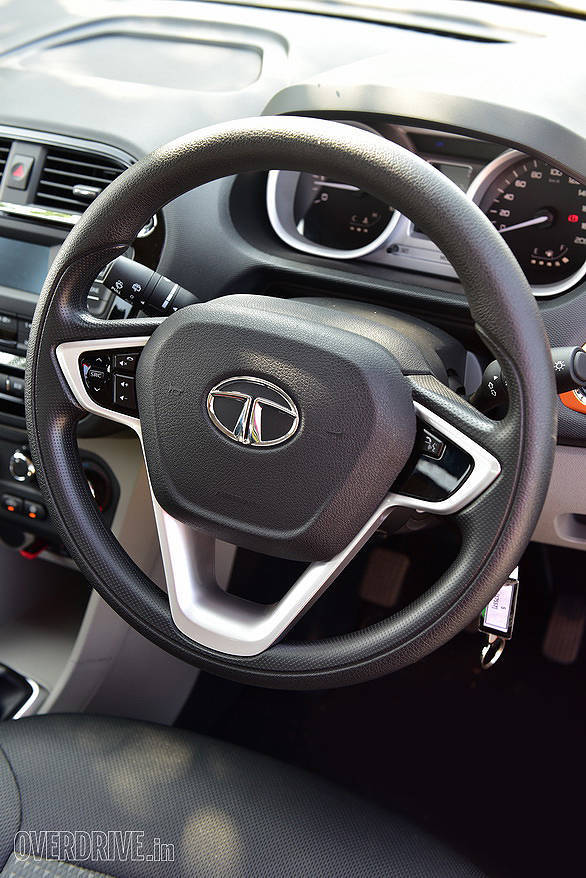 The electric power assisted steering, like any other unit, is quite lifeless, so feedback is hard to come by. However, for most applications, drivers will find this steering easy to use. As speeds increase, the steering gets heavy enough to provide the right amount of assurance.
8. Safety is also high on the cards. Tata Motors have also provided the top end Tata Tiago variant we drove with airbags for both driver and co-driver. However, they haven't disclosed yet if this will be a standard fitment across the range or available as an option. Full details on that aspect will only be revealed at the time of launch.
9. Tata Motors haven't revealed how many variants will exist and what the trim level in each will be like. Expect this information either closer to or only at the time of launch. However, they did indicate that trims levels might be as many as the other models which is the Tata Bolt or Zest, so expect around five or six variants to occupy space in the brochures.
Reliability is paramount and in that regard, I must say Tata Motors need to pay a lot more attention. The difference in plastic quality is so large that certain panel gaps and improper fittings are clearly visible. On our test car, we had another severe problem come up. The driver's side door handle would not operate from the inside. So, to open the door, we had to resort to opening a window and using the outside handle. Not something I want to see on a car that's ready to hit the streets very soon.
10. Overall, the Tata Tiago is the car that Tata Motors have strived to build for a very long time. It's unlike anything they have ever manufactured yet, better than anything for that matter. If Tata Motors can price it right, it would make for a very compelling purchase and hard to ignore despite being positioned against cars such as the Hyundai Grand i10 and the Maruti Celerio. A few niggles still need to be ironed out but all will be ignored depending on the pricing. A little birdie tells us that Tata Motors intend pricing to begin at around Rs 3.8 lakh which would undercut the Maruti Celerio by around Rs 10,000 and the Hyundai Grand i10 by almost a lakh. That is a hard bargain to drive home the point that Tata Motors intend taking the fight to their competition in a big way.
More from OVERDRIVE on the new Tata Zica:
Video: Tata Zica first drive review
Image gallery: Details of Tata's new hatchback in India, the Zica
Tata Zica features and specifications revealed
Image gallery: We drive the Tata Zica hatchback
Spec comparo: Tata Zica vs Hyundai Grand i10 vs Maruti Suzuki Celerio
.
Price (Ex-Delhi)
Starts Rs 4.6 Lakhs
Price (Ex-Delhi)
Starts Rs 4.98 Lakhs
Price (Ex-Delhi)
Starts Rs 4.99 Lakhs