Okinawa i-Praise+ first ride review
The electric scooter segment in India is on the rise, and we're seeing a new vehicle launch practically every month, and although the Okinawa i-Praise+, has been around for a while (2019), today, you will find out if it manages to keep up with the rest of the modern electric scooters.
The i-Praise+ is the flagship model from Gurgaon-based electric scooter manufacturer Okinawa. It's a scooter that costs about Rs 1.06 lakh (ex-showroom) which is inclusive of all subsidies in Maharashtra at this time, which makes it about Rs 26,000 more costly than the Okinawa Praise Pro model. Now although these scooters look alike and have a lot in common  like the body panels, lights, suspension, wheels to the display and seat, what separates the pair is the fact that the i-Praise+ comes with a bigger capacity battery and and also the option to connect your smartphone with this model which in turn gives you access to a host of additional features.
Design
Even though the i-Praise+ has been around for a while – since 2019 to be exact, the scooter still manages to look modern in this day and age. Most of that is down to the big headlamp unit up front, it's an all-LED affair. The protruding front end with its contoured panels and the machine-finished alloy wheel all add a nice dynamic to it. While the design of the front is a tad broad it all tightens up nicely towards the rather sharp looking tail section. The scooter gets disc brakes on both ends and even the rear wheel with hub-mounted motor looks wholesome with the plastic jackets on the swingarm mimicking end-cans. The scooter definitely looks neat on this red and black colour scheme and even on closer inspection I found the levels of fit and finish to be quite impressive with this scooter. Just that the sticker work on the scooter could be a lot better – there's quite a bit of it all over and some had already begin to peel off.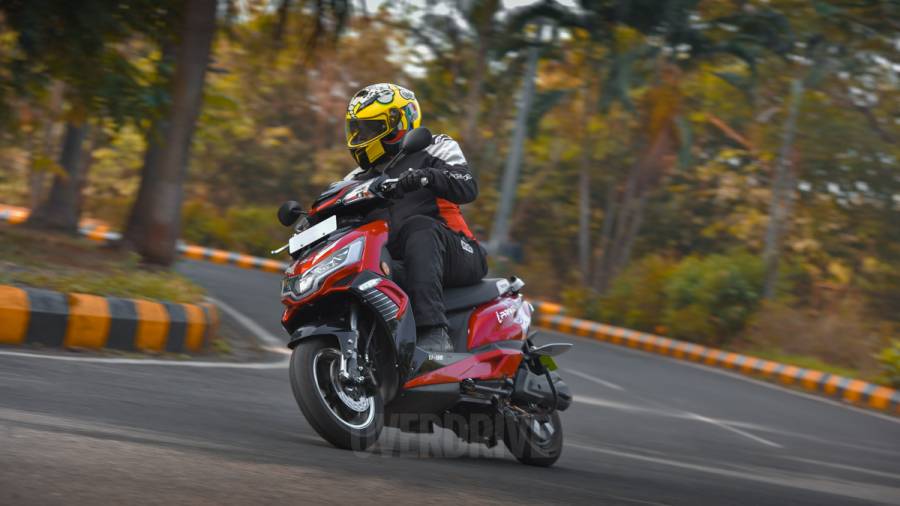 Ride and handling
As soon as you get astride the i-Praise+ you'll instantly realise how high the footboard is. This will put you in a slightly awkward and slouched riding position which will have your knees up and a lot closer to the handlebar than you would have it on any other ICE scooter. So this can be a bit uncomfortable on the go. The taller you are, the more, the more intrusive it's going to be to your riding style. Also for the pillion rider - there's not a lot of room for them to keep their feet comfortably over along ride which can be painful to deal with.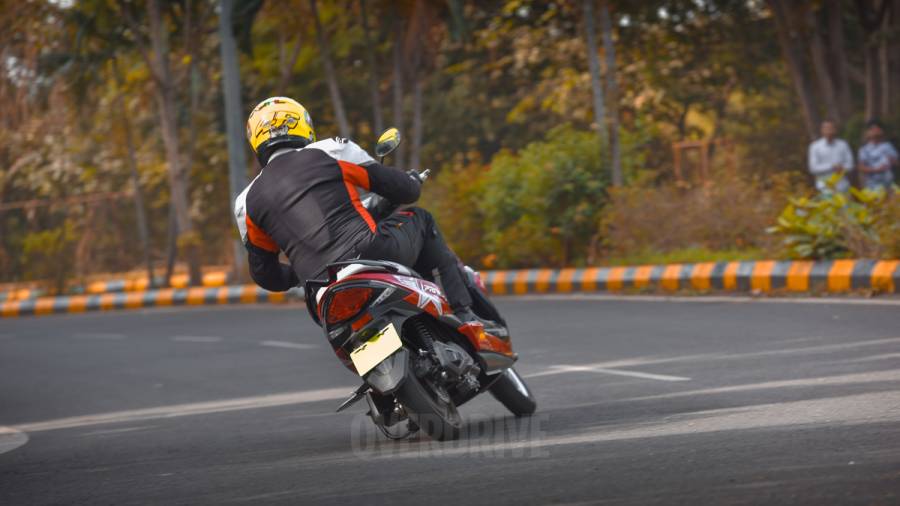 In terms of ride quality, the i-Praise+ is a very comfortable scooter to be on. The seat is well padded and accommodating. The front suspension is a bit on the stiffer side and you'll feel each and every bump that you traverse over whereas the rear is tuned on the softer side, and at times when I travelled with a pillion, and well short of the 150kg load capacity of this scooter, I did find the rear shocks of the i-Praise+ to bottom our very often. And this is something that you'll have to look out for because it can be quite upsetting on the go.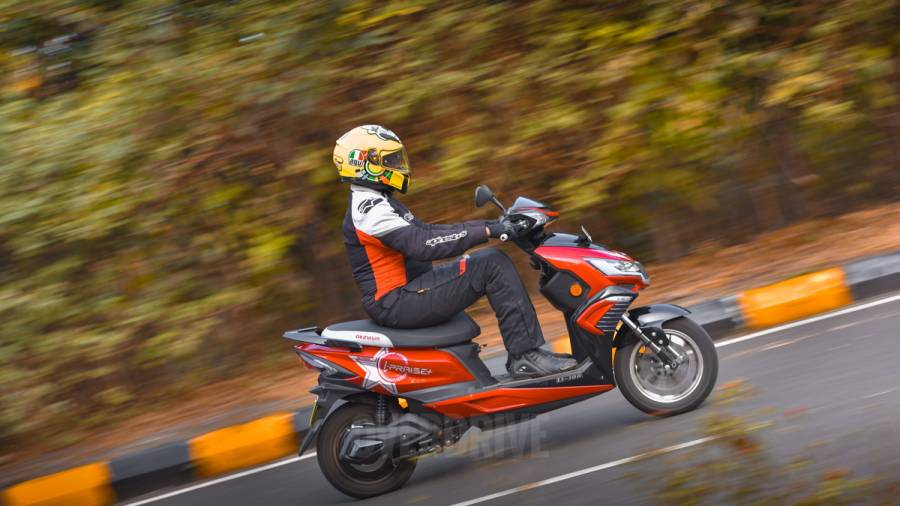 An upside here is that the rate of rebound is just enough to not give you the feeling like the scooter is trying to throw you off. It's something that you'll have to get used to but the good thing here is that the seat ensures things don't get too harsh. Overall, it's a light scooter that's easy to flick around the place and I quite like the way the front end holds up at speed as well. There's hardly any dive on hard braking too.
Features and Performance
The i-Praise+ comes with what could be seen as just the basic amount of electronic features and riding aids in this day and age. You get stuff like live vehicle tracking and monitoring, vehicle immobiliser, maintenance and service reminders, and battery alerts. In terms of riding aids, you only get e-ABS which works on the front wheel. Also, the instrumentation console is a single LCD display unit that gives you a limited amount of information like speed, ride mode engaged, battery level, trip and odo. The brake levers which are adjustable for span are a nice touch.
The i-Praise+ gets a 3.3kWh 72V 46Ah lithium-ion battery which gives the scooter a range of over 120km on a single charge which is impressive. The scooter also comes with a 1000W BLDC motor with a peak power of 2.5kWh. You get two ride modes –Eco and Sport – which basically limits the top speed of the scooter from an indicated 45kmph in eco to around 70kmph in sport and there's also a turbo button that allows you to go 5kmh faster for around 30secs to overtake a vehicle after you hit the top speed in sport mode. There's a good amount of low-end shove right off the line after which the scooter takes its time and gradually picks up speed. It doesn't feel as quick as an ICE scooter, but it's definitely a fun scooter to ride once you get the hang of things, and that won't take long.
So the i-Praise+ doesn't come packed to the gills with tech, which could be seen as aright considering its capabilities, but one really annoying bit about the scooter is the fact that it doesn't indicate a battery charge percentage. All you have to work with is this very retro-style indication on the dash that shows you the available charge in five digital bars. Even after connecting to the mobile app, there's sadly no accurate readout. This is made even trickier by the fact that the trip meter resets every time you turn the scooter off, so you'll have to be very calculative and conscious of the kilometres you're cocking on the odometer. Once the charge drops to a single bar, the scooter goes into limp mode and you won't be able to exceed a speed of 25kmph until the battery drains and finally bringing this scooter to a halt in about 10kms. And this definitely toys with your battery charge anxiety.
Charging and Storage Space
Now the i-Praise+ is a very attractive looking scooter. Sure, once you get used to the slightly awkward riding position it will have you seated in, you'll find it to be quite a comfortable scooter to get around town on, it's just that this scooter might be lacking certain tech features that other manufacturers and scooters have on offer in this particular space, but one could tend to overlook this considering how much fun this scooter is to ride, and also its more than decent range capability. But something that can't be overlooked however is the fact that it doesn't come with a lot of storage space on offer. Battery takes u more than 80 per cent of the entire underseat storage space, which doesn't leave a lot of room for you to store your half-face helmet. In fact the only usable storage space you get with this scooter is just behind the front apron, but this can't be locked and you won't be able to store anything of value there over night.
I took the liberty of draining the battery completely while testing to find that the scooter managed a range of 118km out in Mumbai, in Sport mode. Also, it took almost 5-hours to come to a complete charge. Even though this battery pack can be detached and charged as per your convenience, at 22.5kgs, it is massive and not the easiest lithium-ion pack to carry around the place.
Conclusion
Now the year is 2022 and the i-Praise+ has been around for a couple of years, even so, this Okinawa comprises some features that keep it modern and relevant in this day and age. Not only is it a smart, sporty looking modern scooter, but it also it also is a very comfortable scooter to get around town on. In terms of performance, well, the performance of the electric motor teamed up with the three rides modes – well it's not the quickest scooter around town, but it's definitely a fun scooter to ride. Then there's the battery which can be detached and charged and also its capacity gives it a 100+kilometer range which is more than acceptable in today's standards – electric scooter-wise of course. Now the only setback with this scooter is with its storage space and it also comes lacking certain tech features which could be seen as a good or a bad thing. The i-Praise+ is a scooter that definitely makes you think about when you charged it last before setting off, but isn't that the case with any electric vehicle. Just wish that it had a charge percentage readout to reduce my anxiety whenever I was two bars down. So if you're looking out for a simple and fun-to-ride electric scooter that's devoid of any tech gimmickry this should be a scooter that you could consider.
Price (Ex-Delhi)
Starts Rs 65,430
Price (Ex-Delhi)
Starts Rs 71,990