Maserati Levante Diesel road test review
Around the same time last year, I'd driven the Jaguar F-Pace, and said it was one of the hottest looking SUVs in the market. And I wasn't sure it would lose that title anytime soon. But now, I think I may have been wrong because of this, the Maserati Levante. It's the first SUV from the exotic Italian brand, and true to Maserati's tradition, it's an absolute stunner to look at. But does it deliver on all the other aspects you'd expect from a Maserati?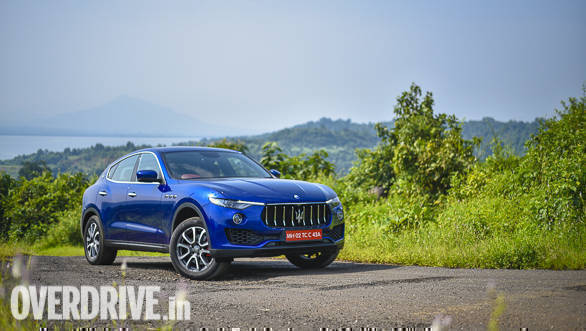 The Maserati Levante is looker, no doubt. We find out if it checks all the other boxes you'd expect a Maserati to
Just to be clear…
Like I said, the Maserati Levante is B-E-A-U-tiful. When the car was revealed, I thought it was the least SUV-looking SUV there was, and seeing the car in flesh only confirms that. It's large, no doubt, but the design is so sleek, and well thought out, that it's more like what a well-built athlete would seem next to a bulky body-builder. Unquestionably, the best angle to view the car from is the front. The rather evil look it's got thanks to those sleek headlights and the trident on the eight-slat grille make everyone around the car go, "Woooooow!" I'm not kidding about this -- it happened a lot when I was driving around the city. In fact, people in fancy Mercs, Beemers and Audis kept pulling up next to the car to check it out.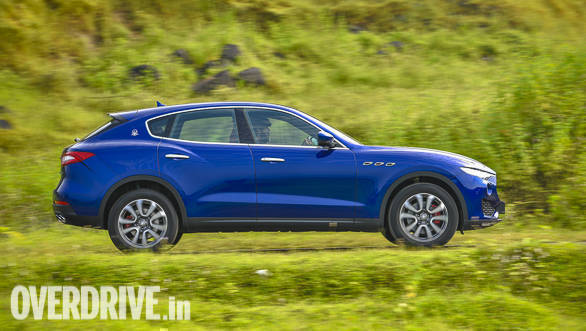 The side profile of the Maserati Levante looks more crossover than SUV
The side profile is typically Maserati with the three slots on the front fender, the sleek profile and the pronounced rear haunch -- all of which, while really attractive, contribute to the fact that it looks more like a crossover. The rear, while still really good-looking, seems to lack a little flair that you find in the otherwise aggressive and sharp-looking exterior.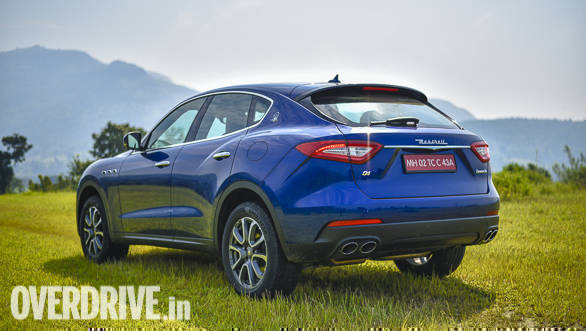 The rear end of the Maserati Levante lacks seems to lack a little flair
The Maserati Levante's interior is tastefully designed and feels very special
Once you're inside the car, you're bathed in a luxurious leather interior that feels quite special. There isn't some ground-breaking technology or feature in there, but the symmetrical layout, the finish and materials remind you that some tasteful Italians designed it. I especially like the design of the large three-spoke steering wheel, and the fact that you get analogue dials -- I'm a real sucker for those. At the back, the seats are pretty comfortable, and there's more than enough headroom and knee room.
Under the hood
Maserati is only selling the V6 diesel Levante in India for now, while the more exciting 430PS V6 petrol is expected to come in at a later date. But don't worry, the diesel is far from being a bore. The 3.0-litre turbo-charged engine produces 275PS of power at 4,000rpm and 600Nm from 2,000-2,600rpm. With it, are an 8-speed automatic transmission and a rear-wheel biased all-wheel-drive system. The engine is very responsive and while power delivery is linear, it's also just aggressive enough to keep things interesting. It's got four drive modes -- Normal, Sport, Off Road and I.C.E. (Increased Control and Efficiency).
The V6 in the Maserati Levante probably makes one of the best exhaust notes in a diesel car
As you'd expect, Normal and I.C.E. modes are ideal for city driving thanks to a duller throttle response, and better efficiency. It returned a decent (decent as far as engines this big go) 8.65kmpl in the city and 11.24kmpl on the highway. In Sport mode, the idle note becomes a little more bass-y and when you step on the throttle, the Maserati Levante gives out an extremely satisfying gruff rumble, which I think is one of best exhaust notes in a diesel car. However, once you pick up speed, it's drowned out by road noise, leaving just a 'whoosh' sound every time you floor it. So while it is pretty quick - 0-100kmph in around 7 seconds kinda quick - it lacks the sense of drama you'd get from a louder petrol engine. And what makes for a more emotional experience than dramatic effect!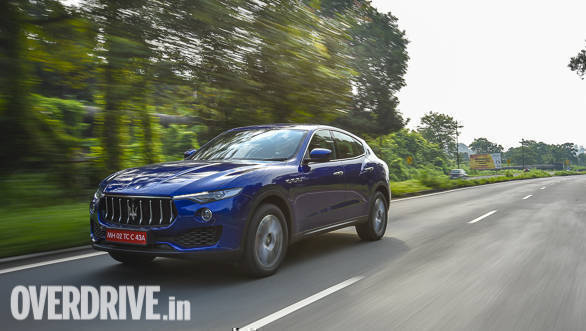 Power deliver in the Maserati Levante is linear, but also just about aggressive enough to keep things from getting boring
Another thing that goes a long way in making a drive more involving, but is missing here, are paddle shifters. There are these paddle-like switches on either side of the steering wheel, and this one time when I tapped on them for a downshift, I instead found that the audio volume was going up. That's right, Maserati has placed audio controls where paddle shifters should have been. They are offered as optional equipment, of course, but you'd expect them to be standard in car in this segment. But apart from that, the 8-speed gearbox does a pretty good job of giving downshifts without hesitation when you ask for it. It's not DSG or sportscar kinda quick, but certainly quick enough to not have to complain about.
Up around the bends
What the Maserati Levante lacks in dramatic sounds, it makes up for with very exciting cornering speeds. While it doesn't stay flat like a sportscar, and I don't expect it to, the amount of grip it offers is really quite staggering. When you chuck it into a corner, it leans just the tiniest bit, but continues to hold its line as if on rails. The all-wheel-drive system is constantly adjusting how much power is sent to the front and rear wheels, and you can see this on the display in the instrument cluster. Although, I'd suggest you keep your eyes on the road because you will be carrying some scary speeds around corners.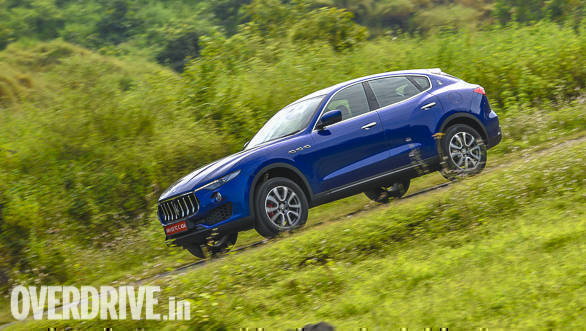 The Maserati Levante is capable of carrying very exciting speeds through corners
The steering response is very sharp, making turn-in and agility surprisingly quick for a vehicle this large. I also really loved how much confidence I got thanks to the steering feedback because of the amount of feedback it provides -- something most cars these days lack. However, at really high speeds, the car does feel a little twitchy because of how sensitive the steering is.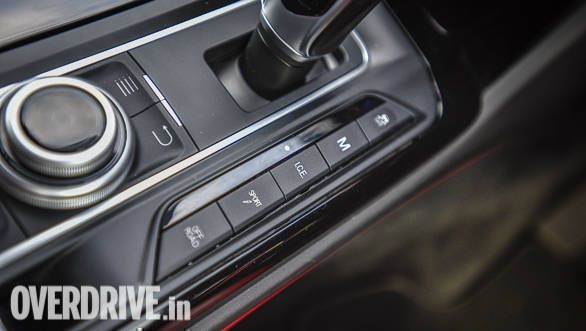 There are four modes in the Maserati Levante -- Normal, Sport, I.C.E. and Off Road
In Sport mode, the air suspension drops the car a little lower and firms up, making it very stable over the undulations on the highways. In normal mode however, the softer setup makes it feel just bouncy enough to be called comfortable, at cruising speeds. At very high speeds though, it can get unnerving. At city speeds, the softer setup does a good job of soaking up small-to-medium sized ruts very well. Over the larger ones however, it thuds and causes a lot of movement inside the cabin if you don't slow down. And this setup is something you see in almost all luxury SUVs in the market. There is also an Off Road mode, which raises the car and reduces throttle sensitivity, but unfortunately, we didn't really get the chance to see how capable it is off the beaten path.
In the end…
One of the USPs of the Maserati Levante, is the exclusivity it offers
To sum it all up, the Maserati Levante is certainly a very, very nice car. It's exotic, gorgeous, fast, fun and pretty practical too. That said, it's also a very, very expensive car! At Rs 1.50 crore, ex-Mumbai, it's around Rs 25 lakh more than the 3.0-litre Jaguar F-Pace, which we already think is too expensive. At this price, it goes up against a larger, more capable SUV, the Porsche Cayenne, and I'm not sure the Maserati Levante has enough on the platter to justify that price tag. However, what it does offer is exclusivity. If I wanted an SUV that would really make an impression everywhere I went, I wouldn't look at anything but the Maserati Levante.
Price (Ex-Delhi)
Starts Rs 1.45 Crore
Price (Ex-Delhi)
Starts Rs 69.9 Lakhs
Price (Ex-Delhi)
Starts Rs 1.19 Crore