Bounce Infinity E1 first ride review
The Infinity E1 is the first high-speed scooter from Bengaluru-based smart mobility solutions company, Bounce, and priced at Rs 68,999 (ex-Showroom, Delhi and inclusive of all subsidies) it's one of the most affordable e-scooters of its kind in India. The most interesting part about the Infinity E1 scooter is the manner in which you can buy one. Bounce gives you a couple of purchasing options for the E1, namely: Option 1. Where you buy the scooter the goo old-fashioned way – which would include the battery and charger, and Option 2. Where you only buy the scooter and rent/swap the battery via a couple of subscription plans which would bring down the cost of the scooter to as low as Rs 36,000 in a state like Gujarat.
Now I should mention that the Infinity E1 scooter that we're riding today is a pre-production model and although much of what you see on the scooter here is going to make it to the production model that will hit the streets in a couple of months, it will undergo some cosmetic adjustments and tech tweaks.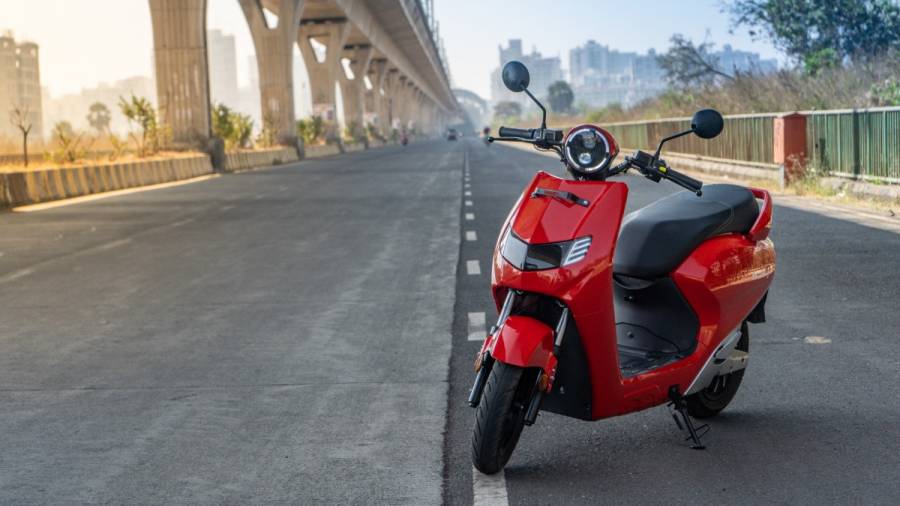 Design:
The Bounce E1 is a quirky looking thing and doesn't look like any other electric scooter out in the Indian market. The round headlamp unit looks a bit odd on a scooter with a lot of smooth flat panels, but still, with its projector lamps and DRLs adds a premium touch to an otherwise rather simple looking scooter. This is a scooter that's positioned to give you the most bang for your buck, so here, function takes precedence over form. The level of fit and finish echoes this. There are evident panel gaps all over some of the test vehicles and some of the switch gear feels like it's lifted from some two-wheeler that came out a decade ago. The display is a simple LCD unit that gives you readings of speed, battery charge, vehicle range, odo, Bluetooth connectivity and other indicator lights. It would have been nice to have a trip and a clock though, just to let you keep track of rides a little better.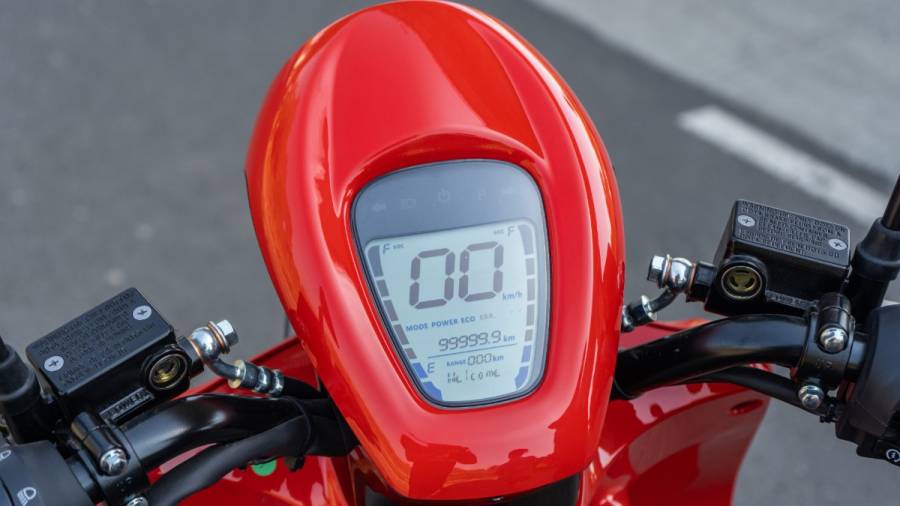 The overall styling of the scooter is rather simplistic and there are modern touches all-LED lighting and you even get these pillion footrest that sit flush on the side panels and pop out once you give them a push. But the latter didn't appear to function very well when I tried to put them back in place. Also the side stand on the scooters looked odd because of the way it protrudes out, but it can tend to scrape the ground if you lean into a corner. Bounce tells us that the production model scooters will address these issues and also come with a main stand as standard.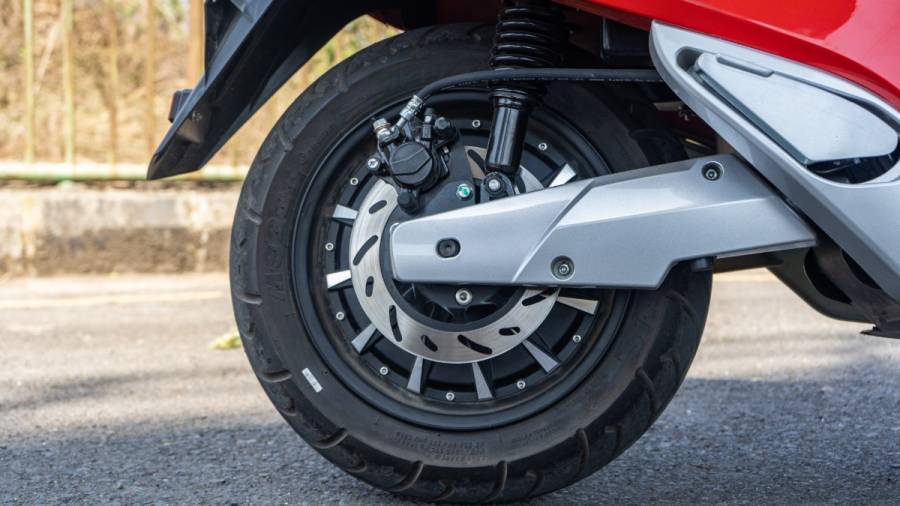 Features:
The Bounce Infinity E1 comes with two ride modes - Eco and Sport that limit the top speed to an indicated 45kmph and 67kmph. There's even a Drag mode that you can switch to in the event you suffer a puncture and have to get off the vehicle. Once this mode is engaged you can walk alongside the E1 without having to push, with the scooter crawling along at the speed of 3kmph. Engaging the reverse mode is a tad tedious as it involves a number of steps like firstly switching the hazard lights on before you press the brake lever, then hold the reverse button down before throttling to go in reverse.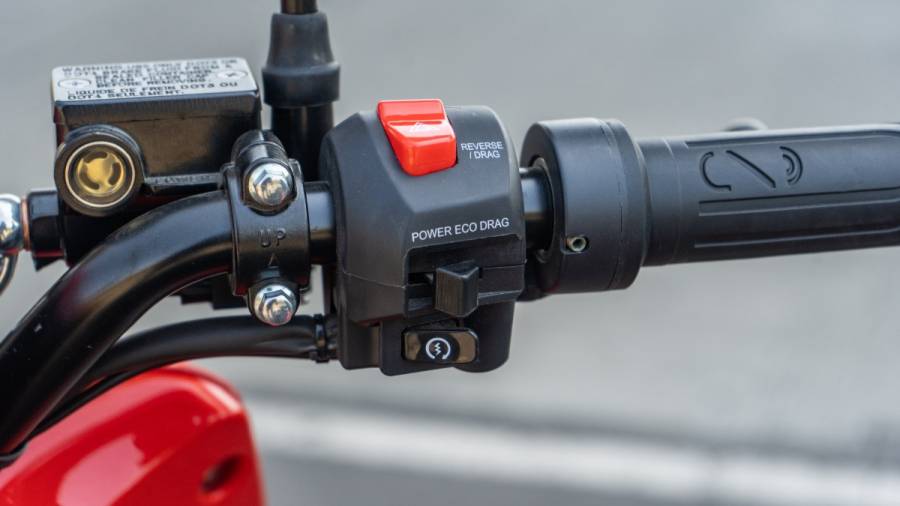 The E1 also features certain features like geo-fencing and other vehicle data after hooking up your phone to the scooter via Bluetooth, but we're told that the app is still undergoing certain processes with android and apple app-stores and therefore couldn't experience this bit.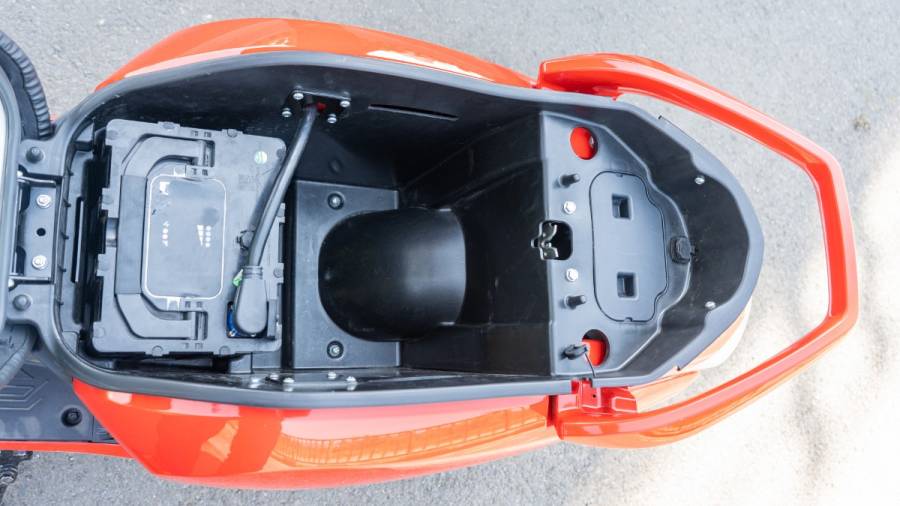 Now if you opted to but the Infinity E1 with the 2kWh battery and charger, you technically could go to a swap station and pay for a swappable battery on the go after undertaking some formalities via the app (also, you can in fact fit in two batteries in the 12-litre under-seat storage area). But if you tried to charge that pack with your home charger, it simply wouldn't work, because all the batteries are IOT enabled and monitored by Bounce.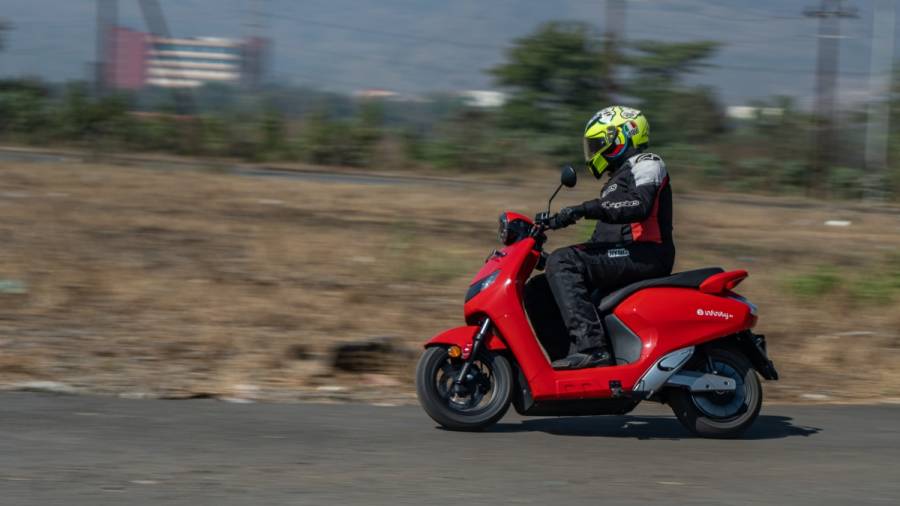 Ride and Handling:
Armed with a Bosch BLDC motor with a peak out of 2.2kW, performance of the E1 is smooth off the line even with the throttle whacked open completely in both modes. But the initial shove is very relaxed and isn't as strong as I would have liked. When you're travelling at around 30kmph, there is a small surge in power to help you carry out an overtake till about 40kmph, after which, if you're in Power mode, the scooter goes back to accelerating in a relaxed manner all the way to its top speed 67kmph. The E1 is very light and easy to ride. Riding the scooter around town will be a fuss free affair thanks to the low seat and the rider friendly ergo. The chassis and suspension setup is perfect for life in the city and the scooter will gladly dilute the sharpness of bumps that you encounter at low speed and you don't really feel overly unsettled if you hit an unforeseen bump at 60kmph either. It's no corner-carving scalpel, but changing direction quickly when astride the E1 feels pleasantly manageable. The turning radius is pretty good on this thing too. The electric gets disc brakes on both ends with regenerative function when employed. While the right lever functions the combined braking system, I found it to lack a good amount of bite, while the left lever functioned the disc unit at the rear perfectly well.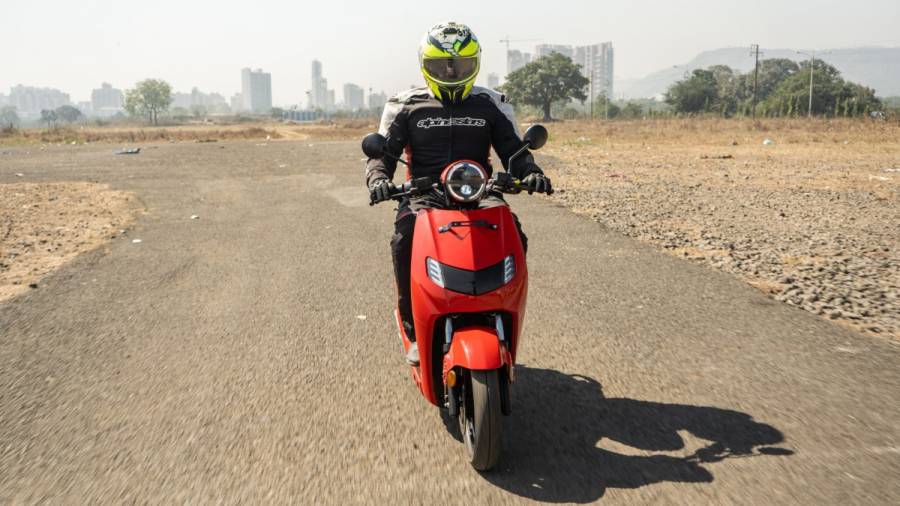 Points you should ponder over before purchasing:
Something odd that I came across was the fact that the instrument console displays seven bars of charge when the battery is topped up but it dropped down to two bars after riding just 30km which upped my anxiety level a bit. The range indicator on the display told me that I had around 30km to go, which goes to show that there are some calibration settings that are in order here.
The E1 has been set up primarily for city usage and its main USP is the Bounce's battery charging infrastructure. The concept is simple. Run out of juice on the go, and you simply have to pull up to a Bounce charging station and exchange your drained battery for a fully charged unit for a low fee. The E1 has a claimed IDC range of around 85Km on a single charge, but in real world conditions we saw this figure to realistically drop to around 65 in ECO with a further reduction of 10-15km in Power mode. Bounce aims to have one of its charging stations within a kilometer of each other in every major Indian city by next year, after tying up with a number of restaurants and grocery stores, but as of now, the charging network is limited to around 200 battery charging stations in Bangalore and Hyderabad. So if you're planning on buying an Infinity E1, this is something you'll definitely want to look into before doing so.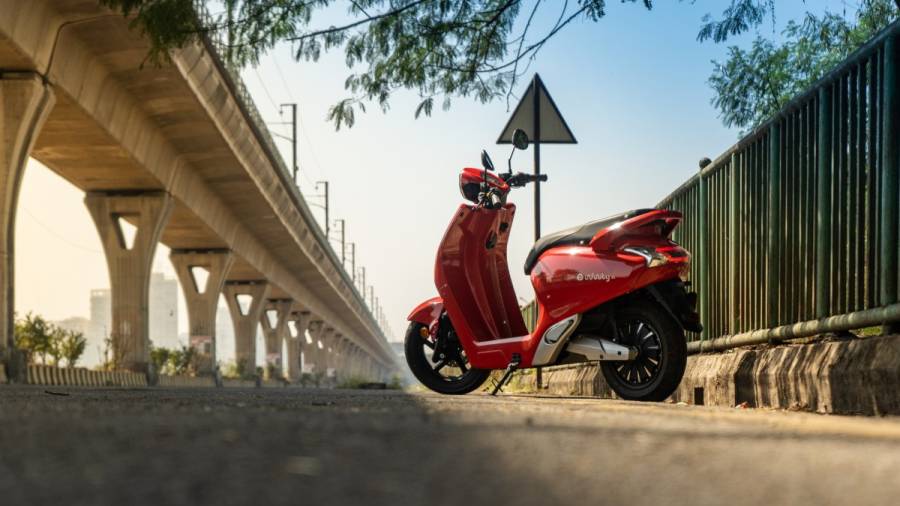 The scooter we tested is a pre-production model and it will undergo some fine-tuning before it hits the streets in April 2022.
All things considered, given its attractive pricing, the Bounce Infinity offers a lot of promise, but currently, it's a tad rough around the edges.
Price (Ex-Delhi)
Starts Rs 68,999
Related Stories