2022 Renault Megane E-Tech Electric first drive review
For almost the last three to four years the Renault Nissan alliance has been making claims about stepping into the electric vehicle business in India and then retracting those decisions several times. With severe storms hitting the alliance on various fronts, India was kind of overlooked for a while, especially as the auto sector's growth was nowhere close to the predicted volumes, for well over a decade. Renault nonetheless quietly went about building several products for the sub-4 metre passenger car market, enjoying enormous success in these segments. The Kwid, Triber, and more recently the Kiger have a strong captive audience. They tried the Captur, but the numbers were dismal. Now Renault is back to giving electrification in India a shot and they intend to start that journey with the Megane E-Tech Electric.
These plans haven't been sealed yet, and there are still some decisions to be taken before announcements are made in this regard. Yet a small bunch of us was flown to Marbella in Spain to evaluate the Megane Electric and provide feedback that would perhaps tip the scales in favour of the business kicking off in India.
The Renault Megane E-Tech Electric is built on an entirely new platform that is in a way an extension of the compact modular family, called the CMF-EV. There are two electric cars planned on this platform, one of which is the Megane electric. The platform carries several innovative features, some of which I'll point out in due course.
2022 Renault Megane E-Tech: It's French, Must Be Dressed Well
This is the fifth generation Megane and is quite unlike the previous generation hatchback whose appeal lay in its athletic yet voluptuous proportions. The Megane Electrics exteriors draw inspiration from large family hatchbacks, losing some of the slinkiness that made it a fairly big hit in Europe. It is nonetheless attractive, well-proportioned and has a few detailing elements that scream upper-crust high maintenance because of that exterior design and styling! The car we were driving is the top of the line Iconic edition that gets the two-tone exterior finish with the gold highlights screaming for attention. Its dimensions are large, comparable to some compact SUVs, this also gives it a strong unmissable presence on road. Even in Marbella which has a generous share of sports and supercars roaring across the landscape, the Megane Electric drew plenty of stares, with many inquisitively coming over for a closer examination.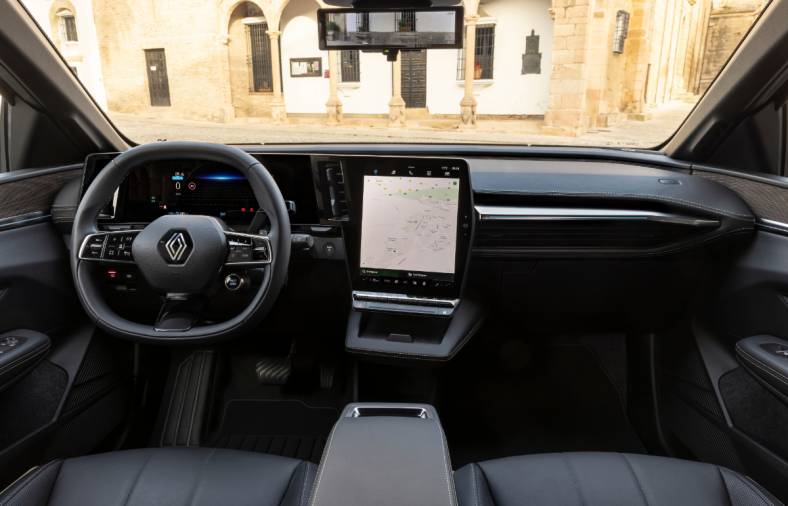 The cabin however does not reflect the same level of grace or aesthetics as the exteriors, probably because much of the dashboard is dominated by the large screens. The Megane simply jumps onto a bandwagon already crowded by the likes of Tesla, MG, Volvo and many others. A needlessly large 12.3-inch screen sits behind the steering wheel, with a portrait-style 12-inch screen serving as the infotainment interface. These are stunning displays, to say the least, crisp, clear fonts and layouts, and flipping through the various menus is intuitive. They're also as distracting as watching Gisele Bundchen walk past as you're crossing a busy intersection. The dash also envelops some soft-touch leatherette and wood-like surfaces. The drive selector like in a Mercedes Benz is found near the indicator stalk, and without a transmission tunnel, it leaves a centre console area free to be stylistically applied for other purposes, like a wireless charging pad.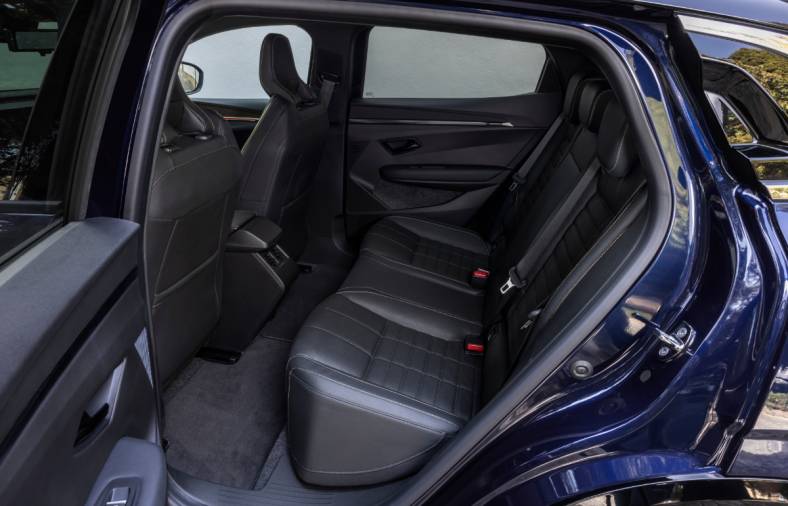 The rest of the cabin feels a bit spartan, with rear-seat passengers getting adequate knee and headroom, but not more than air-con vents by way of features. The rear also has a fully flat floor with the bulk of the battery being placed under the floor pan and the generous boot area. The design of the battery pack is one of the many innovations, it is just 110mm thick sandwiched between noise and heat insulators and that allows the centre of gravity to drop a further 90mm compared to the ICE Megane.
2022 Renault Megane E-Tech: It's Electric, Must Be Quick
Not particularly. The Renault Megane E-Tech Electric comes with a choice of 2 battery packs. There is a smaller 40kWh battery pack that has a WLTP range of 300kms. The larger 60kWh battery powering our Megane provides 420+ km of range and packs in a bit of a punch. Peak power from an updated electrically excited synchronous motor is rated at 220hp with 300NM of torques helping the Megane electric achieve a 0-100kph in 7.2 seconds. It's not as quick as some other electric cars we know of, yet with that acceleration, you do sink into the back of your seat every time you prod the throttle hard because of that instantaneous torque. There are however multiple drive modes that provide calmer more sedate throttle response and these can be easily selected with a button found just below the right arm of the steering wheel, just like in a Mercedes-Benz.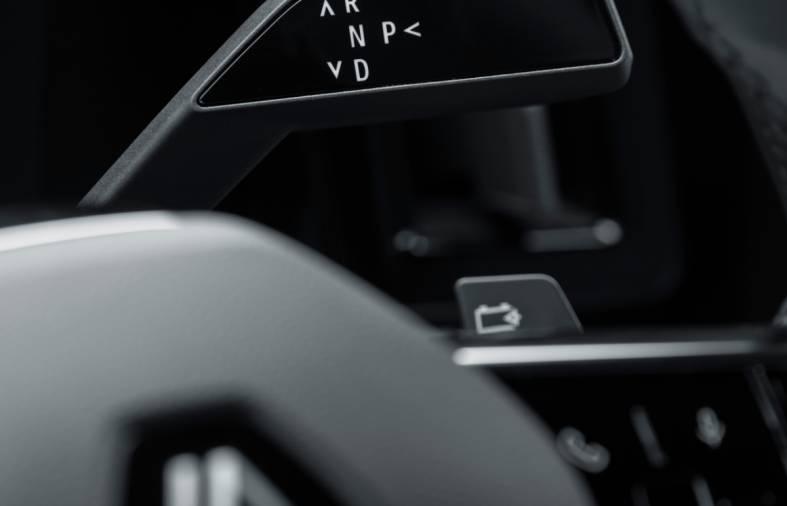 Renault has also injected four regenerative modes into the drive system, which you can select through the paddles behind the steering wheel. Level 0 lets the vehicle freewheel without regen taking place. Level one to three increases the regen, with level three needing no more than one pedal action to manage momentum.
Renault also claims further innovation in the steering system whose ratio has been brought to 12. This means you turn the steering wheel-less to turn the front wheels more. That level of directness and precision is quite amazing, and it's quite evident when you're driving the Megane, in either crowded urban conditions or through winding country roads.
2022 Renault Megane E-Tech: Does It Feel Like a Megane Then?
Kind of, from what I recall when I last drove the Megane hatch about five years ago, it came across sprightly, engaging and a lot of fun. Of course, throttle responses weren't set off as rapidly as it is in the electric, so that builds an entirely different dimension to the Megane Electric's dynamic abilities. The suspension tune sets it up as more of a friendly, secure vehicle, not the corner-carving hatch it used to be in its previous avatar. Despite the independent suspension and the multi-link rear setup, there is a bit of body roll in the corners. This in fact gets amplified when you set off in sports mode where the acceleration gets sharper and the suspension feels a little more wobbly. On a series of fast switchbacks, it almost got me feeling a bit sick. Don't push hard and the Megane Electric is composed.
On the flip side though the ride comfort is remarkable, with the comfort coming off a bit on the firm side without being too harsh and traditionally European. The 215/55 20" tyres despite their lower profile are surprisingly plush, yet provide enough bite when you raise speeds.
2022 Renault Megane E-Tech: How Much Value Gets Added In
Quite a bit if you ask me, there is stuff you don't see but experience, and then there is the bits you can see and hear. Like the LED headlamps, the pop-out door handles, the ambient lighting which changes colour based on the time of day, the Harmon Kardon sound system in the top end variant or even the Arkamys system in the lower trim variants. Then there is the advanced driver assistance systems, the 360-degree cameras, the parking assistance features and a whole bunch of stuff that most consumers will find quite interesting.
Renault has also tied up with Google to provide the full array of Google automotive services. So the centre screen could be used as a normal tablet with Google's suite of apps and features. Its pretty impressive and works seamlessly and is quite handy as the car is paired to what is known as the Google apps EV Related features. With this Google Maps not just gives you charging destinations and state of charge and other EV related information about your car, it can suggest faster routes based on the state of charge of your battery. Of course, you can also hook up through Android Auto or Apple CarPlay, which in this case seem entirely moot.
The Renault Megane E-Tech Electric's batteries can also be charged with a multitude of options that accept all the current standards. Type 2 AC charging can go up to 22kW, whereas DC fast charging can accept up to 130kW supply.
And on our drive we did see a range of a little over 350kms, with a mix of urban roads, highways and fast twisty country roads and some steep elevations as well. And, we kept flipping through various drive modes for increased periods of time. Sport mode did see us drop a bit of range, but then eco mode saw us claw some of that back extending range by a comfortable amount. Range anxiety however is unmissable, you are constantly left wanting to know - how much further.
2022 Renault Megane E-Tech: Renault Can Bring It To India
Of course, they could. However, a car in this segment would require a more price-sensitive business case, which means Renault would have to assemble the car in India employing a CKD route. This would of course make the Megane Electric more affordable and hopefully see some scalable volumes. There are no price estimates at this point, and in conversations with Fabrice Cambolive what we understood is that for the Megane to be successful in India a certain level of localisation would be necessary. These plans are still being discussed and hopefully, we will have more concrete information in the weeks to come. Then there is also the alliance with Nissan, which could set off further advantages for the partnership in this segment. Coming in quickly with the Megane E-Tech Electric would give Renault an early mover advantage as there isn't an EV hatchback in the country yet and it would set the benchmark for all to follow.
As for the Megane E-Tech Electric, it's impressive, though not entirely with that wow factor. What I do like is that it is the closest representation yet I have experienced of an everyday electric car. If brought to India it would set the benchmark in that regard, marrying luxury, comfort, practicality and when the mood arises some high octane voltage action!
Also read,
Renault Nissan Mitsubishi Alliance to launch 35 EVs globally by 2030
Renault unveil the futuristic Megane E-Tech concept