2022 MG ZS EV road test review
Life has seemingly come full circle for the MG ZS EV, from introducing India to the ZS face, which we then saw the facelifted version of in the IC-engined MG Astor, before those sweeping changes made their way back to the ZS EV in 2022. As part of it, we get the updated ZS face, with a blanked out grille that helps the ZS EV stand out quite significantly, new aero-design alloy wheels, the LED lighting from the Astor again, and essentially all the wow-inducing interior bits from the Astor, in the way of updated infotainment screens, digital driver display, panoramic sunroof, connected tech and more. 
Importantly, though the 2022 MG ZS EV packs a larger 50.3kWh battery pack (up from 44.5kWh), more power (176PS up from 143PS) and an ICAT-certified range of 461km (up from 419km). We have of course reviewed the MG Astor before, so you know what we think of the interiors, comfort, tech, and headline-grabbing ADAS features, so this review will be focussed on how the changes to the electric powertrain on the MG ZS EV, expectedly, improve what this EV is like to live with.
2022 MG ZS EV - What's it like to drive?
First, the most apparent change in how the MG ZS EV drives comes the moment you plant your foot down on the throttle - every single one of those extra electric horses seem to be fully awake and rearing to go! There's definitely more of a zing to how the MG ZS EV takes off, and to how it accelerates from speed, including at speeds over 100kmph! This is evidenced by our 0-100kmph test figures which consistently threw up figures around the 7.5s mark, nearly a second quicker than what MG claim! Even in our roll-on acceleration, the figures very closely resemble those of a sports luxury sedan, with the 30-50, 50-70 and 60-80kmph metrics dispensed of around 1.6s. 
All this while keeping torque steer and wheelspin in check better than the old car, though full bore acceleration will have the wheel tug a bit away from your intended direction. Notably, we achieved these performance figures in all three of the drive modes - Eco, Normal and Sport, with the only difference being in throttle response itself. We actually prefer Eco for city driving, since it dulls throttle responses the appropriate amount to make sure you can get to grips with all that electric torque in slow moving traffic, and around roundabouts, with the Normal mode otherwise requiring a touch more finesse in those situations to be smooth.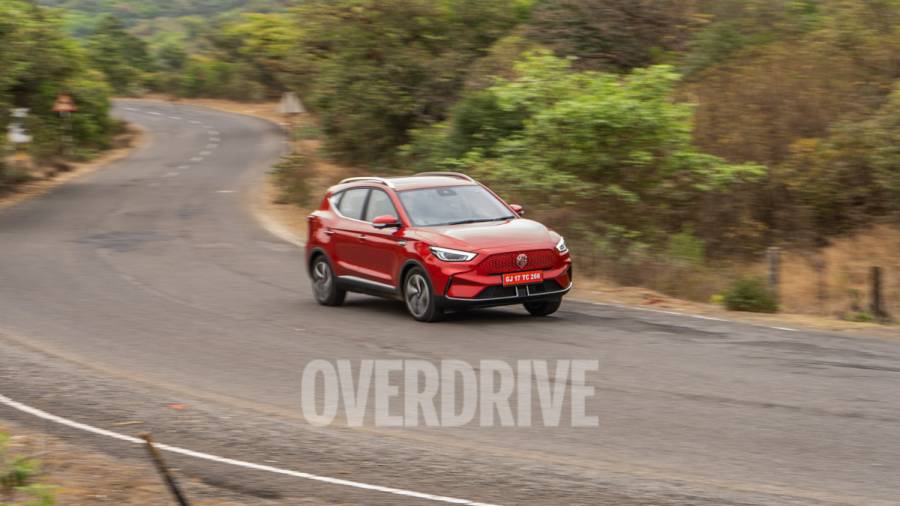 That aside, the strengths of the MG ZS EV remain, such as the generally well-weighted steering, flat handling, mostly comfortable ride, and progressive brakes - and having driven the MG Astor recently, it provides a fair comparison to say that the ZS EV just feels like it drives better, vastly lower NVH levels notwithstanding. For one, there's less of the rebound bounce over undulations or speed breaker that we noted in the Astor, likely due to the lower centre of gravity. It results in better comfort in the long run, though the slightly noisy suspension stands out more considering there's only the noise of the wind when you're moving along to speak of. 
2022 MG ZS EV - What's the real-world range?
The single most-asked question on our social media on the 2022 MG ZS EV was unsurprisingly variations of what the real-world range was like, given that the increase in battery size works out to roundabout 13 per cent. Given that the previous MG ZS EV has been around long enough, most people's regular driving range seems to hover between the 300-330km mark, so let's see if the larger battery equates to a proportionate increase in range.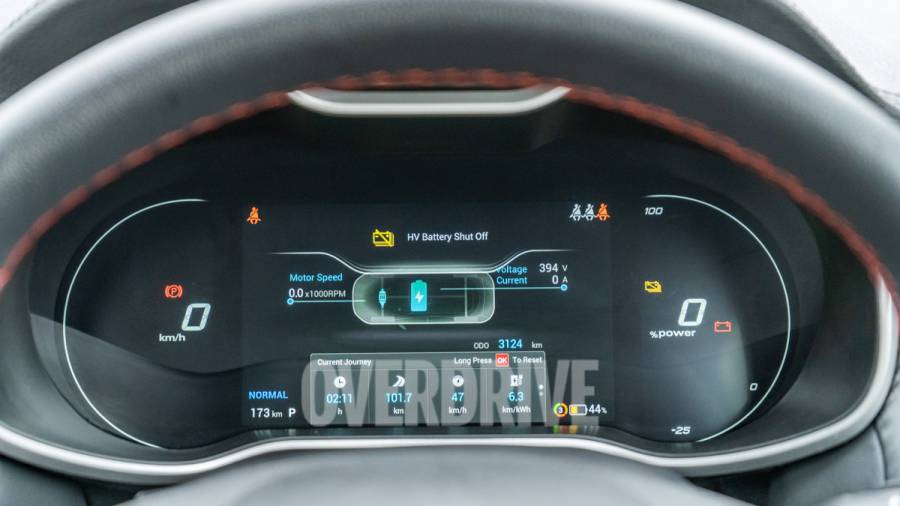 At the start of our drive, slipping the car into its Eco mode upped projected range from around 330km to about 365km, but we chose to drive it in Normal to better see what range the default mode gave us. In regular driving in the city we were seeing energy usage levels around the 6.5km/kWh mark (multiply by the battery capacity to get projected range). Our performance testing saw that figure drop to 3.3km/kWh, which means if you drove flat out everywhere (in Sport largely), you can expect around 165km of range or thereabouts. We then charged the car up to 78 per cent (it took 30 minutes on a 25kW DC charger from 54 per cent) and set out for Lonavala, a 110km one-way distance from our base in Mumbai. 
For this part of our journey, we slipped into Eco mode, where sitting on the Mumbai-Pune expressway at 90-100kmph saw an energy usage figure around the 6.3km/kWh mark, which increased to over 7km/kWh on our return journey, which includes a lot of downhill driving which works wonders for range, considering regenerative braking is very effective in the ZS EV. We managed 280km in total, with a mix of city, highway, and hill driving on a battery charged to just less than 80 per cent, which is impressive. Importantly, looking at our energy usage figures, we reckon most people should be able to get an easy 370km of city driving off a single charge, with that figure coming to about 320km if you include some highway driving. 
2022 MG ZS EV - What are the interiors like?
For starters, the digital display provides a more concise and intuitive look at your driving stats, like your energy usage, driving range, power gauge, and a very cool electric motor rev gauge! It's a bittersweet update though, since the outgoing car's analogue dials had a lovely anachronistic feel to them, but ultimately function must triumph I suppose. Elsewhere, the updated larger infotainment screen has an easier to navigate UI, but again loses the physical controls the previous car had laid out under it. Fortunately, the climate control still has easy to use toggles, though a quirk we discovered was that every time you adjust the climate control settings, you're taken out of your smartphone integration screen, and the screen doesn't auto revert, which means it needs a couple more button presses to return to your music, or navigation, for example. 
The quality of materials, fit and finish, once again feel almost imperceptibly better than the Astor, though we've been told nothing has changed. The panoramic sunroof is definitely something most of your passengers would appreciate for the airiness it lends the otherwise dark cabin, as are the rear AC vents, and centre arm rest. Seat comfort is only slightly let down by a smidge more lumbar support than necessary, but again it's minutely better judged than the seats in the Astor we tested. Three passengers in the rear won't be a squeeze, though under thigh support isn't improved versus the previous ZS EV.
2022 MG ZS EV - Verdict
For now, MG has begun deliveries of only the top-end Exclusive variant priced at Rs 55.88 lakh, ex-showroom, with the lower priced Excite variant to begin in June. This represents a price increase of about Rs 40,000-50,000, or around Rs 1 lakh if you take into account the price hike on the outgoing model at the start of the year. What you get for the extra money far outweighs the cost, and makes what was already a solid recommendation for a mid-size electric SUV an easy eyes-closed decision, at least given the current competition. 
Photography by Varun Kulkarni
Also read, 
2022 MG ZS EV: Prices and variants explained
Spec Comparo: MG ZS EV Vs Hyundai Kona Vs Tata Nexon EV
2022 MG Astor road test review
Price (Ex-Delhi)
Starts Rs 22 Lakhs
Price (Ex-Delhi)
Starts Rs 23.72 Lakhs
Price (Ex-Delhi)
Starts Rs 9.78 Lakhs
Price (Ex-Delhi)
Starts Rs 6.95 Lakhs
Price (Ex-Delhi)
Starts Rs 13.99 Lakhs