2022 Mercedes-Benz C-Class petrol review, road test - all the luxury you need?
When we first drove the fifth-gen W206 Mercedes-Benz C-Class in its diesel versions, we came away with a sense that the 'Baby S' phrase that was being associated with it was more than just marketing spiel. So does that impression continue to hold with the C 200 petrol, which happens to be the entry point into the new C-Class line-up and costs a good chunk less than the top C 300d too?
2022 Mercedes-Benz C 200 driving impressions, EQ Boost, efficiency
The 2022 Mercedes-Benz C 200 is now powered by a small 1.5-litre turbo-petrol, although outputs are a healthy 204PS and 300 Nm. This is at a deficit to its closest rivals but is enhanced by the EQ Boost 48V mild-hybrid system which can add up to 21PS and 200 Nm in certain situations.
You are aware of how heavily boosted this engine is in crawling traffic. The motor is usually below 2,000 rpm in these situations in the Comfort and Eco modes, with the nine-speed auto trying to maximise efficiency. The engine isn't fully boosted at these speeds and progress under these light throttle inputs feels a touch hesitant. For some reason, the electrical assistance only comes on with a heavier dab of the throttle, the kind that you don't exactly have room for in these scenarios limiting its usefulness.
But once you start moving a bit quicker, it is smoother sailing. The mild-hybrid works intuitively with the wide torque band to make for brisker and more refined progress. You rarely notice the performance deficit, the C 200 has you covered in most situations. The nine-speed torque converter plays quite a part in this, it feels more alert in this iteration and works quietly and effectively in the background to make for the kind of uncluttered progress you expect in a Mercedes-Benz sedan.
Sport mode is quite handy when you want to wring out all that the C 200 has to offer. The gearbox is again on point, keeping revs over 2,000 rpm at all times. This makes for a more alert drivetrain and the EQ Boost is also keener to deploy all its assistance here. There's even quite an encouraging grumble from the small four-cylinder when you're at it.
Our in-gear acceleration times suggest the C 200 doesn't lose too much ground to its larger-engined competition in the way it can pick up speed for overtakes or generally keep up with traffic. We were some way off the claimed 7.3s 0 to 100 kmph time, however, only managing 8.0s. The traction control significantly limits power on hard launches and can't be switched off fully. But either way, this is something that shouldn't affect real-world performance.
As you start pushing on with the C 200, you also realize that this generation of the C-Class is now a much nicer driver's car. That's no surprise considering a large chunk of C-Class owners drive themselves. So say on a winding road, there's some excitement to be found. The C-Class is still not the last word in the handling department in this segment, but the sedan stays poised and quite neutral around bends with more than enough engagement for the casual enthusiast. The steering too has a nice precision to it, even though it isn't the most feelsome.
It's also no surprise that the new Mercedes-Benz C-Class is exceptionally comfortable in tamer situations. The sedan does a fairly good job of absorbing those sharp, typically Indian, bumps at slow speeds with quite a damped feeling that doesn't jar you in the cabin. Even this fades away as you build speed and there is that calming, unfettered sensation that Mercedes manages to bring out in most of its cars. This makes the C 200, despite what the specs suggest, quite a competent mile-muncher too.
As for efficiency, again the small displacement hasn't brought with it many disadvantages. Mercedes says efficiency has gone up by 29 per cent and we managed a good 9 kmpl in the city and 13.5 kmpl on the highway.
2022 Mercedes-Benz C 200 interiors, features
The C 200 can only be had in the Avantgarde trim. That brings a softer ambience with its grey and beige dual-tone cabin when paired with this exterior colour. You can also have an all-black or a grey-tan theme dependent on the paint option you choose.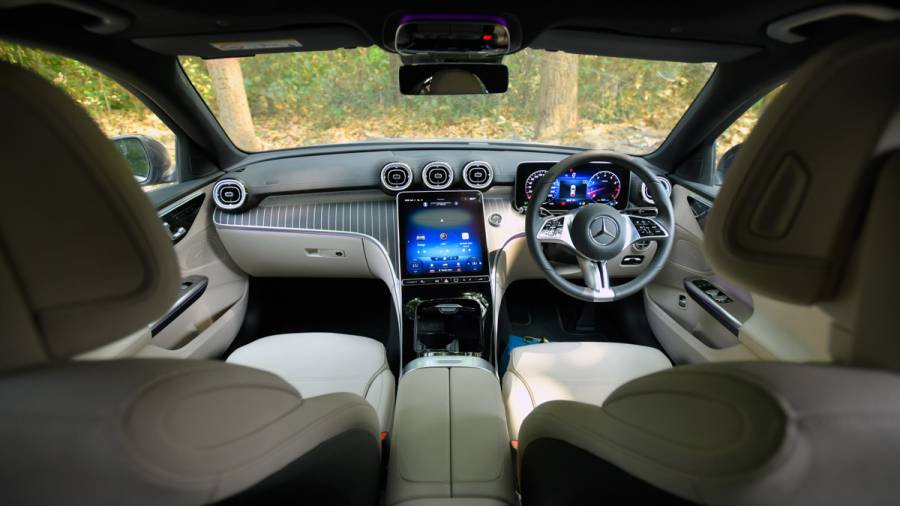 Either way, the cabin is the centrepiece of the new C-Class. It feels inviting and special as soon you step in with the high-quality materials and that quite modern luxury vibe with the flat top, those squircle vents, the minimalistic floating door panels and vibrant screens. Specific to the Avantgarde is the open-pore wood trim on the sloping dash facade with the aluminium striping that's reminiscent of the current S-Class. Also seen here is the new-style three-spoke wheel.
The new screens have better thought out menus and crisper displays. But this doesn't cover for the distinct lack of physical buttons. Thankfully the climate controls stay fixed to the bottom of the screen and it must be said that you do eventually get used to interacting with the car through these. But the earlier layout was far simpler to use on the move. It also doesn't help that the slim panel of buttons below the screen don't feel all that tactile. It's the same with capacitive steering wheel buttons, which are embedded on a single panel, leaving you second-guessing your inputs often.
But you learn to live with these minor inconveniences quickly enough. The rest of the switchgear feels hefty and expensive. There is an unending list of technological trickery, like the more intuitive MBUX voice assistant, a feature that adjusts your seat as per your height and a stunning ambient light set up and the vast two-part sunroof. The C-Class will even communicate with other similarly-equipped Mercedes' to bring you updates on traffic, obstructions, etc.
You only miss the Burmester 3D sound system from the C 300d, replaced by a lesser Burmester unit. Some notable misses are three-zone climate controls and ventilated seats. There are also no charge ports in the second row, surprising since the rest of the car is generously practical.
There's more for those who like being driven around too. Space at the back has gone up thanks to the 25mm increase in wheelbase. This has led to a 21mm increase in rear legroom, a 15mm increase in elbow room and 13mm more headroom. These changes are apparent in person, helped by the large glass area and light colours. But we would have liked a bit more under-thigh support, even though this too has improved. As before, the large central tunnel limits comfort for the middle passenger significantly. Of course, you have a great seatback angle and just the right support from the bench otherwise.
2022 Mercedes-Benz C 200 exteriors, safety
In terms of the way the Mercedes-Benz C 200 looks, this Avantgarde trim carries some differences. There is a more traditional Mercedes grille with a large star and a single chrome band and a simple bumper design. You miss out on the digital LED beams from the C 300d and you also get 17-inch wheels which don't look as aggressive as the 18-inch ones on the C 300d but must help with the ride. Either way, the new C-Class looks large and stately on the move, as you would want it to.
The safety kit includes the active braking function, best left in its late reaction setting for India, eight airbags and auto-parking. There are front parking sensors but we also would have liked a 360-degree camera and some form of ADAS, given this C's premium pricing.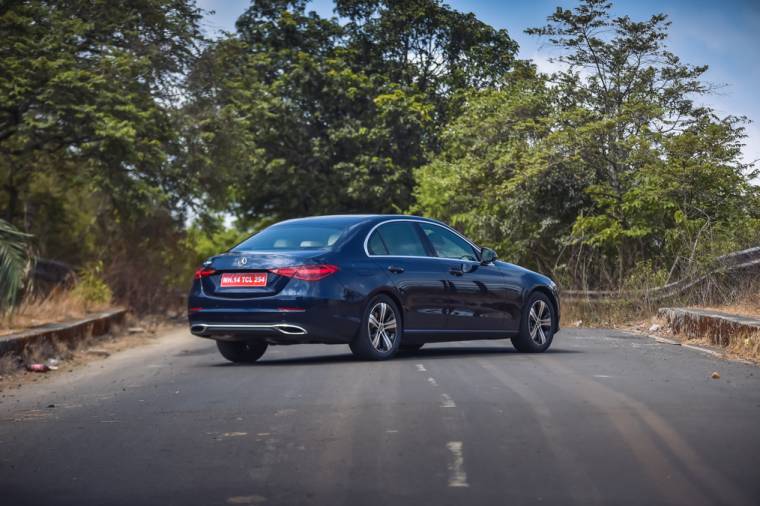 2022 Mercedes-Benz C 200 verdict, price
Even in this C 200 guise which costs Rs 55 lakh, the new Mercedes-Benz C-Class is about as complete a package as a small luxury sedan can get. It could do with better low-speed responses and a few more practical features but aside from this the comfort, ambience and general demeanour on the move justify the premium it commands over rivals.
2022 Mercedes-Benz C 200 real-world mileage, performance
Mileage
City - 8.78 kmpl
Highway - 13.43 kmpl
Overall - 9.95 kmpl
Performance
0 to 100 kmph - 8.0s
In-gear acceleration
30 to 50 kmph - 1.4s
50 to 70 kmph - 1.7s
60 to 80 kmph - 2.0s
Braking
100 to 0 kmph - 43.9m, 3.1s
Images by Sumit Gaikwad, Mercedes-Benz India
Also read,
2022 Mercedes-Benz C-Class review, first drive – more than a baby S-Class
2022 Mercedes-Benz C-Class launched in India, prices start from Rs 55 lakh
Spec Comparo: Mercedes Benz C-Class Vs Audi A4 Vs BMW 3-series
2022 Mercedes-Benz C-Class garners over 1,000 bookings since launch
BMW i4 Vs Mercedes-Benz C 300d: Price and spec comparison
Price (Ex-Delhi)
Starts Rs 55 Lakhs
Price (Ex-Delhi)
Starts Rs 42.34 Lakhs
Price (Ex-Delhi)
Starts Rs 69.9 Lakhs