2022 Honda City hybrid e:HEV review, first drive - real-world mileage tested
Honda has for quite some time laid low, with their last offering, the new City, coming in almost two years ago, and a product profile whose numbers consistently kept diminishing. Matters got so bad, Honda Cars India was also speculated to be one of those existing the Indian market soon after Ford made an exit. That however isn't the case, Honda like their Japanese counterparts Toyota, did not make an aggressive move to EVs globally, choosing instead to promote their hybrid technologies. That brings us to the City e:HEV, a strong hybrid sedan that has been selling overseas and is now finally being offered in India. We drove the car recently in Bangalore and to make matters simple, I'm going to focus purely on the benefits of their hybrid technology and what it brings to the City.
2022 Honda City hybrid e:HEV exterior, interior changes, ADAS
For how it looks, the additional comfort and convenience features, I'd recommend you scour the brochures. What I will quickly tell you is that it continues to be the handsome car it is, the features are spot-on for the segment and despite the addition of the battery pack under the rear seat, you continue to get the same amount of rear seat, though you lose a bit of boot storage capacity.
I'll also add here that there are a host of safety features courtesy Honda Sensing, which is Honda's suite of level 2 Advanced Driver Assistance Systems. They all work seamlessly, and accurately though I would have liked the collision mitigation system to be a selectable feature rather than the default system it is given our traffic conditions and the irrational conduct of our drivers to cut into your lane during driving, without warning. This kicks in the braking system on the City e:HEV, and if this happens often enough, you're going to throw up!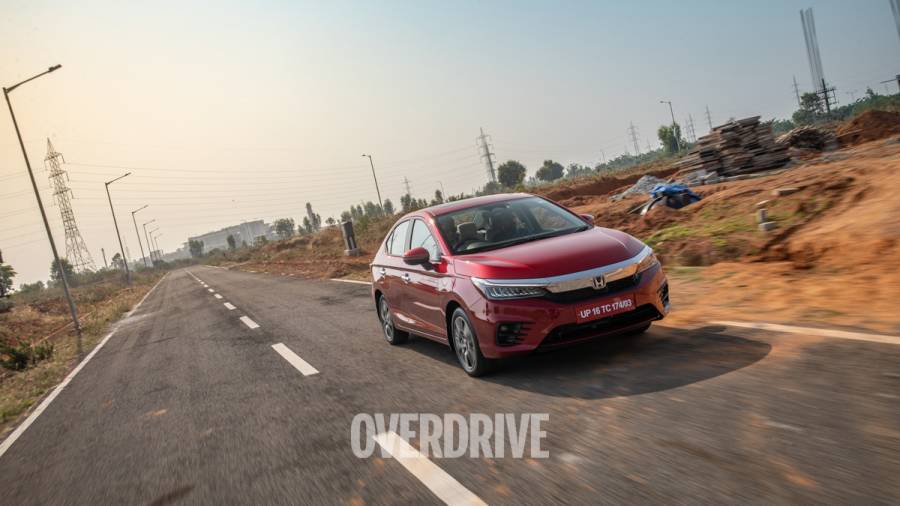 2022 Honda City hybrid e:HEV working, battery size
You can check out our in-depth explanation of the Honda City E:HEV's hybrid system here but I'd like to say that the Honda City e:HEV drivetrain is actually not as complicated as it seems. If you have ever seen the innards of an automatic gearbox like a 9-speed or a 6-speed dual clutch system you'd know the very epitome of complications. The transmission of power to the driven wheels in the City e:HEV is not an immensely complicated piece of work. Is it technologically advanced, it is to an extent. But at the same time, its operation is very simple eradicating transmission losses by eliminating the need for a gearbox and directing torque straight from the engine or the electric motor to the differential via a countershaft that drives the front wheel axle to generate momentum, while at the same running a generator that charges the battery.
The engine is connected to the differential which is connected to the axle through a single overdrive gear and overdrive clutch, and this means the 'engine only mode' can only be used at high speeds. At low cruising speeds, the engine works in tandem with the battery and electric drive motor. Here's the interesting part. The engine is active throughout, even when it is in electric-only mode, and is only coupled and decoupled to the countershaft when the onboard computers say so. When it's decoupled it's still powering the generator that's generating current to charge the battery.
Here is the other interesting part, the battery is I suspect the 1kWh battery that's also used in other vehicles like the Civic hybrid, the CR-V hybrid and various others. Honda India hasn't confirmed this, and I suspect it's because given the buzz around EVs the 1kWh battery will raise more questions than answers. The system is flawless though, a 1kWh battery can charge almost instantly and would give I suspect a range of around 6-7kms, so it would be in an almost perpetual charge-dispense cycle, providing significant fuel efficiency gains.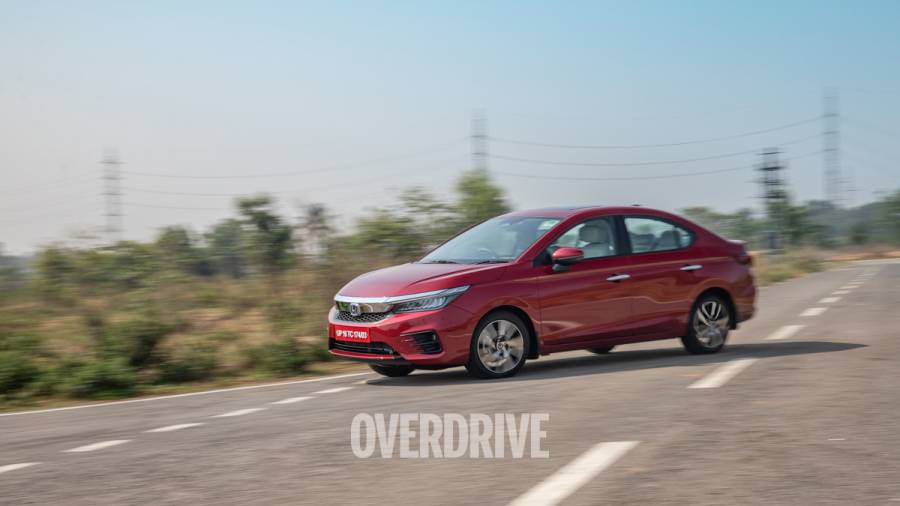 2022 Honda City hybrid e:HEV driving impressions, real-world mileage
Most times you simply won't make out what is happening when driving the Honda City hybrid. That is because Honda's I-VTEC is an incredibly well refined engine, and silent. Trying to identify which propulsion unit is in play wouldn't be an easy job. I couldn't, and its only when you shift the display window in the instrument binnacle to the energy distribution graphic view will you know if it is the engine or electric motor or both being engaged.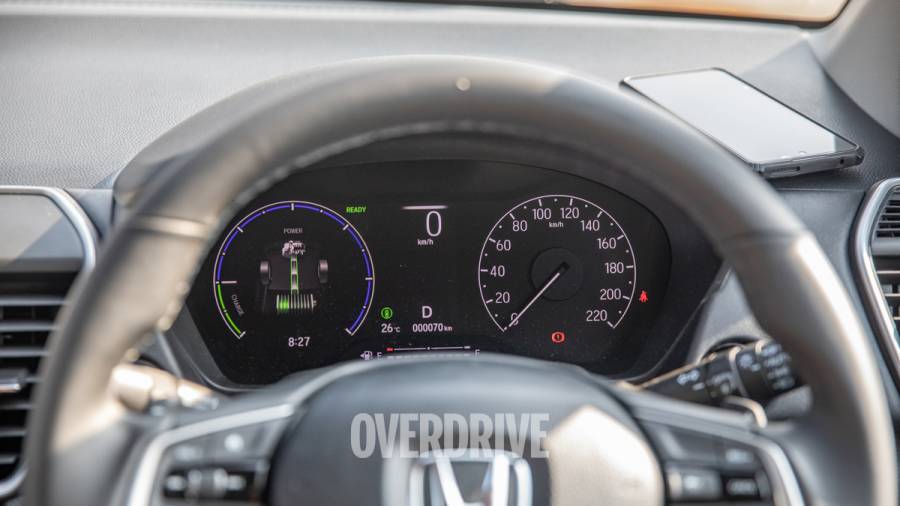 The 1.5-litre i-VTEC delivers 98PS of peak power achieved at a very high 5600-6400rpm and this is an inherent characteristic of all VTEC engines. Similarly, peak torque is also manifested at a very high 4500-5000 rpm band. So the electric motor behaves like a turbo providing a boost at lower rpms to generate seamless motion, just don't expect EV like thrust. Even though the electric drivetrain packs in a 109PS, the net effect of the two working together is just 126PS so that pushed into your seat kind of acceleration just isn't there.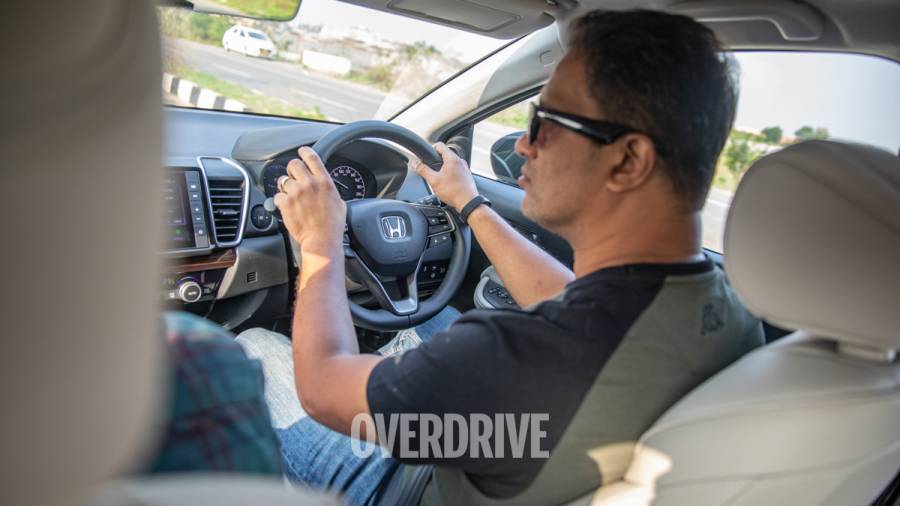 The City e:HEV while quick, 0-100 comes up in just 10 seconds, is more attuned towards delivering the best fuel efficiency possible. In that aspect the City e:HEV is just bonkers delivering a claimed 26.5kmpl, and to corroborate that, we did a fuel run in the city and Rohit managed to get an insane 19-odd kilometres from a single litre of fuel, a figure that would have climbed higher had the petrol pump attendant not spilt fuel at the nozzle. It is possibly the best fuel efficiency figures we have ever seen on a petrol car, barring perhaps the Celerio, except that hatchback can't carry as many in as much comfort.
2022 Honda City hybrid e:HEV verdict, expected price
This is a tough call to make. If fuel prices continue to increase then even if it's a hybrid like the Honda City e:HEV, the value diminishes considerably. You'd be better off buying an electric vehicle because despite the higher point of entry you cannot argue with a full charge, 200+ kilometres of range and less than a quarter of the cost to fill up an equivalent ICE/hybrid powered vehicle. Then there is the question about the battery life. Like any Li-Ion battery, the City e:HEV battery will also have to be replaced in time. It will also face some amount of degradation, and since this is a small battery that degradation could come up much quicker than anticipated. This means that in a few years' time the efficiency would drop significantly.
For now though the City e:HEV is a good purchase, but like all other reviews you would have read in recent times, we'd only be able to accurately give you a thumbs up or down, based on pricing. If the City e:HEV exceeds INR 20 lakh, which I think it most probably will, it's going to be hard trying to sell this to anyone. This is a Honda that should have gone on sale 3 years ago. In the current environment the City e:HEV might just be a case of too much too late.
Also read,
2022 Honda City hybrid e:HEV launched in India at Rs 19.50 lakh, one ZX variant
2022 Honda City eHEV: Unique hybrid system explained
2022 Honda City hybrid eHEV production begins in India, launch in May
All upcoming Honda cars to get ADAS features in India
India-spec 2022 Honda City Hybrid eHEV revealed with 26.5 kmpl mileage
Price (Ex-Delhi)
Starts Rs 10.9 Lakhs
Price (Ex-Delhi)
Starts Rs 19.5 Lakhs