2022 Harley-Davidson Street Gide Special first ride review - Riding the Tidal Wave of Torque
There are many ways to spend Rs 35 lakh of your precious hard-earned money. You could do up your house, make it a lot more fancy, buy a luxury compact sedan or an SUV, or if your into motorcycles, you could invest in this - the Harley-Davidson Street Glide Special. This Harley is one of the two touring models that the company have out in the Indian market and I've spent a good amount of time with this motorcycle, in fact I've ridden it all the way from Delhi back to Bombay to just to see how it goes about its business out on the highway. So let's check out what this big American cruiser is all about.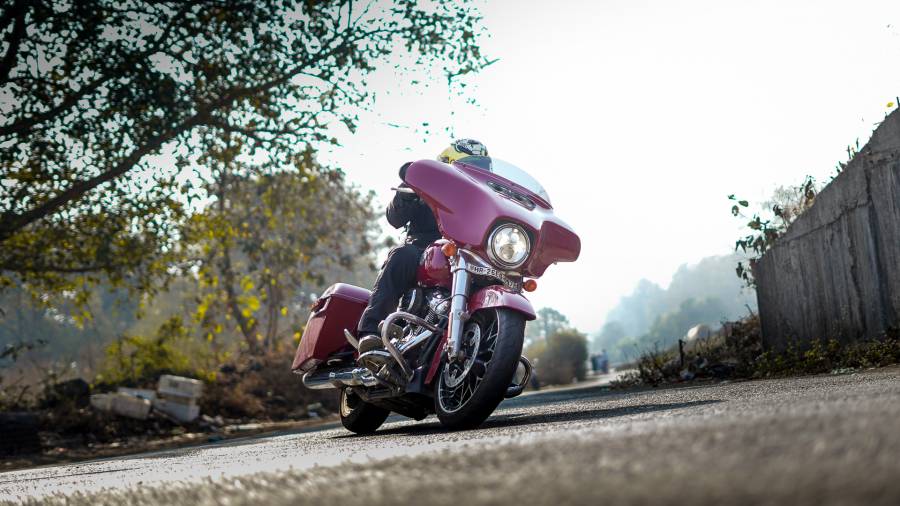 Before we get to the riding bit let's quickly run through the Street Glide's design. So this bike is a proper big American Bagger. It's absolutely massive with the attitude to match. You have this enormous batwing fairing up front which covers the entirety of the wide handlebar while protecting your torso from the brunt of the wind as you surge forward. Perfect then for those frigid Delhi mornings. There's a vent in there that allows some wind to get through to your helmet so you don't feel like you're being punishment for some god forsaken reason.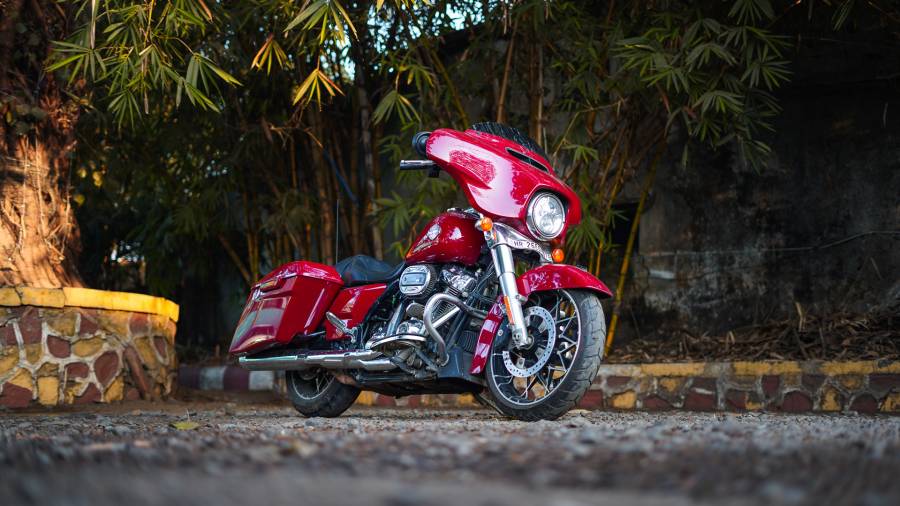 This fairing comprises the Boom GTS infotainment system with the speakers and screen, and sweet looking analogue dials and everything, and this big unit is mounted onto the fork of the Street Glide unlike on the Road Glide where it's mounted on the chassis, so when you take slow speed turns, you're effectively moving around all that weight on the bar. Ignition is keyless with the fob, and if you're lucky enough like me, who lost the key en route across the country, you can have a Harley send you a pin number to start the bike. Let's just say that this was one of the few times I was really glad that the fuel filler lid on the bike didn't require a key to open.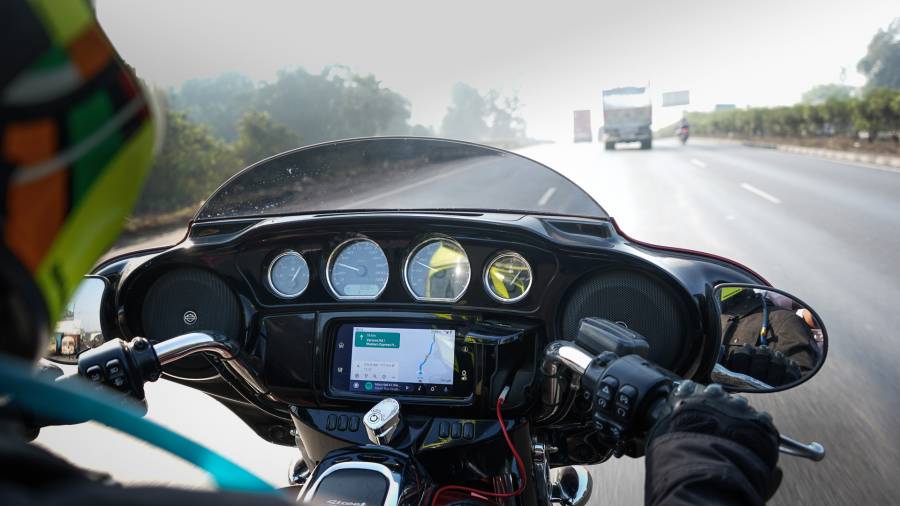 Moving further behind, there's big leather seats that provide you and your pillion with a generous amount of seating room for long distance rides, but you might want to look into throwing on a backrest for your pillion be less stressed about flying off the bike. The good thing with this 2022 Harley model is that it has a good mix chrome parts, blacked out engine bits and bright colours metal parts and panels that really catches our eye for all the right reasons.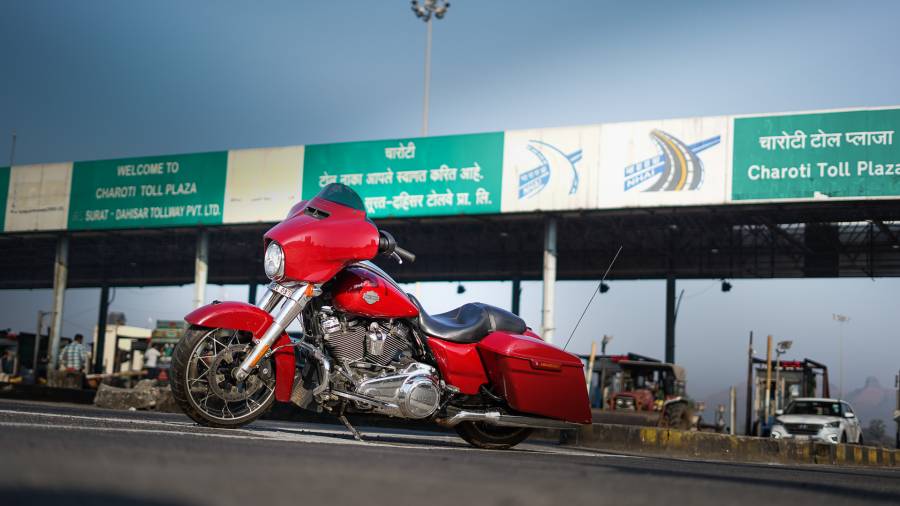 This one's not overloaded with chrome and looks very classy. It somehow fails to shout 'you there, look at me' as loudly as some of the older Harley models. And I quite like that. That's not to say that this mammoth of a motorcycle is gorgeous to look at once you actually do, and there's a lot of top quality on show here – from the crisp infotainment system  and paint quality to the neat and tidy levels of fit and finish. And for Rs 35 lakh, you'd expect all of this. I know I would, but I'd like to have seen heated grips at the least, if not the seats, which would have helped on those cold winter mornings. But then again that could be just the cribby Indian in me.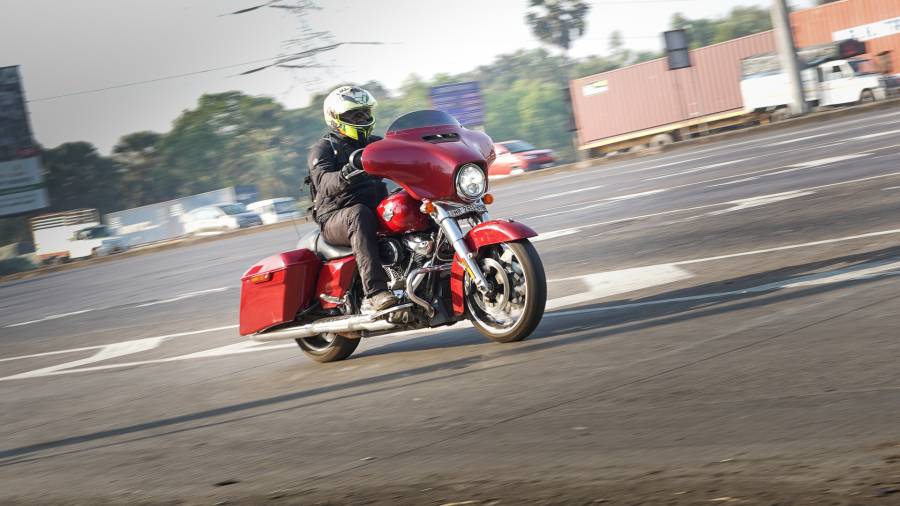 Now this is one long motorcycle, in length it measures around 2,420mm, and swinging a leg over this motorcycle with around 690mm of seat height isn't a real problem, and you're welcomed to a broad accommodating seat for the rider. If there is something that you'll really want to keep an eye out for while getting on this bike, it will have to do with the Pillion getting on and off, because there's not a lot of room for their legs, and they might end up kicking your side panniers and scratching them in the process. In terms of seating space and riding position well yes – a true blue cruiser, it will feel great to hit the road on a long distance ride on this one, because you're seated nicely in the middle of the motorcycle, where it's not too aggressive and not too laid back as well.
The riding posture is quite upright with the handlebars which are bent back a bit which makes things nice and comfy enough to enjoy long rides. The footpegs give you a lot of room to move about and get into a comfortable stance and adjust yourself as you see fit. The seat, man, after a long ride from Delhi to Mumbai, it has to be said that this seat has to be a benchmark for touring/cruiser motorcycles because it gives you room to adjust and move about and feel comfortable over long stints in the saddle. Overall it feels like brilliant motorcycle to just hit the open highway and enjoy a fun long-distance tour.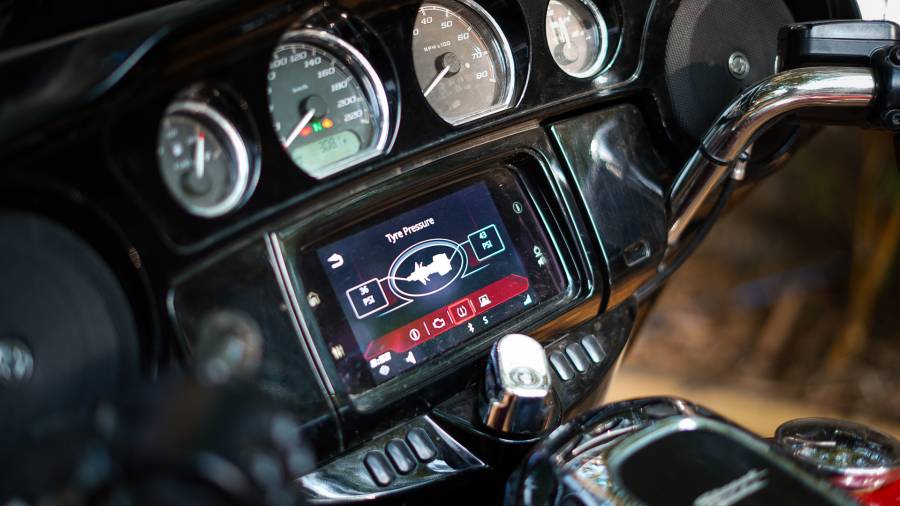 The Street Glide Special gets rider aids like cornering ABS, cornering traction control and hill hold. There's even a 'rain' traction control that you can quickly toggle through on the fly. And that last bit's there for a good reason. Because the amount of torque that this bike delivers is crazy. As soon as you release that heavy clutch lever, you unleash this massive wave of torque at the flick of your wrist. In the wet, this could be really tricky if you're not careful. Peak torque arrives at little over 3,000rpm, and you'll seldom feel the need to really rev higher, but the engine is so strong in its delivery, you'll have to really hold on the reigns as this juggernaut charges forward with intent. Yes it looks like a laid-back easy going cruiser, but if you're in a hurry, this thing's got some serious shove to send you on your way, fast. It can go from cruiser uncle to teen anarchist in the blink of an eye.
But then, if you choose to take things nice and slow, that's where some of the beauty of this bike lies as well. There's a nice amount of vibes to be felt through the bars and the pegs, but it's nowhere close to being bothersome. There's a nice judder from the engine at low revs and it'll rumble on at round 1,500rpm without a bother in the world. Yup, I think I like the sound of the exhaust a lot better when short shifting through the gears because it's not just the feeling you get while riding a big shiny American cruiser, but the way it sounds as well which comes together nicely and gives you the feeling that you're on a machine of style and substance.
The Street Glide Special is powered by Harley-Davidson's Milwaukee-Eight 114. This motor is 1,868cc with max power at around 94PS with 158Nm of peak torque. It's the same engine on both the touring models, (Street Glide and the Road Glide) and man, this engine is lust leaps and bounds over the older twin-cam motor from pre 2016. A lot of bite all throughout the powerband. In the city, the engine does tend to heat up a bit like most other V-twins, but out on the highway there's no real fuss about it, and it manages to haul its 375kg self with utmost ease. It's truly tuned really well for good long-distance highway rides.
This Harley is deceptively quick, because of all that wind protection up front. At times you'll think you've peacefully shifted up the cogs and a couple of moments later when you glance down at the speedo to find that you've hit some serious speed without having realised it. Cruising around at 120kmph comes naturally to this bike with the motor boiling at a little under 3,000rpm in sixth feels glorious and the stock exhaust note compliments this wonderfully. The way this bike simply glides past traffic feels truly majestic. You feel there's justice done with the naming of this one. And the suspension holds up well for most part too, out on the highway at least.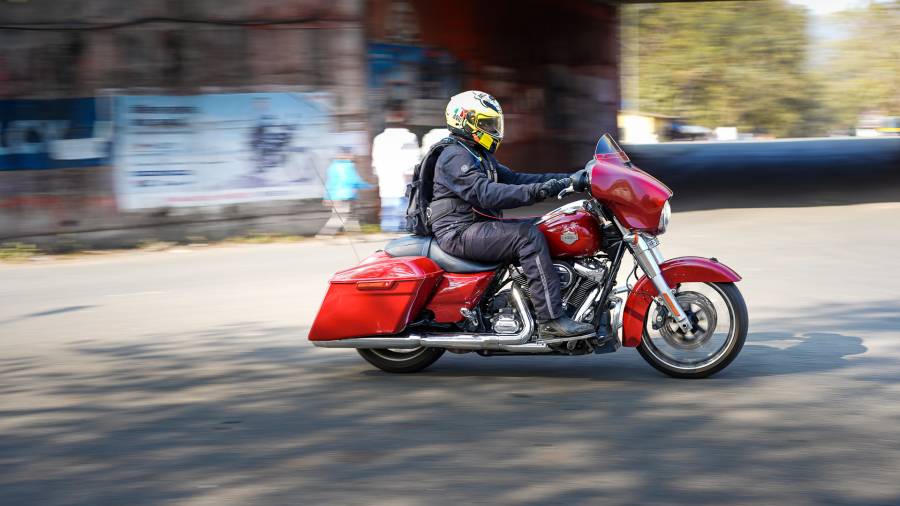 I tried out some alternative routes on the way back home from Delhi to find that the suspension took out the sharpness of bumps and small ruts well, but obviously I had to slow down to almost a halt to take on big ditches and get over odd shaped speed breakers so the belly wouldn't scrape. Hit a bump while aggressively taking a corner and the rear bike can get a bit wallowy, but it all feels in control. The brakes hold up nicely too, just that you have to get used to all that weight of the bike shifting to the front if you're only employing the lever, which can might be unnerving for some at first.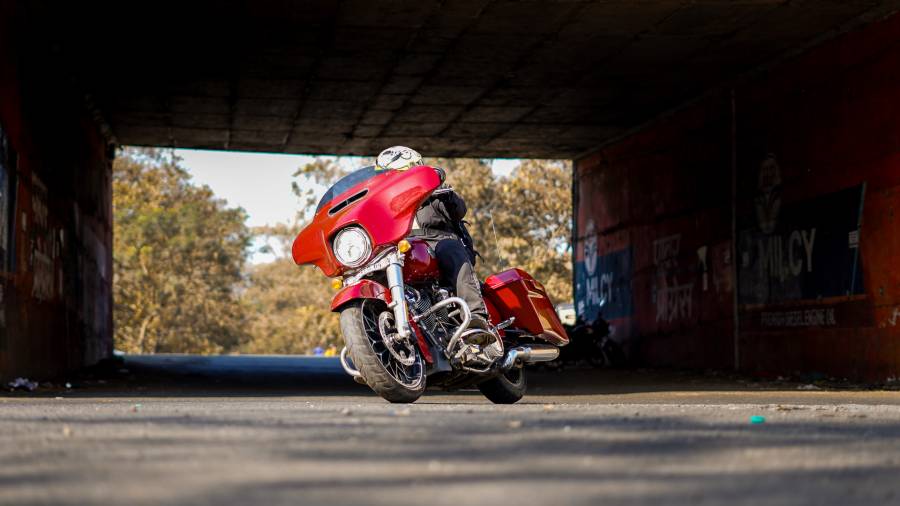 Yes it will take a bit of time to get used to riding this bike on account of its massive overall dimensions which include the wide handlebar and panniers. But once you get used to the weight you'll find that it doesn't take a lot of effort to get on with it down the open road because of its brilliant balance. Harley have really done an excellent job on this front. On the Street Glide you're seated low and in the centre of the bike which gives you a good feel and command of things allowing you to relax and move about and make minor adjustments as you feel fit. So you'll be blasting down the highway very comfortably astride this bike. For a cruiser of its proportions it does extremely well through the bends and you simply just have to put some shoulder into it and you're through. However, the huge footboards are a bit of a killjoy out on the open road though, because they do restrict your cornering capability. In the city, where squeezing through spaces can be tricky there's a trick to this one, if the handlebar fits through a gap you're looking to squeeze through you know that the tail with the panniers is going to too as well.
A big American cruiser motorcycle like the Street Glide Special isn't the most sensible of options when you consider things like our road conditions, various environments and weather, but then again you're talking about owning a motorcycle that costs Rs 35 lakh to own, so that pretty much defies reasonable logic right there. And this obviously isn't going to be the first two-wheeler that someone who considers owning a motorcycle like the Street Glide will own, because let's face it, this isn't your average daily-use bike.
Now to sum up the Harley-Davidson Street Glide Special, well, to be honest, given city conditions in a place like Mumbai, using this bike on a daily basis is going to be really cumbersome because hauling all that weight around through traffic and such, it is going to be tiring overall. But out on the highway, this machine just comes into its own. You will have a lot of fun riding this motorcycle at higher speeds out on the open highway. It's so comfortable and easy to manage at those speeds once you get the hang of the weight of the bike. Riding this motorcycle long distance, you really feel like you've transcended beyond simply being a biker, you feel like a vibe, because that's what this motorcycle lets you feel and what is so special about it. For Rs 35 lakh, yes it is on the higher side of things, but if you have that kind of money to shell out on a motorcycle of this sort, just get out and be the rockstar that you are, you should opt for this one because this motorcycle will definitely help you look and feel the part.
Photography: Vaibhav Dhanawade
Price (Ex-Delhi)
Starts Rs 30,53,000