2021 Harley-Davidson Pan America 1250 Special first ride review
The Harley-Davidson Pan-America 1250 is the American manufacturer's first foray into the adventure motorcycle segment and for once, it would appear that this Harley-Davidson motorcycle unconventionally chooses function over form. But is this two-wheeled multi-purpose tool any good at what it's meant to do? Let's find out.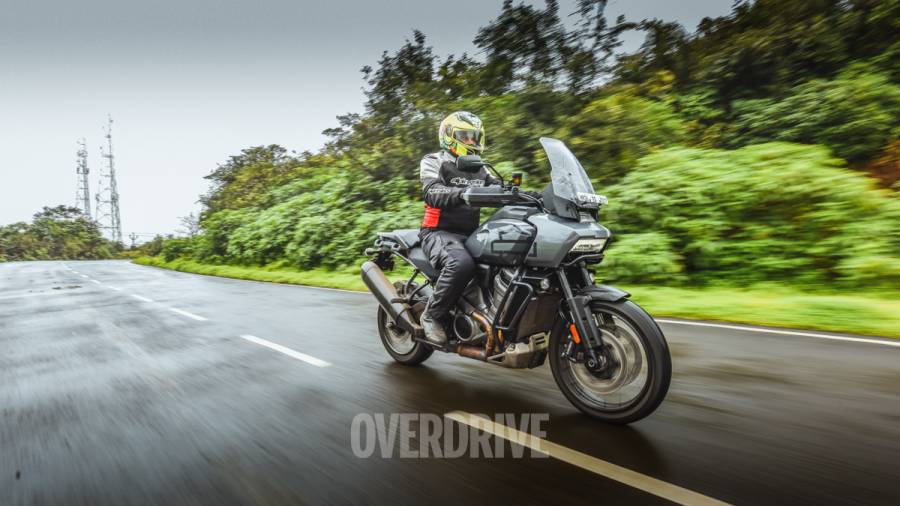 The last time H-D produced an ICE motorcycle other than a cruiser, it was way back before most of us were even born. If you're unaccustomed to the bikes Harley Davidson has come out with in the last three-four decades, I'll have you know that the Pan America doesn't resemble a conventional H-D motorcycle, it's not low slung, alright, fine it's kinda long, but there's no flashy chrome anywhere to be seen, there's the suspension that's actually capable of good amount of travel, and hell, fire it up and you won't even hear the usual gurgling Harley V-twin exhaust note either.
The Pan America 1250 is available in two variants – the Standard, and the Special. The bike we're riding today is the Pan America 1250 Special, and this variant gets the spoke-wheels instead of the Standard variant's alloy wheels, crash guards, adaptive lights, metal bash plate, cruise control, heated grips, a steering damper and two additional customisable ride modes among some other features.
Both variants of the Harley Davidson Pan America are powered by the 1200cc revolution Max engine which produces a maximum 152PS of power and a max torque of 127Nm. It's the most powerful engine Harley have put into a production motorcycle and it packs a serious wallop if you give it the beans in sport mode out on the open highway. The Pan Am manages city speeds fairly very well. At 2,000rpm the bike can go about its business with the engine not making too much of a fuss, but that's not where you'll want to be in the rev-range astride this bike. The motor comes alive at around 4,000rpm and at 6000rpm, that's when the party really starts on this motorcycle. The engine just wants to be revved and the higher up the power band where you go, the more lively things get and the bike just feels like it's in the zone. it won't be long before you reach triple digit speeds astride this bike, and you'll find that this motorcycle manages high speed very well. The Pan Am's got some outstanding stopping power in the form of the linked braking system as well.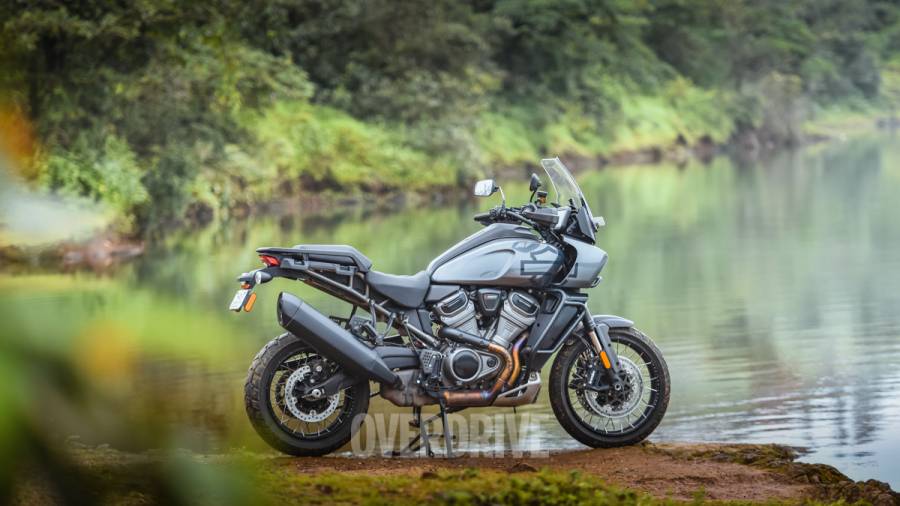 The engine features variable valve timing and even comes with hydraulic valve adjusters which means that you won't have to really go in for those expensive valve clearance services very often.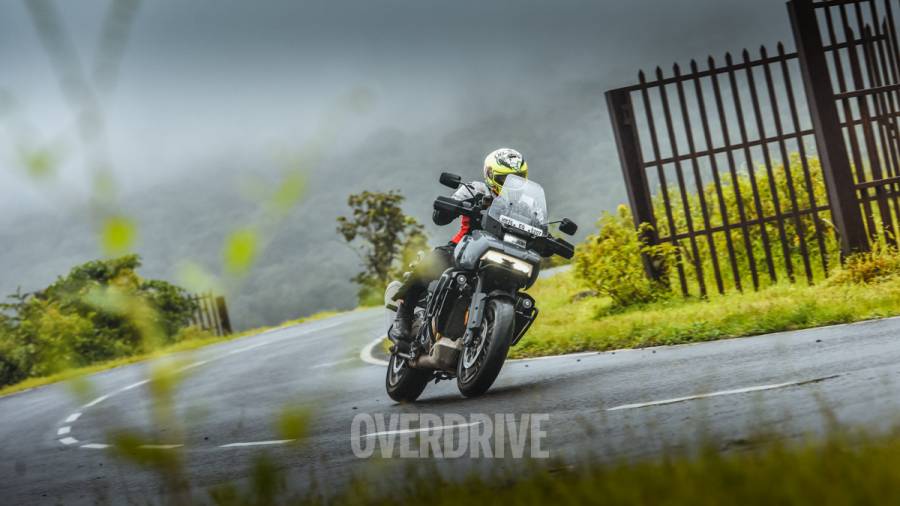 Riding the bike in the city, there's a lot of heat to be felt from the engine on your legs, but on our stint with the bike there were no signs of the engine itself really overheating. Unlike other conventional Harley Davidson motorcycles which feature belt drive or adventure motorcycles of this particular category for that matter that are shaft driven, the Pan America gets a chain drive.
Spending long hours in the the Pan Am's saddle won't be a problem, as you'll find the ergonomics to be spot on for touring. The thing about this bike is that it is quite tall and weighing in at 258kgs it's heavy too, so short riders will definitely find this Harley tricky to manage. The seat has two levels of adjustment but even when astride with the lower setting, someone like me, who is 5'9 could just manage getting one foot flat on the ground. If you're seated and going over a really rough patch at a slow pace, it's a little unsettling, and you'll definitely feel more confident and comfortable once you stand up and open the throttle to get through the stretch.
The Pan Am special gets a 6-axis IMU and comes with a long list of features like multiple customisable riding modes, heated grips, cruise control, cornering lights a TPMS, hill-hold feature and Bluetooth connectivity. Then there's riding aids like linked braking system, cornering ABS and even engine braking control – which must be a first for a Harley Davidson motorcycle. The bike also comes with semi-active suspension with presets and although I had it set to just the rider, I found the system to function very nicely. The bike also comes with an optional Automatic Ride height adjustment feature which basically lowers the bike automatically when slowing down to a halt, similar to what some expensive luxury cars come with, but this is an optional extra that will costs you an additional Rs 80,000, and the bike we're riding isn't equipped with this feature. As great as this feature may sound, some of these aforementioned expensive cars owners will tell you that if this system were to fail on the vehicle, you'd have to limp home or it could even render the vehicle undrivable, so it might not be the best feature to have on our bike after all.
On the road, the Pan America showed off great poise and composure, and off it , the bike proved a real treat to ride as well. As i mentioned before, this is a Harley-Davidson that choses function over form – and that's not something you'll hear very often when the topic of conversation is on Harley-Davidson motorcycles. It feels nicely balanced with this chassis, engine, brakes and suspension setup and it feels very capable as long as you maintain a fair bit of momentum. The Michelin Scorcher treads deserve a special mention too because they're so good at what they do.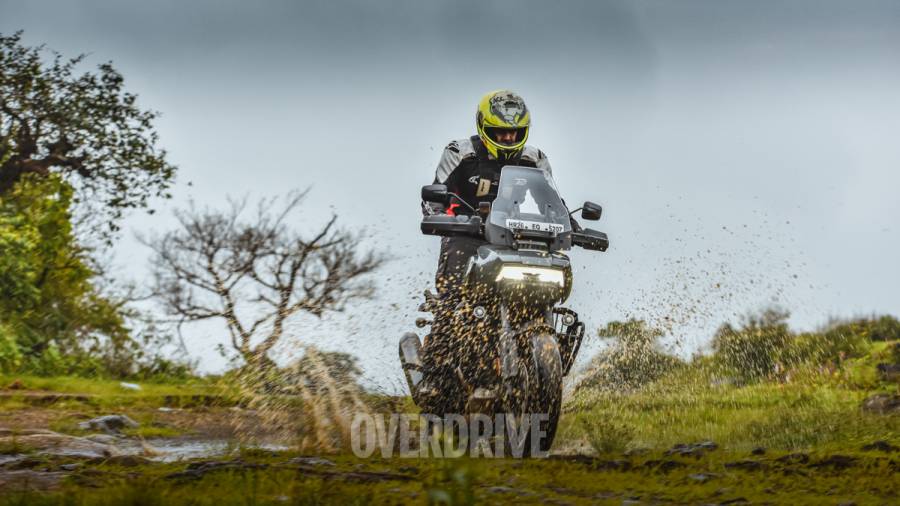 While the Pan America 1250 may not be an outstanding motorcycle in its class, it still is a very special motorcycle for Harley-Davidson nonetheless. Because, with the Pan America, Harley has shown that for a manufacturer that's renowned for some flashy and brilliant sounding cruiser eye-candy, it's more than capable of stepping out of its comfort zone and producing a motorcycle that's completely out of the box in terms of its functionality. The best part is, the Pan America 1250 also happens to be a real hoot of an adventure bike to ride. And at the end of the day, that's something you'd expect from a motorcycle you spend hard earned money on.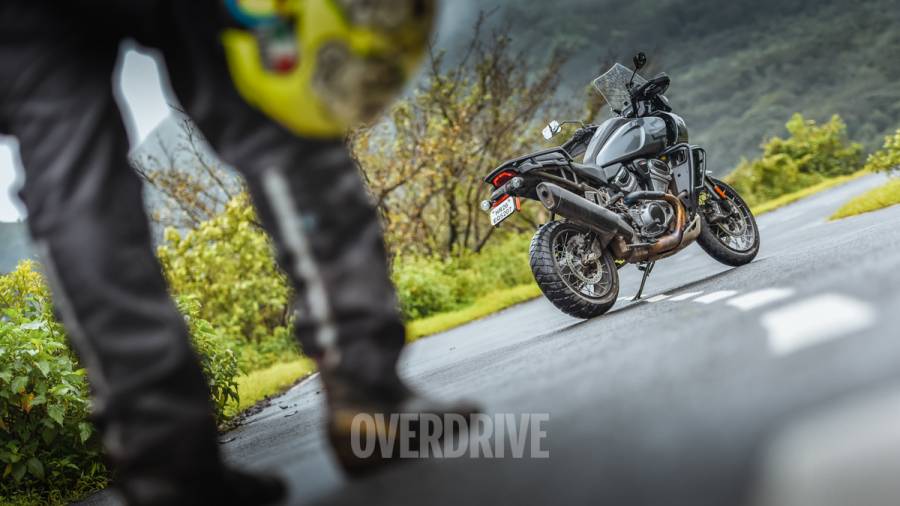 Sure, with it hefty pricetag of Rs 20lakh and all of its features and capabilities, the Pan America Special is unlikely to top it's large capacity adventure bike class, but for what it's worth, it's a motorcycle that has set a great benchmark for better things to come from Harley-Davidson . This tells us that the company could very well go toe-to-toe with some other well-established manufacturers who've been in this space for years. This also comes as great news for prospective buyers in this segment. All said and done, it is without doubt that the Pan America 1250 is definitely the most fun-to-ride and capable Harley-Davidson motorcycle currently sold in India.
Price (Ex-Delhi)
Starts Rs 16,90,000