2021 BYD e6 first drive review
Of the steady stream of new car launches we've seen in the last few months, one of the more unexpected ones has been of the BYD e6. This electric MPV has stirred up quite some interest, especially considering the e6 is only for sale in the B2B segment. It has no direct rivals given its EV powertrain but has been positioned to appeal to corporates and high-end fleet owners who might consider the top-spec Toyota Innova Crysta or the lower-spec Kia Carnival.
The e6 introduced to India is in fact the second-generation model that debuted globally in 2021, being a stripped-down version of the BYD Song Max MPV for sale to private owners.
Introduction to BYD
First founded in 1995, BYD began life as a battery maker in its Chinese home market. Growing rapidly from here, the company then put its expertise in rechargeable batteries to use in the auto sector by entering this segment in 2003. The company has had significant interests in the CV segment globally but has seen immense success most recently as an EV maker. BYD Auto is currently the world's second-largest EV maker after Tesla, having already sold a million EVs worldwide. The company has a sizeable presence in India too, manufacturing buses and mobile devices here since 2007 from two factories.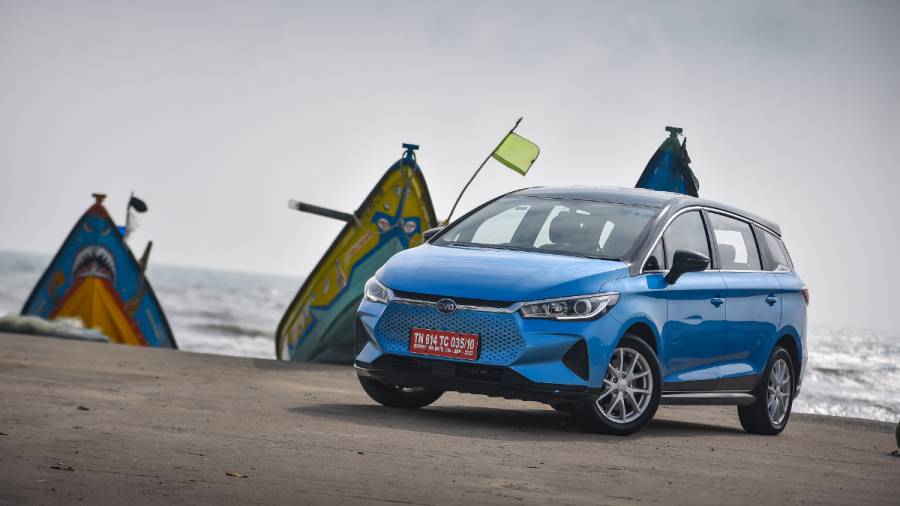 2021 BYD e6 styling, dimensions
The BYD e6 is 4,695mm long, 1,810mm wide and 1,670mm tall. This makes it marginally smaller than the Innova in these respects but the wheelbase is longer at 2,800mm. These numbers give the e6 quite an attractive stance on the road and while the design may not be very sophisticated, this electric MPV still does grab some eyeballs with its aggressive fascia and sloping roofline. The punched central panel and the large, swept-back headlamps are some of the more striking details, as are the deep-set triangular bumper elements.
In profile, the BYD e6 continues with this attractive but slightly anonymous look. The glasshouse tapers away neatly above the simple body panels but we would have liked to have seen a more attractive set of alloys, given this vehicle is being pitched to quite a few corporates and even for the self-driven rental market. We also would have liked to have seen slightly better paint quality and a better finish to the few plastic panels used. The rear is finished stylishly again with the strong brow to the well-detailed LED taillamps, the practical bootlid and crisp bumper elements.
BYD e6 interiors, features
The interiors of the e6 are well-executed too, especially when you consider this electric MPV will almost always not be driven by the ones paying for it. So while its traditionally powered Japanese and Korean rivals have an edge in terms of the ambience and quality, the BYD e6 is still finished well enough to give off a sense of being a premium offering for those being chauffeured around in it.
Now there aren't too many rich materials or design flourishes inside the BYD e6. But it must be said that the interiors seem quite well put together and there is a contemporary look to the dashboard. Some of the plastics could have been better done at this price but the switchgear and controls feel substantial as do the common touchpoints like the soft-touch door handles,steering wheel and faux wood veneer on the dash and gloss black accents on the wide centre console.
But owners and those being driven around in the BYD e6 will be more interested in how things are in the second row. Here, the benefits of an EV architecture are apparent. The battery pack placed under the floor does raise it and put you in a slight knees-up position but other than that it's good news for passengers here. The large leatherette seats are supportive and comfortable if a tad too aggressively lumbared, the flat floor and large windows adding to a sense of space. We only wish there was a separate blower or climate zone here and a centre armrest. The e6 is only available in a two-row configuration possibly as a fallout of the battery's placement. This frees up a large and flat boot of 580-litres but we think the loss of these seats may be a dampener for fleet operators in terms of revenue generated per vehicle.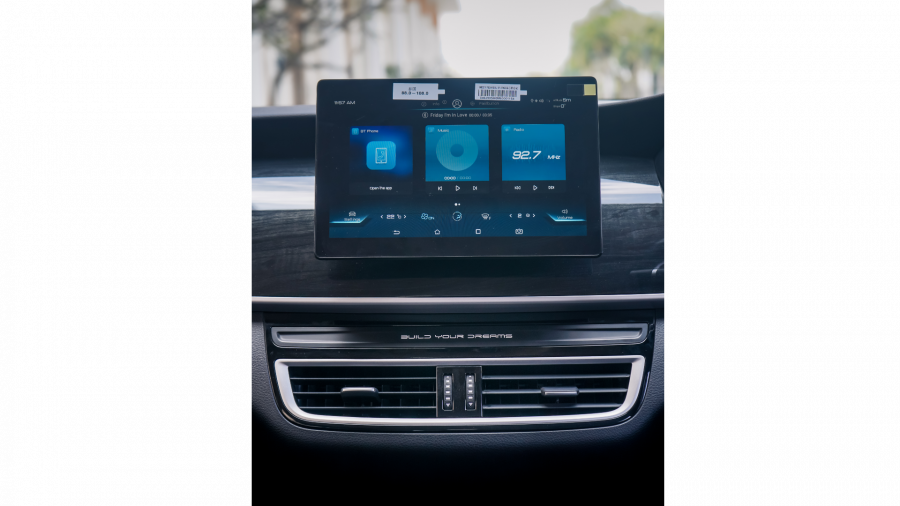 The features list is fairly substantial, but again, with less focus on the driver than you might expect from a car aimed at private buyers. That said, with driver comfort playing a big part in boosting turnaround times in this segment, you get height-adjustable front seats and a tilt and telescopic adjustment for the steering wheel. There's no cruise control but you do get a large 10.1-inch touchscreen that can be rotated from a portrait to a landscape orientation. There is no Android Auto/Apple Carplay, this unit is essentially a tab that also controls the car's functions. But you can access the internet and download apps from the Play Store like Youtube, Maps and Spotify. There's even a video playback function, among other things. The system is high on functionality but we would have liked a brighter display and more intuitive fonts and menus. Other feature highlights are the single-zone climate control, LED interior lighting and control MID flanked by some clean dials.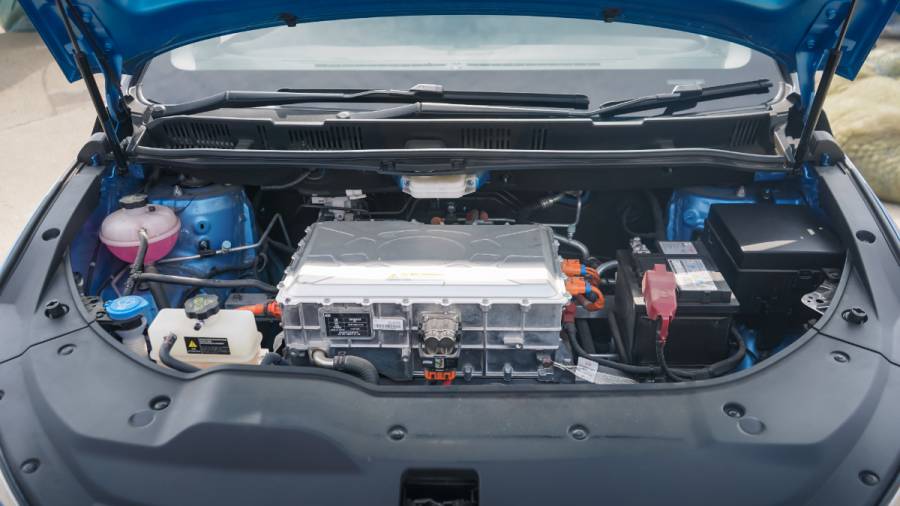 2021 BYD e6 battery, range, charging
Now if our drive is any indication, the BYD e6 will have your ear with how economical it is. The electric MPV uses BYD's proprietary blade battery technology which seems to give it a distinct edge over most EVs we've driven so far. The e6 employs a lithium iron phosphate battery, a variation of lithium-ion battery technology that has some limitations in terms of energy density and operation voltages but works well for commuter vehicles such as this one with its longevity and stable performance.
BYD says the e6 will do anywhere between its 520 km city and 415 combined range. Our time with it suggests that the electric MPV should match these numbers quite comfortably in the real world. Our 113 km drive with it yielded a projected 452 km real-world range figure which included most driving situations the e6 will be put through like slow-moving city traffic, a steady highway cruise and a brisk airport run fully loaded up. This gives the e6 a significant advantage over traditional alternatives in the critical total cost of ownership numbers that drives this business.
The e6 can be charged via a 6.6 kw type 2 AC charger in about 12 hours or can accept upto 60 kW DC charging which will fully charge the battery in 1.5 hours. But another unique option, again aimed at fleet buyers is a 40kW AC fast charger which can be installed in parking locations. This unit charges the e6 is two hours helping turnaround times. BYD says operators can expect running costs to hover around Rs 1.69 per km, dependent on electricity costs.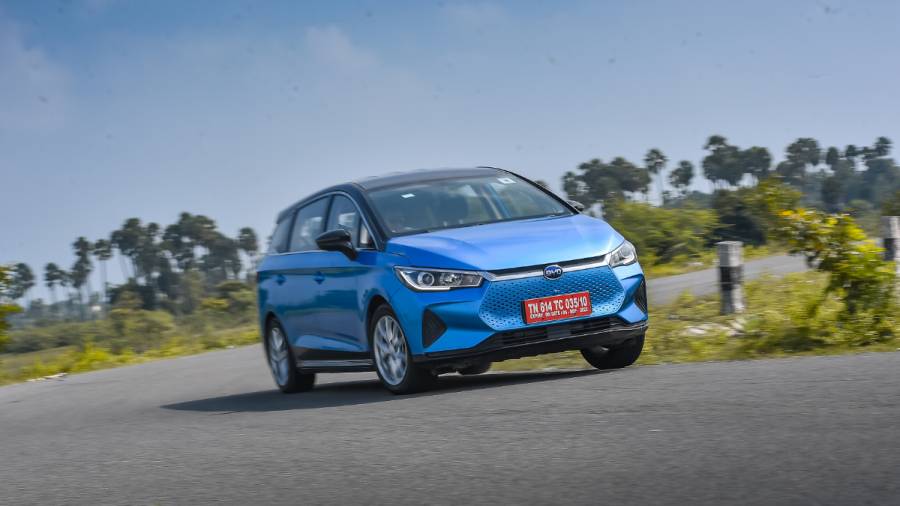 2021 BYD e6 driving impressions, electric motor
This may be of limited interest to prospective buyers of the BYD e6 but the electric MPV happens to be quite a nice one to drive. The 95PS and 180 Nm outputs may seem underwhelming for a car of this size, but the crisp EV torque delivery and the intuitive software tuning allow the e6 to not feel outgunned in city traffic. The instant torque allows the MPV to move with the flow of traffic without much hesitation although performance does peter off in outright acceleration or as speeds build. Having said that, the e6 does hold on to steady highway speeds well without charge levels plummeting, something we were pleasantly surprised by.
It also helps that the large windows and well-tuned steering make the BYD e6 quite easy to drive. The steering is light at low speeds but then progressively weighs up enough to not be alarming as speeds rise. Another positive is the ride and handling characteristics. The e6 uses a sophisticated multi-link rear suspension which means that passengers are kept comfortable over most road surfaces. The typically EV suspension tuning does add some firmness which is most apparent over sharp speed breakers or broken patches but most of this is kept away from occupants. The low battery placement also means that body movements are well controlled and predictable. And when it comes to slowing the e6 down, there are two regen modes. These are again well-judged and work cohesively with the physical brakes making the experience quite easy to get used to.
2021 BYD e6 safety
Despite being a commercial vehicle, the e6 doesn't skimp on safety. Front and side airbags are standard, as is tyre pressure monitoring and ISOFIX seats. There's also a high-pitched low-speed hum to warn pedestrians of the e6 and a rear view camera. Notably, all occupants get adjustable headrests and seatbelt warning.
2021 BYD e6 price, verdict
The BYD e6 is an interesting addition to the Indian automotive landscape which seems to bring us in closer touch with the rapid progress EV tech is making globally. The e6 is being assembled from semi-knocked down kits which leads to a significantly high price, starting at Rs 29.15 lakh. The e6 is only eligible for state subsidies consequently. The limited network spread over eight cities is an obstacle but for fleet owners and corporate buyers who can make a business case with this pricing, the e6 is a competent package that should significantly reduce costs and increase margins over conventionally priced rivals. A strong 8 year/ 5 lakh km battery warranty and 3 year/1.25 lakh vehicle warranty should dispel quite a bit of the uncertainty that comes with a new brand too. Now to wait for a version for private buyers...
Images by Sumit Gaikwad
Also read,
2021 BYD e6 electric MPV launched in India for B2B operators, priced from Rs 29.15 lakh
Toyota and BYD partner to develop electric vehicles in China
BYD unveils its fire and explosion resistant Blade battery
Price (Ex-Delhi)
Starts Rs 29.15 Lakhs
Price (Ex-Delhi)
Starts Rs 24.95 Lakhs
Price (Ex-Delhi)
Starts Rs 16.26 Lakhs