2020 Mercedes-AMG GLE 53 Coupe road test review
You can't have your cake and eat it too. It's one of those phrases from the drudgery of early-school learning that somehow refuses to leave your side. But sports coupe-SUVs like the Mercedes-AMG GLE 53 Coupe seem to want you to bury that lesson in the past, promising all the things you could want from a car in one package. The practicality of an SUV, the pace and aura of a sportscar and presence that puts both to shame. The first '53' series AMG in India, the GLE 53 Coupe is aimed at buyers who are either treading the AMG waters for the first time or looking for the unique image of luxury such cars peddle. More importantly, it replaces the most sought after model, the GLE 43, in AMG's very successful India range.
Mercedes-AMG GLE 53 Coupe Styling
If it is that almost intimidating aura that surrounds most full-fledged AMGs that you're after, the GLE 53 makes for immediate purchase. The GLE 53 is 14 to 37mm wider front to rear and 56mm shorter than the standard GLE. The massive Panamericana grille with its dinner-plate-sized three-pointed badge, between those unmistakably GLE headlamps, brings masses of presence without looking disproportionate or forced. The slatted and honeycombed bumper section with the slight lip isn't aerodynamically functional, except for the small curtains on each side. They're here to drive the 'angry street-fighter turned polished gangster' vibe home with the massively flared arches and the bulging strakes on the bonnet.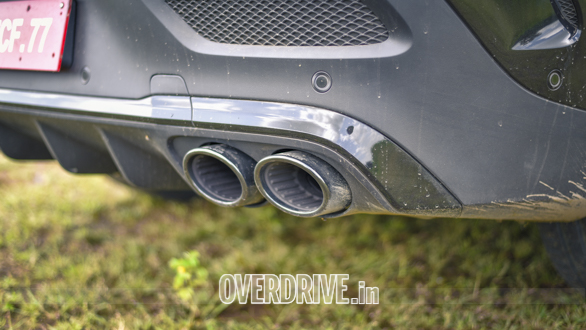 This almost exaggerated sense of menace is carried through to the rest of the GLE 53 with its lowered, heavily dropping roofline, the high window line and massive 21-inch wheels. It culminates at the rear with the even more jacked haunches, which flow into the lipped boot lid. Here the flat face and large, wide tail lamps are a Mercedes Coupe-SUV staple. Some of the mass is cut down with those two-to-four oval exhaust outlets and the crimping around the again non-functional diffuser section. But the GLE 53 is 37mm longer than the standard car even with a 60mm shorter wheelbase. Much of this is in the rear overhangs, which seems to sway the fine balance between finesse and aggression that the rest of the car plays with. But a lighter shade which brings out the standard dark-themed highlights subdues this sense quite a bit.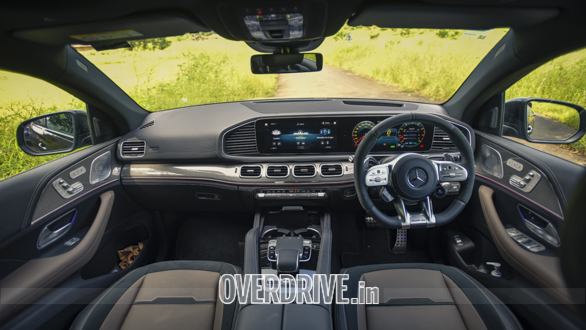 Mercedes-AMG GLE 53 Coupe Interiors and Features
The GLE 53's overtly aggressive visual presence softens a great deal when you step inside. Like in the GLE SUV, you have that very calming interplay of a crisp, functional layout and rich textures and materials. There are two colour themes on offer, an all-black one or the very nicely executed brown and black seen here. The metallic or open-pore wood highlights make way for a carbon-fibre weave mimicking pattern, a nod to this car's AMG connections. Front and centre is the MBUX infotainment with its twin 12.3-inch screens and the grated housing it sits in. The one in the GLE 53 adds AMG-specific menus and dials although the track telemetry functions seen in full-size AMGs have been given a miss. Otherwise, this system with its touchscreen functionality and crisp interfaces is as easy to get used as we've earlier experienced. The four-segment AC vents are now almost synonymous with these big Mercedes SUVs, and the slim, rich feeling panel of toggle buttons below them and on the centre console are other bits recognisable from the GLE SUV.
The AMG focus comes where it matters. You still sit quite high up like in any other SUV but in these well-contoured sports seats. These again offer all manner of adjustments, save for active bolstering. Here in front, you are faced with that sweet AMG steering wheel, trimmed in suede and fitted with some substantial aluminium paddles. There are even those well-placed display switches for the drive and ESP modes that only recently came to the 63-series AMGs. With how generous the standard GLE is with its space, the coupe still has enough legroom at the rear for most adults with its shortened wheelbase. But after the front seats, the rear ones feel like a slight letdown, mainly due to the angle of recline and lack of under-thigh support. Mercedes has intelligently cut short the panoramic sunroof and scooped out some of the headlining though, so headroom should not be an issue for most.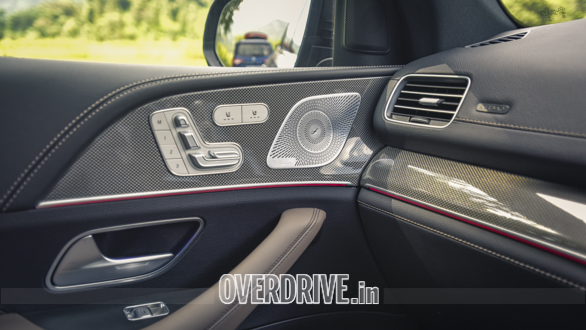 In a break from the performance car norm of exasperating options lists, Mercedes-Benz India has decided to pack the GLE 53 Coupe to the gills with conveniences. In this sense the Coupe almost matches the GLE 400d Hip-Hop, offering heated and cooled front seats with four-way lumbar support and massaging functions, a 13-speaker Burmester audio system, 64-colour ambient lighting and a very legible and unobtrusive HUD. Even the boot is a generous 655 litres, easily accessed via a powered tailgate and with droppable load height via the air suspension.
Mercedes-AMG GLE 53 Coupe Engine
With this not being a top-rung AMG like the E 63 or C 63 sedans, the GLE 53 misses out on a hand-built, bellowing AMG V8. In its place is an AMG-fettled version of the 3.0-litre boosted inline-six from the GLE 450, paired with Mercedes' EQ Boost 48V mild-hybrid system. Before you wallow at the thought of AMG having gone soft in the face of emission regulations, know that this is a deeply impressive motor. Outputs stand at 435PS and 520 Nm, with the electric motor adding another 22PS and 250 Nm.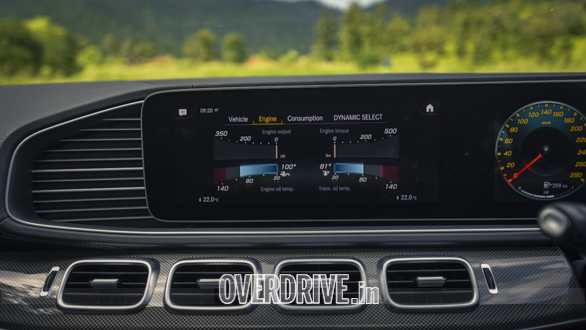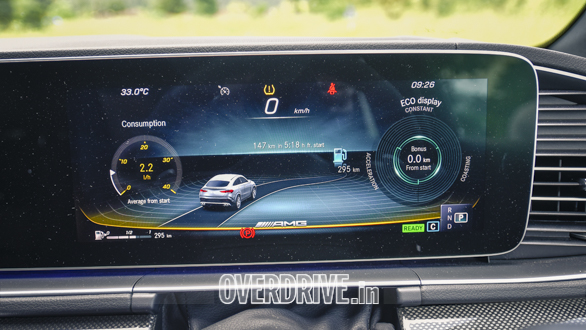 Aside from harvesting energy during coasting, braking and working the completely unintrusive (the high voltage system keeps all electricals running) start/stop function, this electric motor massively transforms the driving experience from a turbocharged engine. The e-motor powers a small compressor that builds boost while the larger turbo spools up, more or less negating any perceptible lag. There is a seamless transition between these two elements, so what you feel is a linear powerband from just above idle to this engine's high 6,100 rpm peak. Amidst this, the electric motor also keeps feeding the IC engine bursts of torque when it needs it most, say in the lower reaches of the rev band or part-throttle conditions.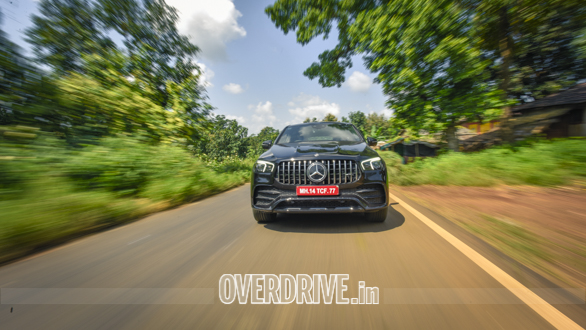 Aside from the Comfort, Sport and Sport+ drive modes, there is a Slippery mode and two off-road settings in Sand and Trail.
This translates into an engine that genuinely amazes with its breadth of ability. It'll potter along with barely any revs in the bustle of our city roads, only a slight but distinct AMG murmur letting you know it's awake. Stomp on the gas in an open stretch and just as you would expect in an AMG, it rears up on its haunches and surges ahead with one big dollop of power, the murmur turning into a burble. The flapped AMG exhaust system adds more drama with pops and crackles on the overrun. The engine also works well when you are hustling the big SUV around bends in the Sport+ mode, with even quicker responses from the engine and more electrical assistance that keep power and revs always at your disposal. It'll even idle the engine at higher revs to allow for quicker launches. But where this motor truly is at its best is on a highway cruise. It transforms the GLE 53's character into that of a big-engined GT, rolling along at very high speeds, the engine barely ticking over and the electric motor's coasting function adding a sense of waftness that matches the best that Mercedes has to offer elsewhere in its line-up.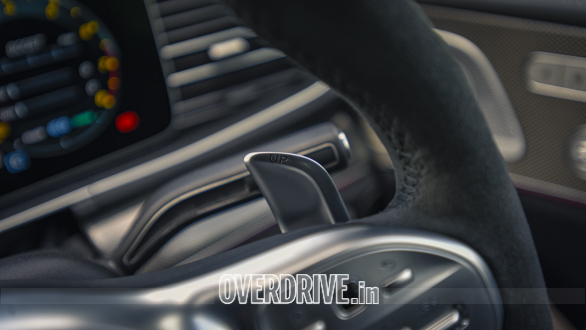 No mention of this power unit can be complete without acknowledging the 9-speed Speedshift TCT gearbox it pairs. Unlike the engine, this has in fact trickled down from bigger AMGs. It is a unique set up that incorporates a wet-clutch at start-off in conjunction with the torque converter. The effect of this is completely seamless shifts in usual driving, it is almost always right in the middle of the powerband and able to exploit everything that the engine and e-motor have to offer. In more spirited driving in Sport+ mode, it takes on a harder edge. You feel every shift in the back of your head now, responses are even more sharpened and rev-matched downshifts come thick and fast whenever you seem to need them. Enough for you to not have to reach for the paddles very often. The wide powerband makes this sensation even more attractive, but this gearbox will even control the engine's torque output during upshifts to quicken them.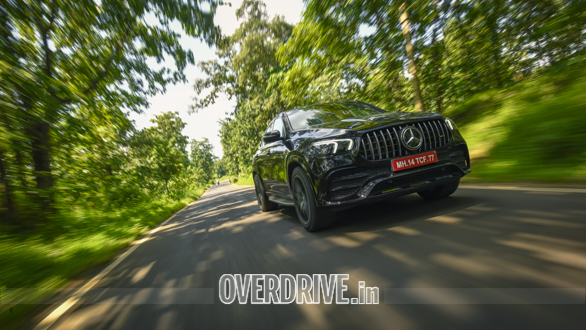 Mercedes-AMG GLE 53 Coupe Ride and Handling
The deep intervention that this 48V MHEV system has in the GLE 53's driving experience doesn't just end with the powertrain. With the AMG Active Ride Control air suspension set up offered here, the 48V system powers two actuators, one on each axle. This system again has trickled down from the GLE 63 and works with the air suspension to counteract body roll and even slackens or stiffens an individual wheel to improve ride quality, making small adjustments up to 1,000 times per second.
In effect, on smooth surfaces, this GLE is mind-bogglingly pliant, almost feeling like it is floating over the road rather than being on it. Even bigger bumps and potholes are covered with a soft edge to it, despite there being some amount of the usual fast-car stiffness. Although over an extended bad patch, a slightly uncomfortable sideways movement seems to filter through into the car. A special mention here of the 21-inch wheels that are standard with this big coupe-SUV. Despite the supercar size and width they seem to strike a decent balance between grip and give with their 45mm profile. Further, at speeds over 120 kmph, the GLE 53 lowers by 10mm for added stability.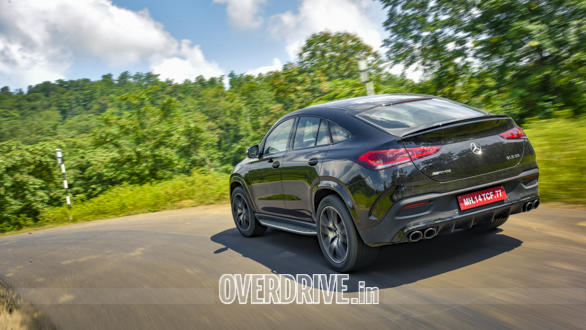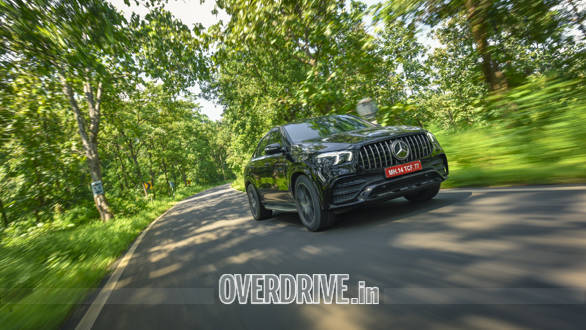 The GLE 53 is equipped with 400mm front and 345mm rear steel disc brakes. These offer confident braking aside from a slight mushiness whenever the MHEV system is recovering energy
The active roll stabilisation system also has benefits when you are running up some twisties with the GLE 53. Of course, it can't completely negate the physics of a very large and heavy SUV. But body movements are largely tight and consistent, again similar to what you can expect from a big GT. The steering isn't the quick variable-ratio units from the AMG flagships but feels like a heftier, sharper and more sure-footed version of the ones found in standard Mercedes cars. So the GLE 53 will lean into flowing corners quite naturally and then charge out of them confidently, the 4Matic AWD system adding another layer of support with it being capable of sending up to 100 per cent of the available torque to the front axle whenever needed. The more simplified AMG Dynamics ESP programs here also allow you to tailor this experience to your liking a bit more. You wouldn't exactly call the GLE 53 the most dynamic of fast SUVs, but it definitely feels like a lithe, planted customer.
Mercedes-AMG GLE 53 Coupe Safety
Mercedes-Benz India has packed GLE 53 with a reasonable set of active and passive safety systems. So you have nine airbags, including a driver's knee and rear side airbag. There is an active-high beam function with the multibeam LED lighting and a crisp 360-degree camera with numerous views. More advanced driver assistance systems aren't on offer, but you do get the blind-spot monitoring and an active brake assist function.
Mercedes-AMG GLE 53 Coupe Price and Verdict
The Mercedes-AMG GLE 53 Coupe may not have such an overt engine-forward character as its bigger brothers, but that slightly raw experience that AMGs seem to provide is definitely present. Most importantly, it also doesn't seem to take itself too seriously, with that almost cartoonishly aggressive look and its tendency to rear up and launch ahead in a swarm of pops and crackles. And then with the up to the minute tech it packs, it's perfectly usable as a daily driver or an immensely capable highway machine. A good amount of dynamic prowess adds even more versatility.
The decisive factor though is the price. At Rs 1.2 crore and fully specced as standard, the GLE 53 Coupe is actually more affordable than the GLE 400d Hip-Hop. That's immense value for anyone looking to take the plunge into AMG-land or even just looking for a fast do-it-all car. Another bestseller? We think so.
Price (Ex-Delhi)
Starts Rs 1.2 Crore