Yamaha FZ, FZ-S and Fazer with new colours launched in India
Yamaha has launched new colours for its FZ, FZ-S and Fazer motorcycles in India. The new colours on the Fazer are terrain white, wilderness black and ravine red. The FZ gets panther black, ambush blue and raider red while the FZ-S gets hawk eye gold, preying red and pouncing black colours. The price for the Fazer, FZ and FZ-S are Rs 77,351, Rs 70,411 and Rs 72,385 ex-Delhi respectively.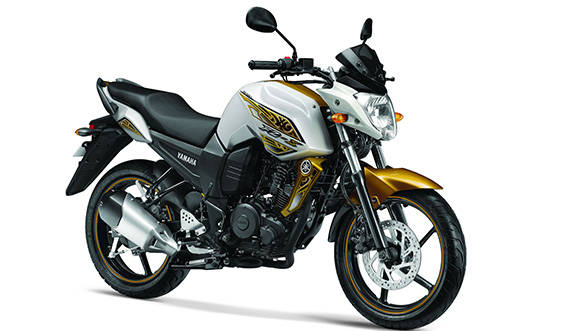 The Yamaha-S Hawk Eye Gold
The Yamaha wilderness black
The mechanicals though remained unchanged which means the FZ series is powered by an air-cooled 153cc 4-stroke engine which makes 14PS of power and is mated to a 5-speed gearbox. The FZ series though is to get a revamp soon. The new FZ is expected to have a bump in power and also cosmetic changes like a different tail pipe, instrument cluster and split seats.
Yamaha FZ new colours press release
New Delhi, 14th April 2014: Yamaha's continuous product innovation brings in yet another exciting product line up of the FZ, FZ-S and FAZER motorcycles for the year 2014. Yamaha Motor India Sales Pvt. Ltd has launched the variants of the bestselling Yamaha motorcycles namely FZ, FZ-S and FAZER in vibrant colour schemes and graphics to boost sales and create more excitement amongst customers and motorcycle aficionados. In all, three new colors for each FZ, FZ-S and FAZER motorcycles have been introduced along with stimulating new, stylish and aggressive graphics. Name Launch date RRP FAZER (Terrain White, Wilderness Black and Ravine Red.) April 2014 77,351/-(Ex-showroom Delhi) FZ (Panther Black, Raider Red, Ambush Blue) April 2014 70,411 /-(Ex-showroom Delhi) FZ-S (Pouncing Black, Preying Red, Hawk Eye Gold ) April 2014 72,385/-(Ex-showroom Delhi) The 153cc FZ series and Fazer motorcycles are certainly one of the finest products offered by Yamaha Motor India Sales. Since the launch of FZ series in 2008, these bikes have gained immense popularity amongst customers, especially youngsters. It has been the company's constant endeavor to bring further excitement and variety to its style conscious customers. The new colours have been introduced to suit the need of customers who are always looking at upgrading to a more stylish product to match their ever changing fashion statement and personality. The FZ boasts of street-friendly performance and superb riding experience. Similarly, the FAZER is known for its edgy, sporty look and high performance. The Fazer gets its DNA from the global Fazer series known for their sports touring and astounding looks. The new FZ-S is meant for the stylish and attention seeking Macho man. Dubbed as "Lord of the Streets," FZ-S is designed and engineered with the potential for active and even aggressive enjoyment of around-town Street riding. The engine specs remain unchanged with the same 153cc, air cooled-single cylinder four stroke engine doing duty. The engine generates maximum power of 14 PS at 7500 rpm and is mated to a 5-speed gearbox. About Yamaha Motor India Sales Pvt. Ltd In April 2013, India Yamaha Motor Pvt. Ltd established a separate sister concern, Yamaha Motor India Sales Pvt. Ltd(YMIS) to cater to Company's sales and marketing needs and function independently. Presently, its products in India are Fazer (153cc), FZ-S (153cc), FZ (153cc), SZ-X, SZ-R, SZ-S & SZ-RR (153cc), YZF-R15 Version 2.0 (150cc), SS125 (123cc), YBR 125 (123cc), YBR 110 (106cc), Crux (106cc) and Ray (113cc), Ray Z (113 cc) and Alpha(113 cc) Scooters. Its import portfolio includes VMAX (1,679cc), YZF-R1 (998cc) and FZ1 (998cc).
Price (Ex-Delhi)
Starts Rs 99,200
Price (Ex-Delhi)
Starts Rs 1,43,680
Price (Ex-Delhi)
Starts Rs 50,817