WRC 2014: Latvala wins Rally Sweden
Jari-Matti Latvala played the cool game and came through to his third victory on the Swedish Rally, and in the process acquired a five point lead in the FIA's World Drivers' Championship after the opening two rounds. He played his hand well, unfazed that his two fellow VW drivers who took turns to battle for the lead in the first nine stages, finally cementing a lead after both his colleagues also took turns off the road and in the snowbanks. Volkswagen drivers led throughout.
Jari-Matti Latvala got one up on Volkswagen team-mate Sebastien Ogier with victory at Rally Sweden
Second placed Andreas Mikkelsen scored his first ever WRC podium, while Citroen driver Mads Ostberg proved the best non-VW driver of the event, taking his fourth successive podium position on this event after gradually getting the better of M-Sport driver Mikko Hirvonen. The Hyundai i20 WRCs of Thierry Neuville and Juho Hanninen both scored makes' championship points on only their second appearance, with guest driver Hanninen running as high as sixth during Day 2, but both drivers missed stages because of suspension or steering failures after touching trackside rocks. Best placed Swedish Rally WRC newcomer was Kris Meeke who finished tenth, beating Robert Kubica, though Elfyn Evans was ahead until the final stage. All three went off at some time or other, Kubica three times and Evans terminally on the Power Stage.
Victory at Sweden means Latvala now leads the WRC championship after two rounds
Mild weather conditions on this cross-border event which went into Norway on Day 1 meant that crews faced stages in which the snow covering soon gave way to gravel, but snow did fall on the second evening. The increasingly strict world championship tyre regulations focused attention on the very wild weather conditions which threatened to turn the snowy stages into gravel roads, which in turn severely reduced the lifespan of studded tyres. This in turn forced drivers to moderate their pace through the event.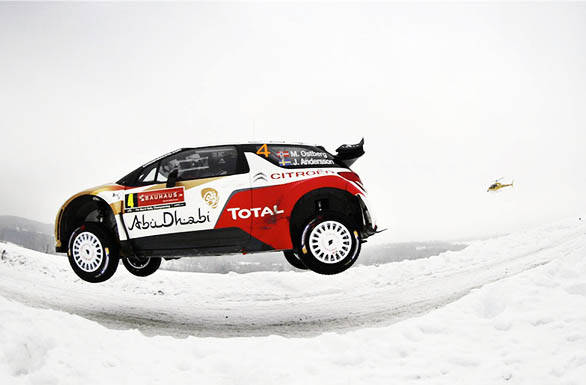 Citroen made it to the podium with third place from Mads Ostberg
Latvala had led for seven stages on Day 2 while scoring only one fastest stage time during that time. Big news was that Sebastien Ogier who had successfully mastered his front-running position on Day 1, then lost four minutes in a snowbank at the start of Day 2, falling down the leader board from 1st to 20th place after stage 8. By the end of Day 2 he was up to 10th and by the finish he had clawed his way up to sixth, his final conquest being to overtake the hard charging Henning Solberg, who scored Pirelli's first fastest stage time in over three years.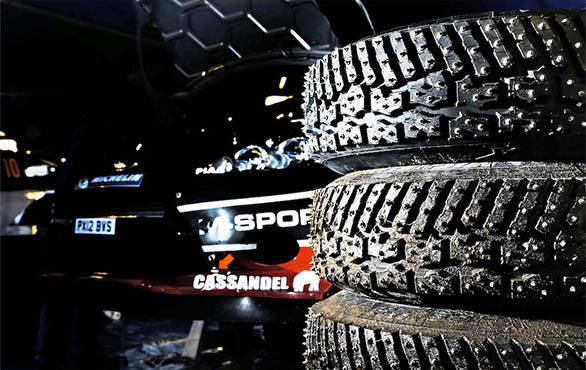 Knobby snow tyres - with all that snow and ice in Sweden, what else could the rally cars be shod with?
Volkswagen drivers were in an event of their own, leaving the race for the other positions to be fought out between Citroen's new driver Mads Ostberg and M-Sport's favourite Mikko Hirvonen. This was only Ostberg's second event in a Citroen and he was still learning. "I totally changed my driving style in three days. I started to get really confident with the car," Mads said. To such good effect that he got ahead of Hirvonen at the end of Day 1, and he gained the three bonus points by winning the Power Stage at the end of the event.
Fans at the Rally Sweden
Through nearly the whole event the running order was very significant and this helped 12th running Ott Tanak, making his return to the WRC after a year's absence, shoot into prominence, initially holding third place. Even when running without this advantage on Day 2 he continued to impress and he held a steady fifth place through to the finish. The running order rules however savaged the hopes of WRC privateer Martin Prokop in his efforts to pull back from an indiscretion on stage 2. The time loss caused him to be holding last position and also incurred the handicap of running first car the next day in exceptionally difficult conditions. Prokop fought back to 12th place but eventually retired on the final day after another accident. Top Swedish driver was eighth placed Pontus Tidemand, last year's FIA Junior world rally champion, and the only Swede in a World Rally Car. The step-son of Norwegian Henning Solberg, Tidemand headed Craig Breen who was rallying a World Rally Car for the first time on a WRC event. Breen arrived in Sweden just in time after an overnight dash from the Liepaja ERC Rally in Latvia and was very tired for the start of the pre-rally recce, and was not on form during the event.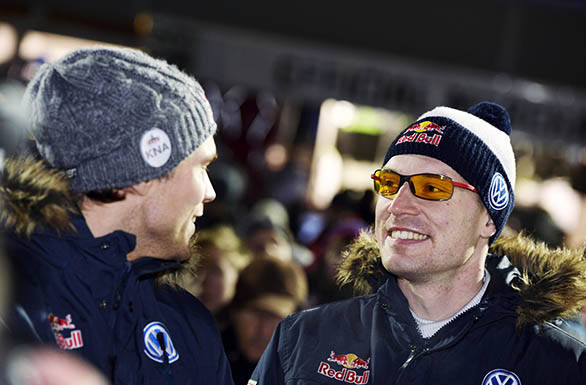 Mikkelson and Latvala look pleased at having beaten Seb Ogier
After one long year at Volkswagen living in the shadow of Sebastien Ogier, with only last year's Acropolis to bring him success at WRC level, Latvala fully appreciated the fortune of winning here again. He not only had to prove that the way to win the fastest rally on snow was deliberately to drive slowly and conserve his tyres, but also applied new mental techniques. "I have had so many difficult starts to my (WRC) seasons and lost my championship chances in the first half year that I really wanted to concentrate and get a good start. I want to thank my trainer, he helped me a lot". Quite a change of character for the driver who shot to prominence on account of his blinding pace! With all the spectacular publicity surrounding Ogier's world title last year who would have believed that little young Latvala would be leading the championship at this time?
WRC2 winner Karl Krudda in the Fiesta S2000
The WRC2 category promised to witness an exciting battle between the new generation RRC and R5 cars. After more than two days of domination in the gravelly stages by last year's WRC2 category winner Yazeed Al Rajhi's Fiesta RRC, the Saudi driver suffered three delays on the final day and fell back, opening the race up to the Fiesta R5 of Jari Ketomaa, who then had to crawl to the end of the final stage virtually studless. The Finn thought he had just scraped in as the winner but in fact his problems gave the 21-year old Karl Kruuda the victory – by 2.3 seconds! Kruuda had imagined all hopes of success in his two year old ex-Henning Solberg and Lappi Fiesta S2000 had gone on the afternoon of Day 1 when he had a driveshaft failure and struggled in two-wheel drive dropping to seventh of the ten WRC2 competitors. Fredrik Ahlin's Fiesta R5 was third in front of Al Rajhi. It was the first win in the WRC2 for a 2-litre normally-aspirated car since Portugal last year. Top WRC2 driver at Monte Carlo Yuriy Protasov was delayed by gearbox problems and finally finished fifth ahead of Lorenzo Bertelli, who struggled with a badly handling car. Valeriy Gorban brought his Eurolamps Ascania team Mini to seventh place after losing considerable time on the final stage in a snow bank. In the two-wheel drive RC3 class Martin Koci won all the stages and the category in his Citroen DS3 R3T while in RC4 the category was originally dominated by the Peugeot 208 R2 of Mattias Adielsson who won all the stages until he went off in stage 19 and from then Hubert Ptaszek won the remaining stages to win the Class in his Ford Fiesta R2.
Price (Ex-Delhi)
Starts Rs 6.8 Lakhs