Union Budget 2019 expectations: p( import duties on lithium-ion cells and motors to support local production of batteries for EVs - Okinawa India
Finance Minister, Nirmala Sitharaman will be presenting the Union Budget 2019 in Lok Sabha. The minister is said to put out a detailed plan of addressing issues such as slow economic growth and rising unemployment. In addition to this, the minister is also expected to update the taxation norms for the Indian automobile industry that is presently facing one of its worst slowdowns due to poor sales and rising unsold inventory at dealerships due to the lack in demand. The new policies are expected to give the much-needed boost to various automobile manufacturers in the country. Here are the pre-budget expectations of Jeetender Sharma, Founder & Managing Director, Okinawa Autotech Pvt. Ltd.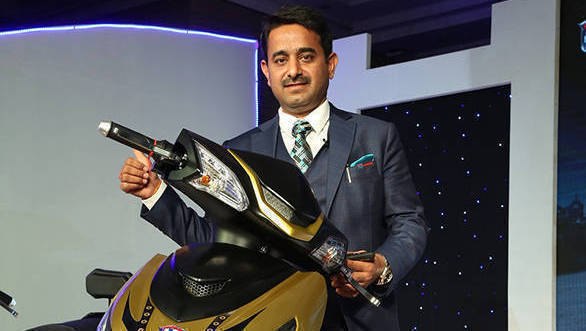 Jeetender Sharma, Founder & Managing Director, Okinawa Autotech Pvt. Ltd.
"In the Interim Budget, the finance minister shared the vision of having 30 per cent EVs in the mobility mix by 2030 to give a boost to e-vehicle manufacturers. The government has placed a definitive emphasis on Electric Vehicles and had already announced a reduction of customs duty on the imported electric vehicles in completely knocked-down or semi-knocked down state, to 10-15 per cent from 15-30 per cent. The Fame-2 Policy is also actively supporting the electric two-wheeler industry. In the upcoming budget, we would like to see reduced import duties on lithium-ion cells, motors and motor controllers so that the batteries can be produced locally, this in turn aligning with the Government's Make In India initiative. We also want GST on batteries to be reduced from the current 18 per cent slab to the lowest possible slab. We hope the government would soon announce a concrete plan of action with its time-bound implementation in order to fulfil its stated vision.
The world is developing at an incredible pace with new technological interventions emerging every day. To move towards a stellar growth, the adverse effects of current modes of transportation needs to be countered. Government initiatives such as FAME II aims to boost electric mobility by not only providing government subsidy to the customers but also high-speed Made In India electric vehicles. NITI Aayog proposal of the sale of only electric vehicles after 2030 have given further boost to e-mobility in the country.
Electric vehicles are easier on the environment than their gasoline-powered counterparts. They have tremendous potential to revolutionise the way commuting takes place, at present, in India and across the world, by not just being economically viable but also environmentally sustainable. Switching to EVs will not only help improve the environment but will also prove to be cost efficient in the long run. Providing a solution to the lack of charging infrastructure for electric vehicles (EVs), electric two-wheeler makers are turning to detachable batteries to make the charging process easier. With the shift to detachable batteries, the country pace towards electrification will double in no time.
Supplemented by innovators, entrepreneurs and active government support, the EV sector is progressively paving its way to make this mode the face of transport in India. As more and more countries are consciously taking initiatives to reduce dependence on conventional energy sources, adopting electric vehicles serves as one of the most basic steps towards contributing to a greener ecosystem and promoting the Make In India initiative. This is eventually leading to a paradigm shift, making electric vehicles the future of global transport."
Also read, 
Union Budget 2019: Downward revision of GST rate on all cars to 18 per cent from 28 per cent – Martin Schwenk, MD & CEO, Mercedes-Benz India