SIAM to work with government on festive season sops, uncertain on meeting upcoming norms
The Society of Indian Automobile Manufacturers(SIAM) and the government of India are looking to hold discussions to look at the feasibility of offering some sops to manufacturers, and consequently buyers, during the upcoming festive season.
The auto body and representatives from the government are looking at this given the big depression in auto sales since 2019. SIAM says that the sales numbers currently being seen were last seen a decade ago, and warns that reaching the peak levels of 2019 may take as long as 4-5 years. Sops such as the one proposed here will be vital to capitalize on the sales rush seen at this time.
SIAM also reiterated its demand for specific policies to revive demand. As has been its appeal over the past year, the body is expecting GST rate cuts and a scrappage policy. The GST rate cut will be a big benefit to buyers, given the current high levels of taxation have added hugely to the on-road prices of cars. Currently, non-electric cars can be taxed between 29 and 43 per cent, effectively. One of the biggest expectations of the government has been the introduction of a scrappage policy. This initiative has seen success globally because of its two-pronged effect. Old, high polluting vehicles are put out of use, and buyers are forced to replace them with new cars, leading to more sales. In response to this, the government has stated that it is aware of all these issues and will take these decisions up in the upcoming monsoon session of the Parliament, although a specific time frame for implementation was not stated.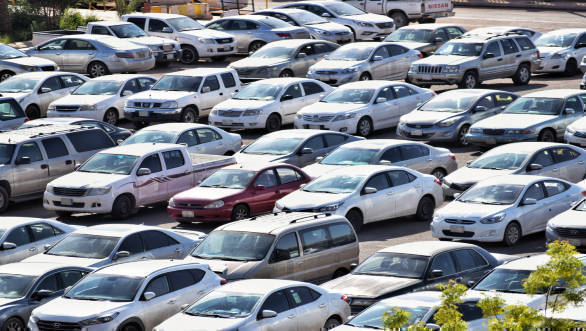 Photo by Haidan on Unsplash
SIAM also said that given the ongoing perils of the auto industry the upcoming Real Driving Emission and crash safety norms, slated to come into effect 2022 onwards, will be very difficult to meet. These call for even more investment into R and D, and adding more components in vehicles that will drive up their costs further. Meeting the new BSVI norms have hurt automakers, compounded by low sales and the COVID19 pandemic, and further investment into the new norms without any government support will be an uphill task.
The Executive Committee of SIAM has also now elected Kenichi Ayukawa as its new president. Ayukawa is the MD and CEO of Maruti Suzuki and will hold this position for two years. He was earlier the vice-president of the body and replaces Rajan Wadhera, senior advisor at Mahindra and Mahindra. Vipin Sondhi, MD and CEO of Ashok Leyland is the new vice-president.