Possible India launches leaked in Hyundai production plan
An image has appeared on the internet that shows the production plan for Hyundai's Ulsan facility in South Korea. This is the largest automobile plant in the world and is the brand's manufacturing base in its home country. This document also gives deep insights on the cars we can expect from the carmaker in the premium segments it operates in.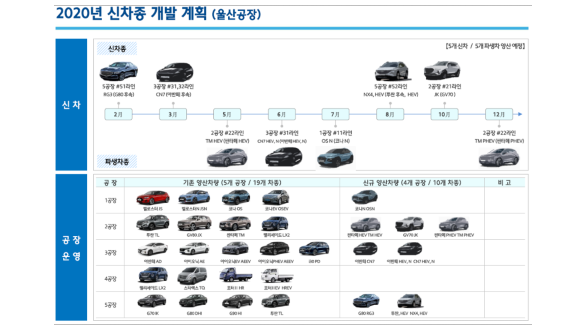 One of the most noteworthy details for India, here, is the debut of the new-gen Hyundai Tucson globally in August. The new Tucson is expected to be launched here in 2021, and will be a ground up new design. The design of this SUV has been previewed by the Hyundai Vision T Concept that was shown last year. The SUV will get a sharp iteration of the carmaker's design language with elements like the full-face grille, exaggerated bodylines and raked rear end. The interiors will be heavily revamped as well. Engine options are expected to be a 1.6-litre turbo petrol and the 2.0-litre diesel engine with 185PS of power and 400 Nm available on the car currently in India. This will be paired with an 8-speed automatic.
Another car from this plan that could make it to India is the Kona N that is set to debut in July. We already get the Kona Electric here and Hyundai India has said that it is considering a roll-out of its performance arm for our country. This crossover could be a good option to launch the N brand here, given its image of a performance-oriented product and our affinity towards SUVs. This will likely be fitted with the 2.0-litre turbo-petrol as seen in the i30 N which makes 275PS and 353 Nm, paired with a 6-speed manual or an 8-speed auto.
This document also says that a hybrid version and a performance-oriented N version of the Elantra will debut later this year. The new Elantra is also planned for India, so the N version can't be entirely ruled out. The added cost of the hybrid version and the lack of any government policy to support them makes the hybrid version unlikely for our country. Hyundai India is also set to launch its Genesis luxury brand in India next year. The Genesis GV70 that is set to debut in October could play a big role in this along with the already available GV80. The GV70 is expected to compete with the likes of the Mercedes-Benz GLC, Audi Q5 and BMW X3. A facelift for the current Santa Fe is also in the works but that is unlikely to be sold in India.
We expect most of the timelines mentioned here to be an estimation, especially given the disruption caused by the Coronavirus pandemic.
Source: Autospy
Price (Ex-Delhi)
Starts Rs 58.93 Lakhs
Price (Ex-Delhi)
Starts Rs 59.9 Lakhs
Price (Ex-Delhi)
Starts Rs 27.69 Lakhs
Price (Ex-Delhi)
Starts Rs 57.36 Lakhs