OVERDRIVE's most viewed motorcycle and scooter reviews of 2014
It's been a good year for all motorcycle (and scooter) mad people like us. And the new year promises to be  even better with more fun two-wheelers lined up for 2015. But here's a look at the year gone by and the biking stories that soared and created a whole lot of buzz.
After nearly six years, Yamaha has given the FZ a substantial update with an all-new engine, fuel injection, lower power and higher fuel economy. The new Yamaha FZ Fi version 2.0 also gets new meters and durable rubber boots.
"I found, in fact, the engine feels about the same as the old one but with markedly improved refinement across the rev range. It feels a little more urgent in acceleration and what I really like is that unlike the old FZ, it doesn't seem to lose steam and flounder even when you're about to bash into the redline. The old FZ actually got quite flustered, comparatively speaking, at the redline and it was the (expensive) Yamaha FZ Race Kit that actually returned some semblance of top-end to the bike. Well, if you can get 14 per cent better economy (Yamaha claims), better 0-100kmph performance (seems possible) and it feels better overall then I don't think the loss of displacement should be a sticking point at all."
Yamaha FZ Fi first ride review
Hero Xtreme
Hero's Xtreme now looks sharper and smart. Updated instrument console, seating position and features constitute all that's new in this motorcycle.
"With the same kerb weight as the outgoing motorcycle (148kg) for the new one, expect a 0-60kmph time of 5.7s with a top speed of 112kmph. We also expect it to return about 57kmpl on our overall test cycle. The motorcycle is pretty brisk on the move like other 150cc machines from the manufacturer."
Bajaj Discover 150F/150S
Amid the sea of Discovers, Bajaj Auto finally made it clear that the flagship will be the new 150F/150S. The semi-faired 150F is stylish for the most part and has an engine with a respectable amount of grunt.
"It is easy to write the 150 off as the 125ST's frame but that isn't strictly true. There isn't any significant suspension or main frame work to be sure because the weight difference between the 125ST and the 150s isn't that much. But Bajaj engineers had to lower the step in the subframe, lengthen it a bit and stiffen it. This creates a flatter seat which should make it easier for the pillion to climb on. It also means the 150 will often carry three people around which we cannot condone."
Bajaj Discover 150F/150S review
Hero Karizma ZMR
Hero unveiled the new Karizma twins some time around late 2013. The motorcycles looked really promising, after having grown in length and also gained some power in the process.
Hero Karizma ZMR image gallery
Honda showcased this scooter first at the expo and launched it thereafter. The Activa 125 has a wee bit more grunt than the regular 110 and it also gets a front disc brake.
Honda Activa 125 image gallery
Honda Activa 125 vs Vespa S vs Mahindra Rodeo RZ vs Suzuki Swish
"Honda who'd been riding the scooter wave the hardest unleashed a new weapon in the Activa 125. The 125 has everything we've said the old Activa needed – some more power, telescopic forks and a disc brake. It clearly is the best Honda scooter on sale in India. We decided to find out if it's the best scooter in a market with rivals like the super premium Vespa S, capable and reasonable Suzuki Swish and feature filled Mahindra Rodeo RZ."
Honda Activa 125 vs Vespa S vs Mahindra Rodeo RZ vs Suzuki Swish
Suzuki Gixxer
"It turns out that besides the claimed sportiness, the Gixxer also happens to be one of the most efficient bikes in the class, returning a claimed 63.5kmpl. The Gixxer was looking very promising indeed.
In fact, it doesn't just look promising, it looks pretty handsome as well."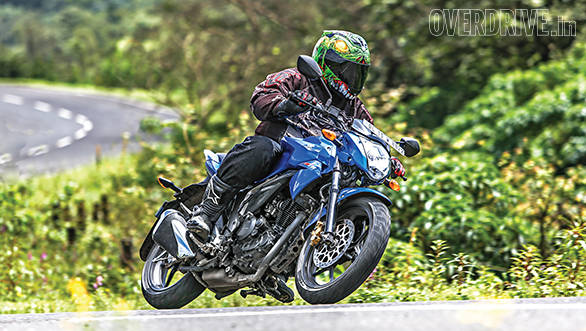 Suzuki Gixxer first ride review
TVS Scooty Zest
"It is girly? Somewhat. Should it deter you? Not at all!. . . a quick spin on the Zest 110 reveals a fun, light, fast and agile scooter that I think will be great fun to pilot for young girls, men with short inseams and men and women of all other descriptions alike."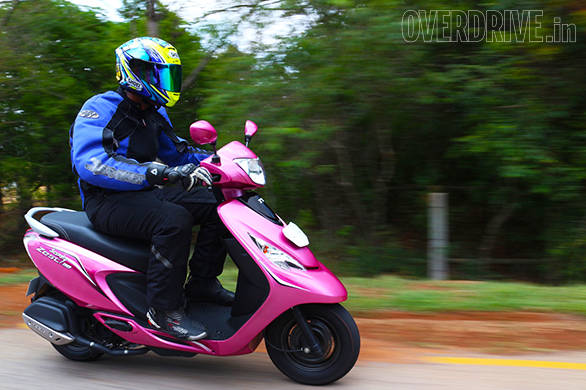 TVS Scooty Zest first ride review
Royal Enfield Continental GT vs KTM 390 Duke vs Suzuki Inazuma
"At this point you might ask why we did this. Well, first of all, because it was there. The highway from Mumbai to Bangalore and then on to Coimbatore is empty and in great shape so the ride is long but relatively simple. More importantly, we wanted to explore the idea of touring on bikes that weren't really meant for the open road."
Royal Enfield Continental GT vs KTM 390 Duke vs Suzuki Inazuma
Price (Ex-Delhi)
Starts Rs 67,490
Price (Ex-Delhi)
Starts Rs 2,52,928
Price (Ex-Delhi)
Starts Rs 1,11,871
Price (Ex-Delhi)
Starts Rs 99,200