MotoGP 2015: Valentino Rossi wins the Dutch Grand Prix
As far as MotoGP battles are concerned, this was one of the most closely contested..err..well too close actually. Movistar Yamaha rider Valentino Rossi won the Dutch Grand Prix after an epic duel with two-time premier class champion Marc Marquez.
Rossi said that he was riding on the limit after beginning from pole position, his first after Valencia in 2014. Suzuki rider Aleix Espargaro who began from second was quickly overtaken by Marquez in third as the duo entered the first corner. From then on Marquez, aboard his Repsol Honda, latched onto the back of Rossi's Yamaha M1 like a laser guided missile. The lead pair quickly pulled away from the rest of the field.
With seven laps to go, Rossi, who was constantly under pressure from the hard charging Marquez, made a small error at the exit of a chicane. Marquez took advantage in the next corner, outbraking Rossi into corner entry. One would have expected Rossi to settle for the runner-up spot, but the nine time champion wasn't going to settle down. Rossi began closing the gap immediately as he was aware that he could not let Marquez pull away. Rossi waited like a predator for the opportune moment to strike and then in Turn 10, he pulled off a spectacular pass on the inside of Marquez.
Rossi opened a 0.4 second gap on Marquez in the final stages. Marquez meanwhile did not give up and made a final lunge on the inside of Rossi, going into the final TT chicane on the last lap. Rossi who was clearly ahead tried to clip the apex but Marquez slid into Rossi, his bike's front wheel touching Rossi's elbow.
Rossi was pushed wide but managed to straighten the bike before cutting through the gravel trap to cross the finish line in first. While the Yamaha camp rejoiced, the Honda garage erupted in protests that Rossi had cut the corner. The race director ruled in favour of Rossi saying that the helicopter shot revealed that Rossi was always ahead and had the right of way into the corner. After being nudged by Marquez, Rossi had no option but to cut the corner.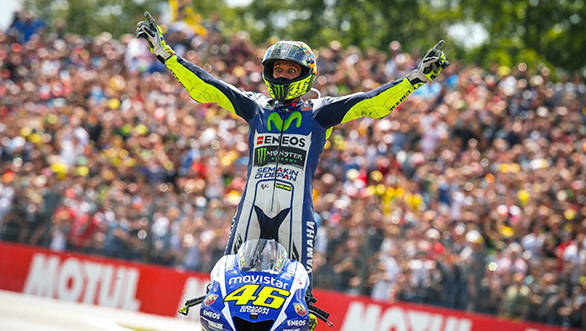 With this win, Rossi, at 163 points, has a 10 point lead over team-mate Jorge Lorenzo who had a lonely race in third. Rossi said that the win at Assen was crucial for his championship hopes after curtailing Lorenzo's winning streak this season. Ducati's Andrea Iannone stands third in the championship at 107 points followed by defending champion Marc Marquez at 89 points.