Made-in-India pure electric ATV from Powerland Agro set to start exports
Goa-based start-up, Powerland Agro Tractor Vehicles, is putting Indian engineering on the world map, with its all-electric lineup of ATVs and side-by-sides ready for export to international markets, namely the US and select European markets.
Developed in-house at its manufacturing facility in Verna, Goa, with inputs from an incubation hub of IIT Delhi, the electric ATV and UTV feature all-wheel drive courtesy in-hub electric motors allowing for lower drivetrain losses, longer operating range, and most importantly, spot steering for unparalleled manoeuvrability in tight spaces. The other headline figure is a total of 800Nm of torque from the four motors and a top speed of 70kmph, with Eco and Boost driving modes to help the user eke the most out of the vehicle depending on the application.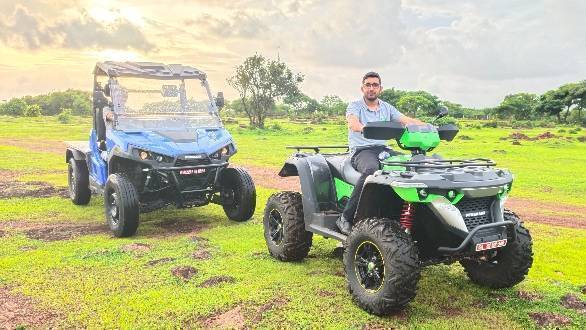 With a 14kWh battery pack, Powerland's e-UTV has returned a range of 150km in Eco mode in testing, carried out on surfaces ranging from flat to 5 degrees of incline, to simulate real-world driving conditions. Powerland claim a charge time of eight hours from empty on the supplied 15A wall-charger, though they estimate an 80 per cent charge in an hour using a 14kW charger. While the company had plans of supplying these fast chargers at an extra cost, for the moment it will rely on third-party fast-charging networks for the service. The e-ATV runs on 12-inch wheels, with 26-inch mud terrain tyres for heavy-duty off-road work, but the company is also in the process of testing out the in-hub electric motors on the e-UTV with different wheel sizes to improve efficiency and range for commercial applications that don't require all-terrain capabilities. The company estimates a price tag of Rs 8 lakh (plus taxes) for the e-UTV.
Currently, the company is developing an unmanned ATV for DRDO and is in talks with Amazon for logistics and last-mile connectivity solutions, while the company is preparing for its first round of e-UTV exports to foreign markets, where its price and engineering are proving to be competitive. Powerland sees the electric UTV, of which versions have been developed with flat-bed extensions, as a viable alternative to electric three-wheelers currently use in several scenarios, considering the 25-30kmph limited top speed and poor gradeability of those vehicles. Further, the competition, even internationally, comes from electric ATVs/UTVs using inefficient lead-acid batteries at a much higher price. Powerland Agro, has been making tractor-alternatives and recreational vehicles since 2014, with its 900cc diesel-engined ATV being the first of its kind to be road-legal in India. The company is also on the lookout for strategic partners for further market reach and development.