Kwid-derived Dacia Spring EV scores 1-star Euro NCAP safety rating
The Dacia Spring EV, an electric hatchback derived from the Renault Kwid for sale in Europe, has garnered a one star safety rating. The Spring EV was one of a number of new European models that Euro NCAP tested recently. The Renault Zoe, another EV from Renaut -Nissan, was also tested and received a zero star rating.
Dacia Spring EV 1-star safety rating
The version of the Dacia Spring EV tested by Euro NCAP was equipped with front, side and curtain airbags and an automatic emergency braking system. The Spring EV score was depressed by the considerable effort needed to open the doors after an impact but the hatchback's passenger compartment remained stable in a frontal collision. Although, passengers' legs and pelvis area are prone to injury while certain elements in the dash can also cause injury to passengers in various positions. In side-impact tests, the protection to the head and chest were rated as marginal but good in other areas. Also, an adjustable front headrest provided protection to front passengers from whiplash but a fixed headrest at the rear made passengers here more vulnerable for such injuries.
Dacia Spring EV range, specifications
The Dacia Spring EV is powered by a 26.8 kWh battery pack that feeds a 33 kW electric motor. This gives the EV a 225 km WLTP range and a 295 km WLTP city cycle range. An Eco mode can improve this range figure by 10 per cent by limited power to 25 kW and top-speed to 100 kmph. The unrestricted top-speed is 125 kmph and 125 Nm of torque is available from standstill.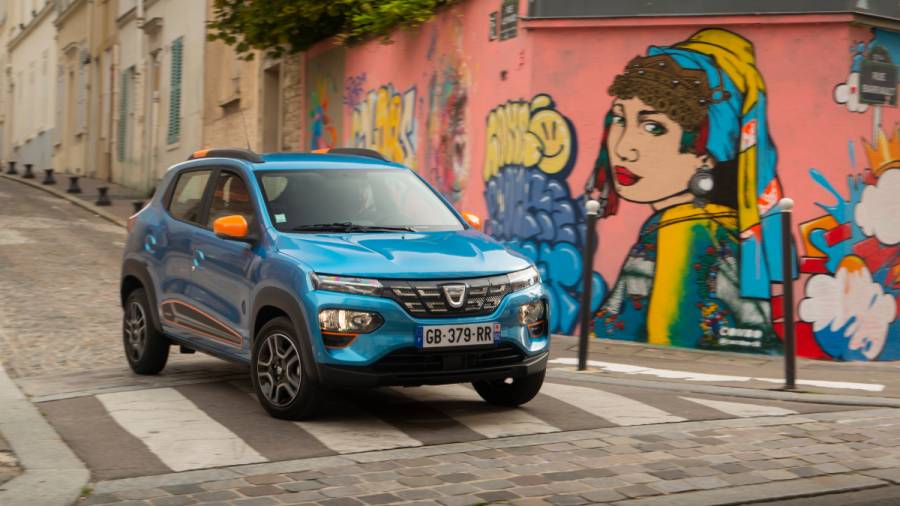 The Kwid-based EV can reach 80 per cent charge in under an hour via a 30 kW fast charger or charge fully in five hours via a 7.4 kW wallbox. A 3.7 kW wallbox takes 8.5 hours while a common household socket does it in 14 hours. The Spring Electric carries the same running gear as the Renault City K-ZE EV that first launched in China in 2019 and was also showcased at the 2020 Auto Expo.
Renault Kwid Electric India launch, prices
Renault India has stated it will consider launching EVs in the mass market when it deems the market is ready for such a vehicle. But with Hyundai's recent EV announcement, Tata Motor's big EV push and an entry-level Maruti EV also in the works, we expect to see a Renault Kwid running this EV powertrain in India within the next couple of years. Prices should be around Rs 8 to 10 lakh for such an electric hatchback.
Also read,
Renault Kwid-derived Dacia Spring EV hatchback unveiled in Europe
Auto Expo 2020: Renault Kwid electric showcased – based on K-ZE with 350km range
Price (Ex-Delhi)
Starts Rs 4.5 Lakhs