Hyundai i20 World Rally Car to make Goodwood debut
The Wales Rally Great Britain is the final round of the 2014 World Rally Championship and will be held in the middle of November 2014. However, many months before the rally takes place, Hyundai's i20 WRC will manage to touchdown on British soil. Piloted by Dani Sordo, the i20 WRC will be spotted at the Goodwood Festival of Speed between the 26th and 29th of June.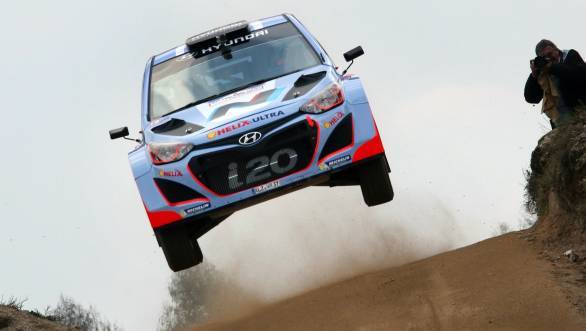 The Hyundai WRC will make it to the 2014 Goodwood Festival of Speed piloted by Dani Sordo
The theme for the 2014 Goodwood Festival of Speed is 'Addicted to Winning'. Given that Dani Sordo, a youngster with plenty of potential is seeking his first win in the i20 WRC, it is only fitting that he will pilot the car in the upcoming event. Sordo, of course, win his first WRC event with victory at Rallye Deutschland last year. The i20 WRC, on the other hand, has managed to make it to the podium in the WRC, but is still seeking that first win.
Dani Sordo will drive the turbocharged Hyundai i20 WRC twice a day on the Friday, Saturday and Sunday of the Festival of speed on the 1.16-mile Hillclimb. He will also compete in the loose surface run at the Forest Rally Stage, a timed stage this year. His rivals at the FOS include the likes of Sebastian Loeb and Bjorn Waldegard.
Needless to say, the chance of being the first driver to pilot the i20 WRC at Goodwood left Dani Sordo rather pleased. "I am delighted to be showcasing the Hyundai i20 WRC car to the crowds for the first time in the UK public at such an iconic event in the motorsport calendar. As a driver, it's great to be a part of a Festival that celebrates the great and the good in motorsport and which engages with so many fans from across the globe," he declared.
Price (Ex-Delhi)
Starts Rs 6.8 Lakhs