Honda unveils new 3.5-litre V6 racing engine
Honda Performance Development (HPD) has developed a racing engine based on the J35 series engine found in the production Accord sedan. The new engine named HR35TT will be an all-aluminum, twin-turbocharged, direct fuel injected V6 displacing 3.5 litres and will run on 100 octane E-10 fuel.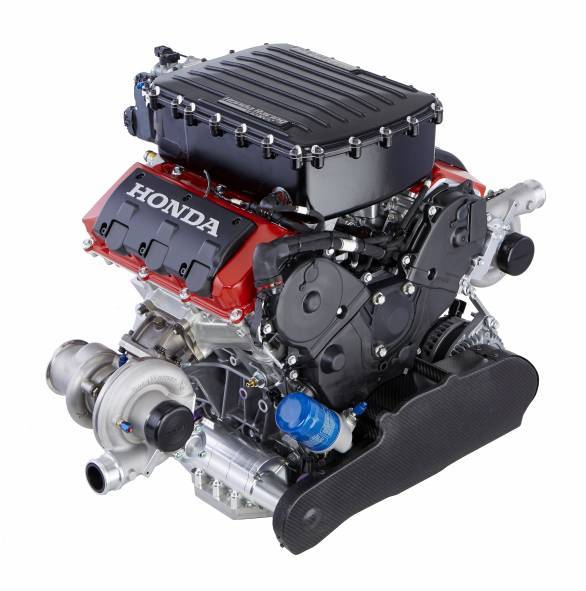 The new engine will make its debut at TUDOR United SportsCar Championship at the 2014 Mobil1 12 Hours of Sebring and will be mounted to a third generations Riley Daytona prototype chassis for the Starworks Motorsport team.
This is not the first time that Starworks is partnering with HPD. Its previous association resulted in a win at the LMP2 category of 24 Hours of Le Mans and World Endurance Championship in 2012. At that time HPD's ARX-03b chassis and Honda's HR28TT twin-turbocharged V6 were employed.
The third generation Daytona Prototype from Riley Technologies
HPD is Honda's performance subsidiary in North America. Located in Santa Clarita, California, HPD specialises in producing high-performance Honda racing cars and engines.
The HR35TT is another derivative of Honda's J35 engine which has seen tremendous success in racing circuits winning 24 individual races since its debut in 2011.
Honda 3.5-litre racing engine - press release
Honda Performance Development Unveils 3.5-Liter Prototype Engine 02/20/2014 - SANTA CLARITA, Calif. Starworks Motorsport to Debut HR35TT at Sebring Latest Racing Application of Production-Based Honda V6 Engine Two-Team HPD Effort In TUDOR United SportsCar Championship Honda Performance Development Thursday announced a new, 3.5-liter racing application for the versatile, production-based Honda V6 engine found in a wide range of Honda/Acura passenger cars and light trucks and now raced in multiple categories worldwide. The Honda HR35TT twin-turbocharged V6 is expected to make its TUDOR United SportsCar Championship debut at the 2014 Mobil1 12 Hours of Sebring, mounted in a Riley Gen3 prototype chassis campaigned by Starworks Motorsport. Previously, Starworks partnered with HPD to win the LMP2 class at the 24 Hours of Le Mans and World Endurance Championship in 2012, using HPD's ARX-03b chassis and Honda HR28TT twin-turbocharged V6, which also is derived from Honda's J35 series of engines. Starworks becomes the second team to utilize Honda power for the new TUDOR championship. Extreme Speed Motorsports campaigns a pair of prototype class HPD ARX-03b Hondas, after a successful initial season with the same package in the 2013 American Le Mans Series. "This is an exciting program for HPD and our customer teams in the TUDOR United SportsCar Championship," said Steve Eriksen, HPD Vice President and COO. "Adding Starworks, a team that achieved great success with us in 2012, in a prototype machine alongside the proven HPD-Honda combination run by Extreme Speed Motorsports provides HPD with a strong, balanced attack in the inaugural TUDOR Championship." "It's a fantastic feeling to be partnering with Honda once again," said Starworks team owner Peter Baron. "No doubt we had amazing success with HPD in 2012, but unfortunately it was only a one-year program. We have had numerous conversations over the past two years about building a Daytona Prototype motor and we're thrilled to see it come to fruition. We absolutely love working with HPD and have been in collaboration to find a new opportunity to partner with them again. We will have our work cut out with the steep learning curve to get us to Victory Lane, but HPD brings determination and success to every program it touches. Although HPD already competes in the Prototype class, we feel this is huge step for the TUDOR series and Starworks is thrilled to be part of it." Starworks Motorsport has compiled an enviable record in Daytona Prototype competition, with five race victories, including back-to-back wins at Indianapolis in 2012 and 2013; and a second-place finish in the Daytona Prototype team championship in 2012, with two victories and six podium finishes. That same year, Starworks became the first American-based prototype team to win an FIA World Championship since 1968, and HPD won its first world title in WEC competition. The HPD-developed twin-turbocharged Honda engines to be used in the TUDOR championship are both derived from the Honda J35 series of production V6 engines, and include relevant twin-turbocharger technology, along with the efficiency provided by direct fuel injection. The HR35TT is yet another competition application of the ubiquitous J35 engine. The first, the HR28TT, was designed for LMP2 competition and won in its American Le Mans Series debut in 2011. The engine has gone on to record 24 individual race victories and three series titles in the American Le Mans Series, World Endurance Championship and European Le Mans Series Competition. Other variants of the engine have been raced in Japan's Autobacs SuperGT Championship, the One Lap of America competitive rally and Pikes Peak International Hillclimb. Honda Performance Development (HPD) is the Honda performance company within North America. Located in Santa Clarita, Calif., HPD is the technical operations center for high-performance Honda racing cars and engines. The company is marking its 20th anniversary in 2013. As an engine supplier to the IZOD IndyCar Series, Honda has scored 204 race victories in both CART and IZOD IndyCar Series competition since 1994, and powered Scott Dixon to a series-high four victories and the 2013 IZOD IndyCar Series drivers' championship. HPD offers a variety of race engines for track applications from prototype sports cars to karting; and showcases "fun-to-drive" products for professional, amateur and entry-level racers. HONDA HR35TT V6 ENGINE ENGINE Type Aluminum alloy, twin-turbocharged, direct fuel-injected V6 DISPLACEMENT 3.5 liters VALVE TRAIN Single overhead camshaft, four valves per cylinder CRANKSHAFT Alloy steel PISTONS Forged aluminum, low-friction coatings CONNECTING RODS Machined alloy steel ENGINE MANAGEMENT HPD/McLaren IGNITION SYSTEM Digital inductive LUBRICATION Dry sump system COOLING Single mechanical water pump FUEL E10 100-101 octane gasoline, 10% ethanol