FIA Formula 3: Daruvala finishes second in Race 1 at Silverstone
Jehan Daruvala made history at Silverstone when he became the first Indian to lead an FIA Formula 3 championship, albeit briefly. The Indian driver moved into the lead of the championship standings after finishing second in the first race at the British circuit. With a total of 102 points, he was two points ahead of Prema Racing teammate and rival, Robert Shwartzman. Unfortunately, however, Jehan failed to finish the second race of the weekend, which means that he now trails Shwartzman in the championship standings by 12 points.
Jehan Daruvala took second place in Race 1 of the Silverstone round of the 2019 FIA Formula 3 Championship
Jehan's trip to the podium at Silverstone means that he has managed to get to the rostrum at least once at every round, even taking victory in the sprint race at Catalunya, and winning the feature race at Le Castellet. In all, the Indian driver has taken five podiums this season.
At Silverstone, Jehan qualified third in a very competitive qualifying session that saw the top 17 drivers separated by just one second. When the race started, he got off to a good start, overtaking Marcus Armstrong in the first corner. He then spent some time defending from Christian Lundgaard to hold second position. This allowed Juri Vips to open up his gap at the head of the order. Despite the fact that Jehan managed to catch Vips after a few laps, things didn't go his way. When he was about to try and make an overtaking manoeuvre, a Virtual Safety Car (VSC) caused by an incident somewhere else on the track, meant that he had to hang back. No overtaking is allowed during a VSC or Safety Car (SC) period.
When racing resumed, Jehan and Vips battled it out, but unfortunately when the Indian driver ran wide, it allowed Armstrong to go around his outside. Jehan then had to spend some time ensuring his second position was safe from Armstrong's attacks, before finally turning his attention back to the race lead. Another SC period meant that Daruvala had to once again hold on and not try to overtake. When the racing resumed for a second time, it meant that Vips was able to pull away and ultimately claimed victory by 0.811 seconds from Jehan. Armstrong finished third, 1.3 seconds behind the Indian driver.
The fastest lap time of the race gave Jehan two additional points. Due to the reverse grid, Jehan started Race 2 seventh. He managed to work his way up to fifth place, but unfortunately clipped the rear of Pedro Piquet's car, leading to a DNF.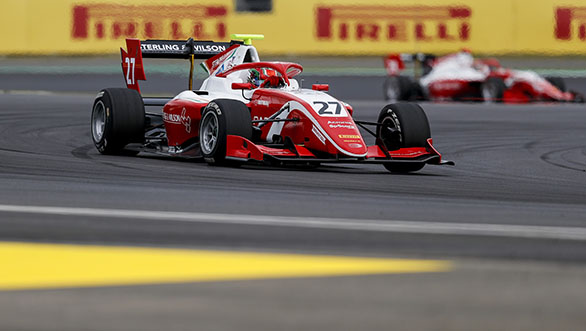 Speaking of his weekend, Jehan said, "Race 1 was good, I had quite good pace. I tried to overtake Juri a few times but his defence was good, he drove well, didn't make any mistakes. It was great to get onto the top of the championship standings. For the second race, not finishing the race was a disappointment from my side but this kind of stuff happens in racing. What I'm pleased about is that the speed was good and we were fighting for the podium again in the sprint race after starting seventh due to the reverse grid. I'm not going to put myself back at all, I'm keeping my head down and keep attacking for the next rounds."