Top four cheapest motorcycle gloves in India
A reader commented a few days ago on Twitter that India didn't have cheap motorcycle gear. We decided to do some hunting and see if we couldn't find something cheap and affordable. First up, gloves. We have gone through some of the more popular online stores looking for gloves. Further, we have not tested any of the four in our list. But this is a proper online purchase kind of research - we can see the images, see the price, see the specifications and make up our minds. Here goes.
1. DSG Moto Mesh. Rs 1050 at planetdsg.com
What is it
This is a pretty basic glove. It uses a mesh construction for the glove and there is a less perforated sort of material for the palm with a second layer reinforcement across the top of the palm and across its heel. Closure is a simple velcro tab and this is a short cuff glove. On top is a hard knuckle protector as well four similar hard armour pieces across the first joints of the fingers. The thumb, in the photograph is unprotected. Sizes are S through XXL.
We like
The price is good.
We don't like
Mesh on the palm is pointless and doesn't help ventilation so it only compromises abrasion resistance if you're in a fall. The glove is made of something called Amara fabric which is a sort of synthetic leather - we found only one reference to a product which is horse-riding chaps - so it probably has some abrasion resistance.
Would we buy this?
Not really. A relatively unknown fabric, insufficient looking palm protection and a short cuff is not, in our books, a combination worth any money at all.
What to buy then?
The same website actually has full leather construction gloves at Rs 2499 and Rs 2999 (short cuff and full gauntlet, respectively). We would be a lot happier with those.
2. Zeus Claw MX gloves, Rs 1500 at zeusgear.in
What is it
This is a motocross glove which claims to have 'Anti-Sweat' (quotes included) and breathable fabrics.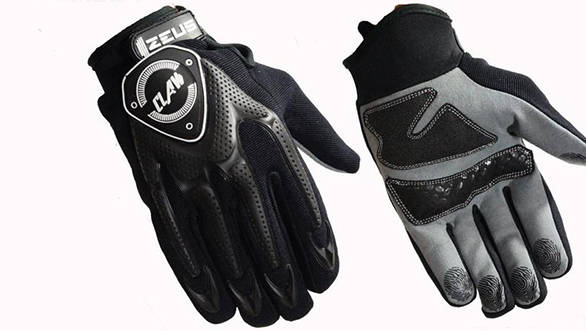 We like
Not much of this glove to be honest.
We don't like
There isn't any armour, we have no idea what it is made of and that, for us, is enough reason to look at other gloves.
Would we buy this?
I think you know the answer already. In case you don't - no.
What to buy then?
See Zeus' Street Rider Pro gloves. They're short-cuffed and hence, cheap at Rs 2,300 but they look good and have some protection as well. Even more promising are the Highway Rider gloves that also look like they're leather and appear to have good protection and a full gauntlet.
3. Cramster Flux - Summer Gloves, Rs 1650 at cramster.in
What is it
This is a short cuff street glove with a perforated leather back, a leather palm, a second layer of leather across the heel and top of the palm and a leather strap velcro closure. Under the leather is a hard plastic knuckle protection.
We like
I actually do like the way this glove looks and that perforated leather look with the hidden knuckle protector is a classy look. I also like the leather construction as well as the second layer of leather across critical areas.
We don't like
Short cuffs in general but this looks like a good glove that will do a lot of work and is actually pretty good value in this group
Would we buy this?
If I didn't have a hangup about short cuffs, a purchase would be very likely indeed.  I do wish there were colours apart from black though
What to buy then?
For Rs 50 more than the Flux, the Twister offers a longer gauntlet, it's still leather in all the critical areas. And another Rs 900 brings up the TRG2 full gauntlet, double closure, carbon-kevlar knuckle protection equipped race glove. But what I would buy over the Flux (short cuff aversion notwithstanding) is the Blaster which at Rs 2100, looks really promising.
What is it
A mid-gauntlet, leather and mesh glove with knuckle protection and velcro cuff closure.
We like
It's a pretty simple glove in construction.
We don't like
The outer two fingers have mesh instead of leather which compromises protection. Images on the website do not show the palm at all!
Would we buy this?
No.
What to buy then?
The Rynox Rampage is a similar sort of glove but is all leather and that at Rs 900 more is a better deal.
What would we buy, really?
My personal favourite street riding gloves so far have been the Joe Rocket GPX 2.0 which retail at about Rs 6,500 at performanceracing.in. They offer great protection, are extremely comfortable as well as reasonably priced. I get about 20,000-35,000km out of each pair. What I am currently using is a more expensive pair though - the Rev'It RSR (Rs 9,500 at highnoteperformance.com).  The RSR fits a bit snug which I like but I think it will cause it to fail earlier as well. But very comfortable and very nice feeling kit for street riding.
What's a good budget?
If you have a budget of around Rs 6,500-7,000, then there are a lot of great short cuff leather gloves online including big brand names like Alpinestars (see planetdsg.com, x-torque.com and sbkstore.in).
If there is a glove you've seen in an India online store and would like added to the list above, let us know in the comments. You can also check out our glove buying guide to help you find the right pair for your needs.
Click here for our comprehensive list of the five best budget motorcycle jackets.