Product review: Arai RX-7V helmet
The Arai RX-7V was launched in India at Rs 70,000 by Performance Racing last month. I've been wearing the Maverick Vinãles replica for just over 6,000km. I've used it on cruisers, adv tourers, upright nakeds and sportsbikes in dry and hot weather.
Construction
The 7V is all-new and is Arai's top helmet right now. It's made of a combination of synthetic fibres combined with a lighter new resin that makes for a super strong shell. Arai like to make the shell as round as possible so that the helmet glances off objects in a crash protecting the neck from rotational injuries. The 7V also debuts a new visor mechanism that makes it easier to change visors, a traditional Arai issue. Arai has also worked on its venting setup to flow more air into the helmet while altering the exhaust vents for more efficiency.  Finally the new helmet also has new comfort liner construction and materials for a tuneable fit and comfortable feel.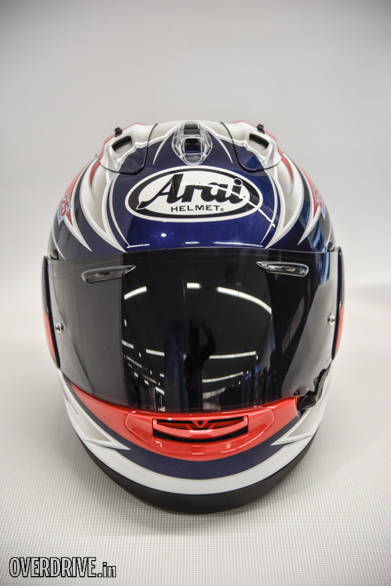 Finish, build & useability
The RX-7V is easily the best finished and built helmet I've owned. From the flawless gloss of the paint to the creamy feel of the comfort liner on skin, there's a luxurious, indulgent feel that's really rather special. I'm afraid, however, dthat the RX-7V's graphics patterns are limited for the moment and this one is the only design that caught my eye.
Useability is fantastic. All the vents are easy to operate with the gloves on and for once, changing the position of a vent immediately has a noticeable impact on wind flow. I'm used to double D rings now and the Arai posed me no trouble on that count either.
For the 7V Arai deployed a new visor mechanism. A small tab pops the side pods off but now they're tethered to the helmet. Removing a visor is straightforward and replacing one - I do a clear to dark change and back twice daily - is vastly easier than earlier. Arai also introduced a visor lock mechanism derived from their F1 helmets on the 7V. Opening the visor now involves a release lever and a tab on the visor. It sounds complex but it's a simple move that becomes natural within a day or two. The locked by default visor leaks no air at all and the standard (removable) chin curtain combines well to keep the face area dust free even in fairly dusty riding. I'm impressed.
On the bike
What is also impressive is the feel of the helmet on your head on the bike. The RX-7V is a heavy helmet - race helmets usually presume protection is more vital than light weight. But once you wear it, the weight disappears. Part of this is the excellent fit and part of it is terrific balance - you can almost forget that you're wearing a helmet at all which is a strange but pleasing sensation.
Contributing to this is the wide view-port. Even the brow of the helmet is higher than usual offering a better view with the chin on the tank - a situation racers and therefore this helmet should encounter frequently.
Wind noise and venting
One of the accompaniments of the side-pods is wind noise. Arai says it insists on the side-pods because it reduces the need to create a deep recess in the shell to mount the visor mechanism. It may not be the most elegant or quiet way to mount a visor but it is the safer way. So no surprise, my older Shoei X-12 is a quieter than this Arai. That said, ear plugs can almost entirely eliminate wind noise - and you really shouldn't ride without them anyway.
On the flip side, the venting is stunning. Both in volume and in controllability. With everything open, the RX-7V is a breezy helmet. Altering each vent produces an notable change in flow and closing off all vents makes for an air-tight helmet. Arai throws in a standard Pinlock insert and these are proven to be effective anti-fog devices - I've not gotten a chance to ride in conditions cold enough yet.
The crash
I did manage to come off the motorcycle wearing the Arai and it did its job. A glancing blow off a concrete block left behind a shallow gash in the paint. I felt terrible about damaging a brand new helmet but otherwise okay. Team Arai gave my helmet a once over and said that the helmet was fine to continue using and the damage was minor. Phew.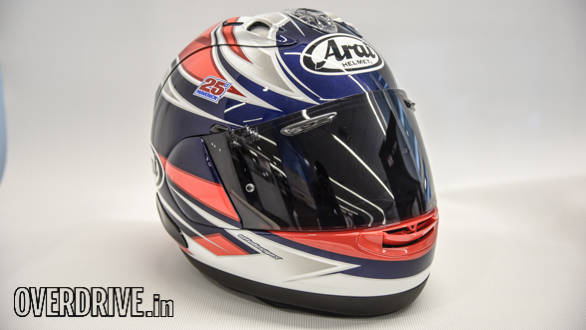 Verdict
The Arai RX-7V is a terrific, terrific helmet, easily one of the best I've worn yet. But is it worth Rs 70,000? I suspect that when you buy a top-of-the-line helmet, especially from a brand as reputed as this, you'll have to pay a price.
So let us be clear, that there are effective helmets that cost a lot less, including Arai's own other lines. You don't need to spend this kind of money on a helmet.
However, that said, I've only one head and I've always believed in getting it the best protection I can find. And that does mean setting side a considerable sum of money every five years (or post-crash) to get a top-flight helmet. And they don't come more top-flight than the Arai RX-7V.
performanceracing.in
Rs 70,000 onwards
Price (Ex-Delhi)
Starts Rs 1,10,388