Porsche's historic Le Mans cars at Hockenheim
The year was 1970. The rain pelted down hard on the Circuit de la Sarthe. Visibility was poor, the conditions were tough, and the drivers exhausted from the many long hours of racing. Flying over Mulsanne, into Indianapolis, down through Arnage a red and white car streaked past. In the halflight at Le Mans, the number 23 emblazoned on the car's bonnet and sides was visible in flashes. The driver within the car was Richard Atwood, a man known for his great courage and skill behind the wheel.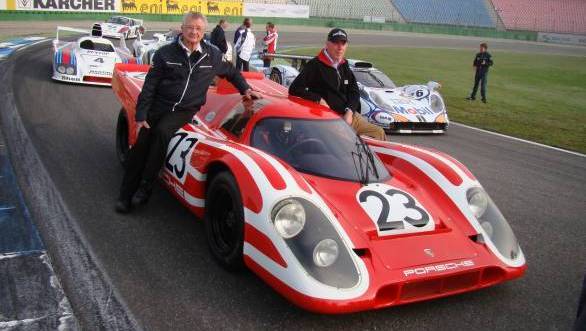 Le Mans legends Hans Hermann and Richard Atwood with the car that started it all - the 1970 Le Mans winning 917KH
Few people knew that Atwood, while piloting the Porsche 917K at the historic 24 Hours of Le Mans was unwell. Indeed, Atwood himself didn't know what the matter was. It was only after he got out of the car and wasn't able to stand through the victory celebrations that he discovered he'd managed to drive a 24 hour race with a bout of the mumps. Not only had he managed to drive the 24 Hours of Le Mans while unwell, him and copilot Hans Hermann had also managed to win the 24 Hours of Le Mans. It would be a historic victory. Porsche would go on to win the 24 Hours of Le Mans 15 more times, making them the winningest manufacturer in the event's 90 year history.
The cars lined up in the pitlane at Hockenheim - one of the rare occasions when they've left the Porsche Museum at Stuttgart
I'm standing at the Sachs Curve at Hockenheim. Before me is the No. 23 Porsche 917K that won Le Mans in 1970 and standing alongside it, are Richard Atwood and Hans Hermann, a full 43 years after that historic win. A 917K won Le Mans the next year as well, piloted by Helmut Marko and Gijs Van Lennep, the latter is also standing before me. There's also the 1977 winning Porsche 936, that was driven by Jurgen Barth, Jacky Ickx and Hurley Haywood; the Porsche 911-GT1 98 that took Allan McNish, Laurent Aiello and Stephane Ortelli to victory in 1998. A 1982 Rothmans Porsche 962C, and a pair of Porsche 935s - regular and longtailed Moby Dick version - round off the historic metal gathered there.
Porsche's most iconic Le Mans cars - the 917KHs, 911 GT1, 936, 935s and Rothmans-liveried 962C
No, this isn't some elaborate dream. Just ahead of Porsche's return to the 24 Hours of Le Mans in 2014, the marque decided to honour its rich and successful Le Mans heritage by gathering this group together - man and machine. Cars that were usually polished and shone and resting in the Porsche Museum at Stuttgart were oiled and greased and brought to Hockenheim, along with the men that piloted them. Their engines are started, and the cars are taken around the track, piloted by their original drivers. The whole exercise appears to be an invocation to the Gods of Le Mans and Stuttgart all at once. And as the ear splitting screech of the cars shatters Hockenheim, it almost seems like a wave of this hits Weissach too, where Porsche's 2014 LMP1 car is being tested.
Probably one of the hardest Le Mans cars there was to drive - the Porsche 911 GT1-98 that took Allan McNish, Laurent Aiello and Stephane Ortelli to overall victory in 1998
"Porsche has always had a history of taking very little in terms of resources and making it go a very long way," says Manfred Jantke, former head of press and head of sport, Porsche. He recalls how the Porsche team that went to Kenya for the East African Safari Rally ended up selling everything from the car, to spares and tyres before flying back to Germany with nothing more than hand luggage! Times, however, have changed, as Jantke tells me. Porsche has grown over the years as a brand, as have the resources the brand has. Gone are the days when the likes of Hans Hermann would find that the perspex window of their 917 had been sucked out and the cooling fan had taken off like a frisbee soon after during a Le Mans test. But Hermann reassures me "I wasn't worried, because the problem was fixed at once, and I carried on with my test."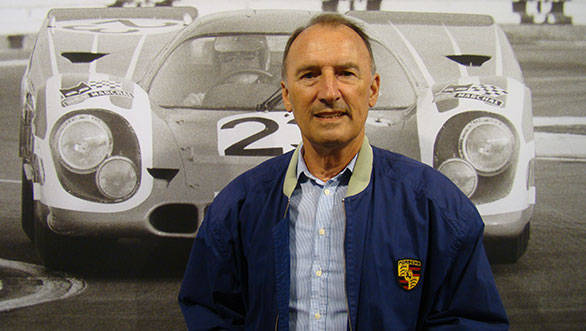 Manfred Jantke, Porsche's former head of press and motorsport - if there's a Porsche motorsport anecdote worth hearing, he can probably tell it!
The Porsche LMP1 2013 test car has already been tested at six racetracks, as Alex Hitzinger, the technical director for the LMP1 project specifies. But it's something else that Hitzinger has to say that seems to tie in Porsche's past and present together with their LMP1 cars and production cars all so beautifully. "Why do you think people buy Porsches?" he asks me. "Because of their tremendous heritage as a brand," I reply. "What heritage?" is the next question. "Their motorsport heritage," I reply. And Hitzinger laughs at once. It's really that simple.
The iconic Porsche 935 in Martini colours
"I had the honour to do the first rollout in June with the new Porsche LMP1 car. Since then I have tested many times in the car," Timo Bernhard, one of the racers who will pilot the car in 2014 says to me, before adding "Next year is definitely going to be a challenge." But Porsche is not stranger to challenges, and it was in the face of great adversity that they won their first race at Le Mans those many years ago. "I keep running into her now and again," Atwood tells me while looking at the No. 23 that won him that first Le Mans crown. "Yes, it feels quite special." And I can't help think that Timo Bernhard will be fondly gazing at the 2014 racecar, whether it wins or not, and feeling a very similar sentiment some years hence.
Price (Ex-Delhi)
Starts Rs 1.38 Crore